One Doctor's Quest to Change Medicine Through Song
This article is more than 9 years old.
http://www.youtube.com/watch?NR=1&feature=endscreen&v=mjc3l_DNqRY
For a long time, Dr. Mache Seibel says, he was a "closet guitarist."
He is famed here in Massachusetts infertility circles as the pioneer who performed the state's first in-vitro fertilization, and he also specializes in complicated menopause and its intersection with mental illness. He is a bona-fide member of the academic white coats, currently at the University of Massachusetts Medical School and a veteran of Harvard.
[module align="right" width="half" type="pull-quote"]He writes songs about mammograms and stress incontinence, about junk food and swine flu and bacterial vaginosis[/module]
But if all he does is practice medicine, he figures he can reach only perhaps 20 patients a day — and he aims to reach millions with his health messages.
So no more closet for the guitar. In fact, Mache (pronounced Maish) Seibel approaches Lady Gaga in his eagerness to use music to gain attention — within the bounds of what's acceptable for an M.D., of course, and with the lofty aim of promoting health.
He writes songs about mammograms and stress incontinence, about junk food and swine flu and bacterial vaginosis. He runs a Website at doctorseibel.com. He makes CDs under the "HealthRock" label and composes "Stay Well" musical e-cards ("Get a light at the end of your tunnel. Get a colonoscopy.") And this week, he even brought the guitar to the august halls of Massachusetts General Hospital, goading a full hall of obstetrics and gynecology staffers — some with the red eyes of the morning after a night shift — to clap along with his tunes.
Not that those staffers need to know more about health. For them, the message from Dr. Seibel's "Grand Rounds" talk was different: They must change their mindset about communicating with patients. To wit:
•The health care system is in a financial crisis, and 70% of its costs come from chronic diseases that could be prevented or caught earlier if people could be persuaded to make healthier choices.
•90 million Americans are "health illiterate," lacking a basic understanding of health information.
•Primary care has been in decline and lacks the staffing power to serve the aging population; patients' time with their doctors is shrinking
Put it all together and doctor-patient communication, whatever its form, is more critical than ever — and it needs to get bigger and better.
"It's important to redirect our messages in a way that fits the audience," Dr. Seibel told the gathered staff. "You can change the language, you can change the style" — as he demonstrated by his own hip-hop rendition of a song on the evils of junk food. "We have to be innovative," he said, because medical manpower "is not going to be enough to reach and teach all the people."
He took his audience not only from swing to hip-hop to jazz but also on a tour through 21st-century techniques to communicate with patients, from social media to apps to texting. But surely it is the singing that will stick in their memories — music, as Dr. Seibel pointed out, has special power in the brain.
There was the "light at the end of your tunnel" song about colonoscopies.
"You wouldn't think that's something to sing about," he said, "but if you can sing about it, you can talk about it, and if you can talk about it, you're on your way to doing something about it." He has seen the song have an effect on listeners, he said: "They say, 'I think I'm going to deal with this thing. They told me to get one at 50 and I'm 70 now.'"
There was the junk food rap song, with its maximally simple lyrics: "Junk food is junk! Use your brains!"
"We have this enormous health literacy problem," he told the audience. "So how are we going to tell them? Some big scientific thing? No. 'Junk food's not good for you!' 'Eat fruits and veggies!' 'Milk! Whole grains!'"
And of course, the "Funky Labor" song above. At song's end, when even the most exhausted-looking staffers were clapping, he concluded: "You may say, what in the heck does that have to do with Grand Rounds or anything?  Well, I'm going to tell you. It has a lot to do because: Number one, I got your attention. And number two, we found out that we were interacting. And the third thing we did was, we introduced a change in how we do things. Right?"
At hour's end, the chief of obstetrics and gynecology, Dr. Isaac Schiff, a longtime friendly colleague, thanked Dr. Seibel for "one of the most entertaining talks" to enlighten the department.
"We're in a changing world," Dr. Schiff told his staff. "Things have changed. And it's essential that we understand the power of community, the power of communications."
This program aired on February 3, 2012. The audio for this program is not available.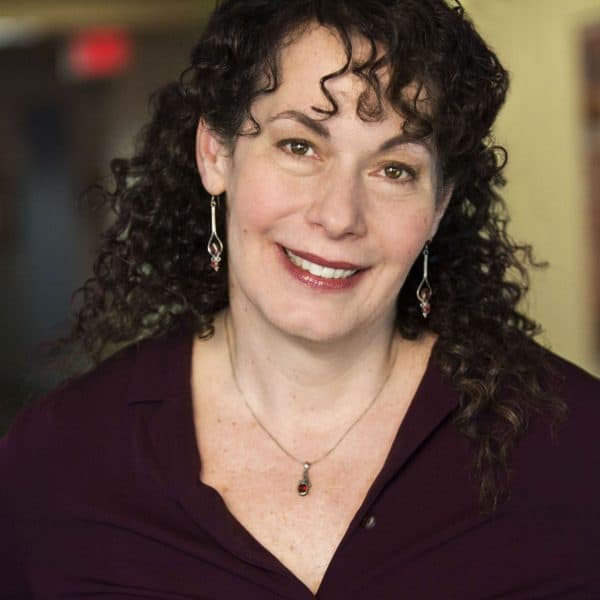 Carey Goldberg Editor, CommonHealth
Carey Goldberg is the editor of WBUR's CommonHealth section.