Computer Program Helps Retrain Brains Of People With Schizophrenia
This article is more than 9 years old.
By Karen Weintraub
Guest Contributor
One of the darkest aspects of watching a loved one slip into schizophrenia, is the loss of the social person – the friend, the son, the brother you once knew.
Randye Kaye, of Trumbull, CT, says her 29-year-old son had "40 best friends" when he was a young teenager, but then lost his ability to know when he was standing too close or talking too long; he couldn't even follow a conversation.
"It was the illness that took that way away from him," says Kaye, who wrote a book, "Ben Behind His Voices," about their journey.
Her son is slowly regaining those skills with constant support from her, his employer and his community college teachers, she says.
Today, the science journal Neuron published a study showing that a computer program can help people with schizophrenia do the same in as little as 80 hours.
In a study of 31 people with longstanding diagnoses – most have had schizophrenia for half their lives – the computer training gave them more motivation, and they reported feeling happier and remembering things better. The effects lasted for at least six months.
"This research shows that these brains aren't fixed," said Karuna Subramaniam a researcher at the San Francisco Veteran's Administration and the University of California, San Francisco, who led the work. "People can do better. They need to be using their brains as a muscle that gets better the more you work at it."
The computer program, designed after 20 years of brain research in California, helps users practice distinguishing between simple sights and sounds – "ba" and "da," for example, or spotting the red butterfly on the screen. These basic recognition circuits have been disrupted in schizophrenia, Subramaniam said.
As they get better, the level of difficulty increases, to, say, remembering where the red butterfly was last, and identifying whether a pictured face is happy or sad.
[module align="right" width="half" type="pull-quote"]Not only did the participants' basic auditory and visual skills increase, but so did their social abilities...[/module]Researchers had high hopes that the program would help people with schizophrenia, but even they were surprised by the strength of their results, Subramaniam said. Not only did the participants' basic auditory and visual skills increase, but so did their social abilities, and the improvements were still evident in follow-up tests 6 months later, she said.
Subramaniam said the patients seemed to really enjoy the computer program, particularly after seeing its benefits. Only one participant dropped out of the study before the end.
"It makes them feel motivated," she said. "They have something to do. They seem to be functioning better."
The next phase of research Subramaniam said will be to look at which parts of the program are most helpful, whether using it beyond 80 hours will be more useful, and whether people who are newly diagnosed will benefit even more than those in the current study.
The California company that developed the computer program, Posit Science, sells it for about $700. Today's study was funded by the National Institute of Mental Health, and Posit Science had no role in its design or results.
Kaye said she would love for her son to do a program like Subramaniam's. But he wouldn't touch it if he thought it was meant to treat schizophrenia. One of his lingering problems, she said, is that he doesn't accept that he has the disorder.
Do you have a family member with schizophrenia? Would you be willing to have them try a computer program like this?
This program aired on February 22, 2012. The audio for this program is not available.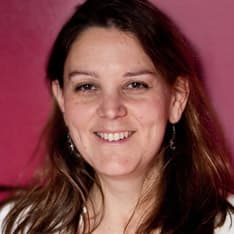 Karen Weintraub Contributor, CommonHealth
Karen Weintraub spent 20 years in newsrooms before becoming a freelance writer. She's a contributor to WBUR's CommonHealth.