Paul Ryan For Veep — The Catalytic Candidate
This article is more than 8 years old.
Mitt Romney's selection of Rep. Paul Ryan as his running mate may have an unprecedented effect on the presidential race, changing the dynamic in profound ways.
Now it will be all-out war between the two major political parties and their ideologies. The Ryan pick has truly energized Republicans. On MSNBC's "Morning Joe," host and former GOP Rep. Joe Scarborough spoke for many Republicans when he said, "This is the first time that ... the national Republican Party has done something in over a decade that I go, 'Wow, you know what? That may be my party. That may be the party that I joined when Ronald Reagan inspired me in 1979, 1980.' "
Democrats say they are also energized by the Ryan pick. Some praise Ryan personally — as a family man, as brave and bold in crafting specific solutions — but call him an ideologue and say his alternative budget was draconian. Yet last year Erskine Bowles, Bill Clinton's chief of staff and the Democratic budget expert who President Obama appointed co-chair of his debt commission, said Ryan's budget "is just like Paul Ryan. It is a sensible, straightforward, honest, serious budget and it cut the budget deficit by $4 trillion." He differed with it in significant ways, but admired Ryan's constructive effort.
Do Democratic leaders want to debate Ryan… or demonize him? We'll find out soon. Meanwhile, Republicans eagerly anticipate the Ryan-Biden debate on Oct. 11.
Two opposing visions. In many past elections, liberal Democratic candidates advocated big, bold changes while conservative Republicans favored incremental improvements. There's a role reversal this year. Romney and Ryan advocate big solutions to address the debt crisis (including entitlement reform) and to revive the economy, while Obama supporters can't say what he would do differently in a second term to prevent the federal government and Medicare from going bankrupt and/or stimulate the economy.
A year ago I warned in a Boston Globe op-ed that Romney would ultimately lose if he didn't go "big and bold" on ideas instead of continuing to play it safe, "small and timid." That was evident in recent weeks as he slipped in polls in swing states. Romney took a risk picking Ryan but the greater risk would have been to select a running mate who'd make the ticket seem like "the bland leading the bland." Now Romney has a strategic vision to offer voters who believe the U.S. is heading in the "wrong direction."
Elevating the race from personal attacks to policy debates. If Romney had picked Rob Portman or Tim Pawlenty, the race would have continued to be about the Obama campaign's attacks on Romney, trying to depict him as a ruthless, gaffe-prone plutocrat. It's better for Romney, and for voters, to have this contest focused on big policy issues rather than personal accusations, ridicule and innuendo.
Romney realized the Democrats would launch an all-out "MediScare" campaign anyway and apparently decided that he'd be better off turning that issue into a higher level debate.
The next president needs a mandate to govern. If reelected, Obama would face a GOP House and probably a GOP-controlled Senate, so there would be continued gridlock in Washington. Since Obama has been running for reelection by running down Romney as an entrepreneur, the president wouldn't have much of a mandate.
The Romney-Ryan team would be in a better position to claim a mandate for reform and enact those reforms. It's true that Romney would have to bend on some issues to win passage of bills in a filibuster-inclined Senate, but he proved willing to compromise as governor of Massachusetts. Ryan, too, has demonstrated an ability to forge bipartisan consensus — for example, co-sponsoring with Democratic Sen. Ron Wyden a Medicare proposal to give seniors a choice of government-funded private insurance options.
Ryan as a Romney coach. I doubt if there's been a VP candidate who could more effectively coach his running mate on how to speak more persuasively. Romney praised Ryan's "intellectual leadership," and rightly so. The House budget chairman is not just knowledgeable and articulate; he speaks with conviction in a thoughtful, personable way.
Romney already has improved on the stump due to Ryan's influence, part of which comes from his drawing huge, passionate crowds. It's too early to conclude that there is a "new Romney" on the campaign trail, but he does seem to be enjoying himself and has regained some of the confidence and ease he had when he was governor.
Republicans hope Ryan will help Romney frame a clear choice — reform vs. gridlock, growth vs. stagnation, math vs. myth. As a former speechwriter, Ryan might even help Romney better express ideas through factual reasoning, rather than scripted platitudes.
Educating the electorate. Romneyites describe the Obama attacks as "fear and smear," citing the "MediScare" tactic as deliberately misleading since the reforms Ryan supports wouldn't change Medicare for anyone over 55 years of age.
But there is no doubt that explaining and defending Romney-Ryan reform ideas will require some "educating" along the way. In a conventional campaign, if you're educating you're losing. It's easier to push an issue if you have a simple, one-sentence argument.
In picking Ryan, Romney apparently decided that a leader should not underestimate the intelligence of voters. Both candidates have faith that voters will realize: a) the federal government is heading for bankruptcy if it continues to borrow 40 cents for every dollar it spends; b) Obama stimulus policies have failed to stimulate; and c) we need big solutions if we are to save the major entitlement programs and rejuvenate the economy.
Win or lose, Romney picked a running mate who brought this election back into focus — we're not just choosing a personality; we are debating policies that will shape the future.
---
Todd Domke is WBUR's Republican analyst. For more political commentary, go to our Payne & Domke page.
This program aired on August 13, 2012. The audio for this program is not available.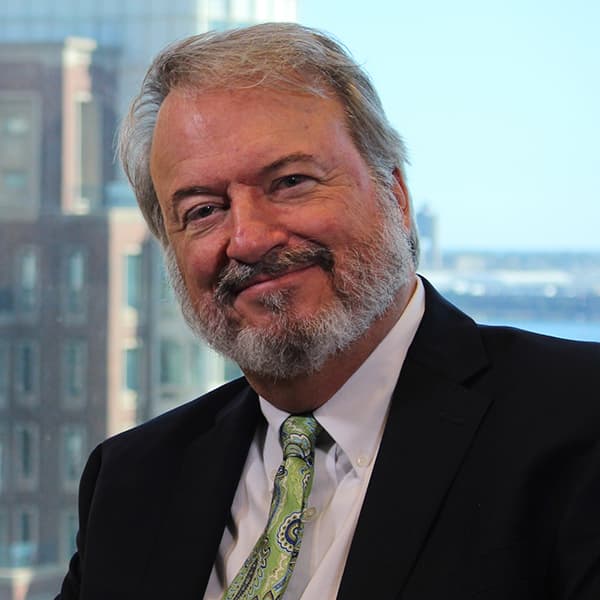 Todd Domke Republican Political Analyst
Todd Domke is a Republican political analyst for WBUR.