Libraries: Surviving And Thriving In The Digital Age
This article is more than 8 years old.
The Internet has already made much of the information that can be found in libraries easily accessible online. So could the proliferation of e-readers — which are already changing the way Americans read — render the public library obsolete?
"E-books have been available now for some time and yet use of the physical library is up by every measure," says Anthony Marx, president and CEO of the New York Public Library. Marx wrote in the New York Times that circulation has risen 44 percent since 2008. While some of that can be attributed to the recession, Marx says it is also a sign of a healthy democracy.
"We worry that people aren't reading or thinking anymore, that technology is crowding that out," Marx says. "Instead, people are hungering for substance and engagement with ideas and hungering for engagement with each other."
Marx joined WBUR's On Point with Ann Arbor District Library Associate Director Eli Neiburger for a conversation about the future of libraries. Both Marx and Neiburger pointed out that libraries still offer services you can't get anywhere else — including the knowledge of librarians, or as Neiburger calls them, "information superheroes."
"There is so much amazing value that librarians can provide beyond the things that Google does for you," Neiburger said. "To me a librarian's super power is their ability to look at something really quickly and decide if it is good or not so good. That's an amazing skill. And their ability to know if this is something that is in demand in a community."
Research shows that those who go to the library are still overwhelmingly doing so in search of print books. According to a survey conducted by the Pew Research Center, 73 percent of Americans who used the library in 2012 borrowed a physical book. But libraries are still looking for innovative ways to circulate diverse resources throughout their communities.
In Ann Arbor, Neiburger's library lends out telescopes, microscopes and electronic musical instruments.
"A library super power, again, is economically sharing access to materials ... We will be circulating books as long as people are coming to check them out," Neiburger said. "And we'll be supplementing that with other things that are in demand in the community that are physical objects that they can take home and share as a community."
Here are some more highlights from the interview with Anthony Marx, or listen to the entire show below:
On public access to books and ideas:
Anthony Marx: For e-books, the ideal is that you should be able to download them at home, if you choose to, onto any device because our users have all kinds of devices. And I think that the ideal that we would all agree on is democracy and the economy rests upon our users being able to get access to any book or any idea. That's what informs us as citizens, makes us skilled. It's the crucial role of the library for a hundred years. And the technology of information access through the computer — or any device — should be making that more readily accessible.
On those who rely on the library:
Anthony Marx: There are people who really rely on the library. People who don't have computers at home. These days you can't even apply for a job without a computer. Every day at the New York Public Library we have 30,000 kids come into our branches after school basically because it's safe and their parents are still at work. We should be the most innovative, largest after-school program in the country if we can be — partnering with others. There's so much our communities need us to do that there's more for us to do.
On libraries and the American dream:
Anthony Marx: We are the county's agora — the marketplace of ideas — and that's particularly important in New York where half the community are immigrants. The library is the one place where they're not worried about having all the documentation that they might have, where we will provide them with access to ideas, to training in English, basic computer skills, so that the American dream can still be a reality. We are a key engine to mobility in America which is evermore based on access to ideas and information, and that best not go away.
On innovating to keep libraries alive:
Anthony Marx: We're going to have to be creative and if there are ways in which we can find revenue that doesn't intrude upon free access — particularly to those who most depend upon us for it — we should be creative. I do believe the common good is not going away and the love for the library is a clear expression of that, but we have to demonstrate, we have to make it clear to the public at large — even to those who don't use the library — that we can't have the kind of society that we want, for ourselves or our children, if we don't have the kinds of access to information, ideas, creation of new ideas, access to historical documents that the libraries have provided for ages.
This program aired on May 8, 2013. The audio for this program is not available.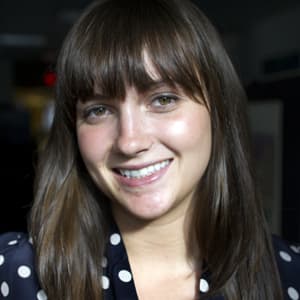 Abby Elizabeth Conway Digital Producer/Editor
Abby Elizabeth Conway was formerly a digital producer and editor at WBUR.