Boston Children's Chorus Tackles Grown-Up Themes In 'A Boy Called King'
This article is more than 8 years old.
When the Boston Children's Chorus and the ICA first asked Haitian-American Daniel Roumain to compose a new work to celebrate the chorus' 10th anniversary, the 42-year-old knew he wanted to create a fairy tale that would attract teens.
"But as I'm sure you're aware, 'Sleeping Beauty' doesn't really play well anymore," he said. So he started by asking himself, "How do you bring the excitement of a fairy tale to someone who's a jaded 14- or 15-year-old? ... How do you really get their attention?"
With sex, apparently. And romance.
Roumain turned to poet, performance artist and playwright Marc Bamuthi Joseph to write the words for "A Boy Called King." In the end, Bamuthi Joseph conjured a poem-like story about a young, disfigured black boy named King who falls in love with a much older white woman. Roumain calls it a reimagining of the iconic "King Kong" tale, built with language and cadences that channel the spirit of Martin Luther King Jr.
But the main plot line involving the crush tackles a taboo subject Roumain said we've encountered in headlines. It might make some people think of the 1980 hit song by The Police, "Don't Stand So Close To Me."
The composer described the scenario, where "fairly young, responsible women, generally speaking, falling in love with their students. Or a situation where a fairly — seems like older men — fall in love with young female students. That is provocative, salacious — illegal, granted — but interesting nonetheless."
Interesting and, in Roumain's case, also personal.
"I still remember Ms. Hieronymus, my elementary school teacher," the composer recalled. "Wonderful woman. I had a crush on her. And I hadn't thought about this, she was an older white woman, to me gorgeous. But she was a good teacher. She never said it but she approached our fifth grade class as though we were high school students, sometimes even college students."
The 60 singers performing "A Boy Called King" are the oldest of the Boston Children's Chorus' 450 members, whose ages range from 7 to 18. Early on, Roumain met with the teens and their parents to see how they felt about the mature themes.
"One of the first questions I asked was, 'Has anyone here dealt with this issue? Have experience with it? Read about it?' Every hand in the room went up."
A Heavy Topic
"I don't think my parents really know what it's about," soprano Emma Kromm admitted. But the 17-year-old thinks her parents wouldn't have a problem with it. The Winchester High School student said she was surprised when she first read the dense, dark text.
"I think that was a little bit more than I was expecting," Kromm said. "But I think it works really well in the piece. The kind of jarring language makes it all the more exciting and believable."
That's the point, according to Roumain, who recited the first lines of the song:
The scent of capture burns a parable between us. Stench of bile and rejection. Lit Venus dark. Behind a mask of scar I crown her queen.
A cascade of imagery follows. The chorus sings the entire text over and over again, and Roumain said those first few lines pull teens in.
"The easy thing to do would be for me to say this is all a dream — it's not real," the composer mused. "But I respect these young people enough to know they can handle these words; they handle and deal with the subject matter every day, whether you're a girl or a boy, despite your sexual orientation. These are big, heavy topics these days."
Artistic Director Anthony Trecek-King said the Boston Children's Chorus is all about taking on tough issues.
"Every year we end up talking about race and race relations, we've talked about homelessness, we've talked about suicide prevention — really heavy topics," he said, adding that he treats each of the 450 kids in his 12 choruses like adults, even the youngest.
David Henry, director of public programs at the ICA, said that's just one of the things that attracted him to this project.
"We have found in our own teen programs that kids can deal with a whole lot," Henry said. "And they can grow a whole lot by dealing with those things. You have to be thoughtful, but you don't have to hide the world from them."
Pushing New Boundaries
"I sometimes get myself in trouble by having very mature conversations," Trecek-King admitted. "But I think more often than not they're having these conversations anyway, so we might as well get involved at some level and create a safe environment to have these discussions."
Even so, Trecek-King acknowledged that the young boy/older woman relationship pushes new boundaries.
"Yes, there's some taboo-ness that's a part of this text and this reading," the 37-year-old responded with a laugh. "But, you know, I was very careful through this process not to interject what I think the text means. I wanted them to really think about the text and come up with their own ideas, but really so they're singing from their own place of conviction."
And there's a lot to ponder in the piece: race relations, gender issues, colonialism, violence, patriotism — along with sexuality.
Seventeen-year-old singer Manny Lewis of Lexington High School has his own interpretation. "I feel like this, for me, feels like a woman has left a man and she's kind of like chopping and screwing him, pretty much just laying it home, like, 'I don't want you, this is hard for me, but just get through it.' "
And Lewis said that situation speaks to him.
"Definitely. I have a girlfriend and we've been dating for quite a while and sometimes I feel like at points she feels like she doesn't care about me, so she's kind of like leaving me," Lewis said. "Like if you read the text and it relates a lot to how it hurts, and it's like — 'the scent of capture burns a parable between us' — is kind of like that distance from you two, and I kind of feel that so I can definitely relate to this piece."
Lewis is glad to be taken seriously by his artistic director, the ICA and composer Roumain.
"It's the Boston Children's Chorus," the teen said, "but we're not really children."
Kromm agrees. "It's nice that people recognize that we can handle these kind of mature topics and handle them thoughtfully and bring meaning to it."
While Kromm said she can relate to parts of the text, she admitted she can't fully relate to the unrequited crush at the center of "A Boy Called King."
"No, my school doesn't really have any crush-worthy teachers," the smiling teen said with a laugh.
The Boston Children's Choir performs "A Boy Called King" Friday, May 31 and Saturday, June 1 at the Institute of Contemporary Art.
This program aired on May 31, 2013. The audio for this program is not available.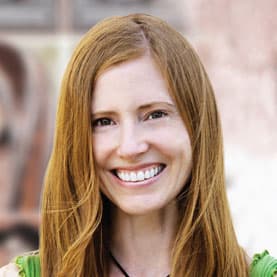 Andrea Shea Senior Arts Reporter
Andrea Shea is WBUR's arts reporter.