Love And Rare Cancer: Widow Fights On For Eye Melanoma Research
This article is more than 8 years old.
Dr. Sara Selig's living room is a tribute to the love of her life. Her wedding contract – a Jewish tradition – hangs in a frame over the mantle. Pictures of herself with her "beloved Gregg" rest on the table behind the couch, and were sewn into a quilt, handmade by a friend.
The love is still there, even though Gregg Stracks died 17 months ago. "Love and relationships don't die when a person dies," Sara says.
That's why she keeps up her fight against the rare cancer that took his life: uveal melanoma, cancer of tissue in the eye.
Gregg's diagnosis came seven years ago, shortly after the couple returned to the US from living in Kenya so Sara could finish her last year of medical school. After a run, Gregg noticed that the pavement looked wavy. When the same thing happened the next day, he went to an eye doctor and then a specialist.  Diagnosed with uveal melanoma, he quickly had surgery.
The ophthalmologists who treated it didn't know the oncologists who treated it, or the researchers who studied it.
Sara was hopeful their cancer story was over; Gregg feared the worst. About a year later he was told the cancer had spread to his liver. Uveal melanoma will spread in roughly half of patients, and is nearly always fatal when it does. Gregg was given less than a year to live.
Sara had started her residency at Brigham And Women's Hospital, specializing in internal medicine and global health; Gregg started a clinical trial – an early treatment that they hoped would give them more time together.
Gregg, an organizational psychologist who helped African patients cope with the emotional side of HIV and AIDS, wrapped up that work after his diagnosis, and – still feeling good – started a consulting business, so he could spend time closer to home.
His doctor told Sara and Gregg that research into uveal melanoma was lagging other cancers. The ophthalmologists who treated it didn't know the oncologists who treated it, or the researchers who studied it, he said. So Sara began working with the Melanoma Research Foundation to organize meetings of doctors and researchers, and form Community United for Research and Education of Ocular Melanoma (CURE OM), which she now heads.
She's since helped raise more than $1 million, most of it for research into uveal melanoma. Diagnosed in about 1,500-2,000 American patients per year,  it is mainly detected during routine eye exams when an otherwise flat mole at the back of the eye starts to thicken.
Sara collaborated with Gregg in those early advocacy efforts, but clearly the legwork was hers.
"As the caregiver, I would have given anything to trade places with Gregg and put those poisons into my body [instead], but you can't make his pain any less and you can't change the situation," she said, her eyes tearing and her voice thick with suffering. "I supported Gregg as best I could and I just went to work, and did what I could do."
Gregg outlasted the doctor's predictions by nearly four years. He died in January 2012.
CURE OM donated its first research grant this spring to Dr. Levi Garraway. Garraway, who splits his time between the Dana-Farber Cancer Institute and the Broad Institute, is one of the world's leading experts in melanoma, a disease much more commonly associated with the skin.
Garraway said he hopes to make a contribution to uveal melanoma by using a growing genetic understanding of the disease to develop medications against the three genes known to be involved in it.
There are a few drugs under development to treat the proteins made by those genes, including one that showed promising results in a study presented earlier this month at the American Society of Clinical Oncology meeting in Chicago.
Researchers from Memorial-Sloan Kettering found that an experimental drug, selumetinib, made by AstraZeneca, shrank tumors in half and significantly extended the time patients had before their cancer spread.
In eight previous clinical trials for uveal melanoma, only two of 157 patients saw a benefit, according to a Reuters report about the research, so the community was thrilled by these results.
Garraway thinks that, as with most cancers, a combination of treatments will be needed to reverse the terrible survival rates of advanced uveal melanoma. "Single agents are unlikely to really hit the ball out of the park," he said. "One of our big research areas is what type of therapeutic combinations might do better for this disease."
No one really knows what triggers the slow-growing cancer, which is rarely inherited and not linked to any environmental exposure – not even the sun, which is often blamed for other types of melanoma.
Research, much of which is being done in Boston, is focused on keeping the cancer from spreading outside the eye, and on attacking it effectively if it does.
"One of the things that has happened in the past several years is we're able to predict pretty accurately who is at highest risk for the tumor spreading outside the eye," said Dr. Ivana Kim, an associate professor of ophthalmology at Massachusetts Eye and Ear Infirmary and Harvard Medical School.
'Now there's some serious firepower being directed at this disease.'
Sara Selig's efforts to bring the research labs and clinical doctors together to "break bread" and solve problems could make a crucial difference, said Keith Flaherty, director of the Termeer Center for Targeted Therapies at the Massachusetts General Hospital Cancer Center, and also involved in CURE OM.
Now, he said, "there's some serious firepower being directed at this disease," with the involvement of high powered researchers and institutions.
Her work "put us ahead of where we would have been otherwise," Flaherty said, and is a testament to the importance of family members and patients advocating on behalf of scientific research.
For her part, Sara said she just wants to protect other people from the kind of loss she's lived through.
"Gregg just had this amazing energy to him, just this love for life and love for community. He was always this young boy just enamored with the world and nothing was too small to be excited about," she said.
Making progress against uveal melanoma, she said, would be a lasting tribute to his memory.
Sitting and talking recently in the living room they shared, Sara's memories still sounded fresh; and the grief in her voice as she shared them still raw.
On the mantle rests a plaque with a quote from A.A. Milne, author of Winnie the Pooh:
"If there ever is a tomorrow when we are not together
There is something you must always remember
You are braver than you believe, stronger than you seem
And smarter than you think, but most important of all
Even if we are apart, I'll always be with you."
This program aired on June 27, 2013. The audio for this program is not available.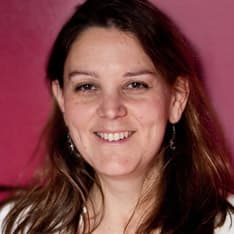 Karen Weintraub Contributor, CommonHealth
Karen Weintraub spent 20 years in newsrooms before becoming a freelance writer. She's a contributor to WBUR's CommonHealth.