Poll: Boston Mayoral Race 'Could Go Any Way'
04:56
Play
This article is more than 7 years old.
With just over a week to go before the Boston preliminary election, a new poll shows that only one-quarter of likely voters say they have decided on a mayoral candidate.
The Boston Globe survey suggests the race is up for grabs to a large extent.
Boston City Councilor John Connolly has a slight edge over a crowded field, but the poll shows nine of the 12 candidates have a reasonable chance of making it into one of the two spots for the final election.
Former city housing chief Charlotte Golar Richie came in second, slightly ahead of state Rep. Martin Walsh and District Attorney Daniel Conley.
The poll's respondents said the most important issue in Boston is crime and violence, followed by quality of public schools.
The poll also looked at casino gambling. About half of residents questioned support plans for a casino at Suffolk Downs in East Boston, and 67 percent said they want a citywide vote on the project.
WBUR's Sharon Brody spoke with Andy Smith, director of the University of New Hampshire Survey Center, which conducted the Globe poll.
---
Sharon Brody: You told The Boston Globe that the race is "up in the air." Explain to us just how volatile it is.
Andy Smith: The top candidate's getting 13 percent of the vote — that's John Connolly. And then you've got a number of candidates right there behind him: Charlotte Golar Richie at 9 percent, Marty Walsh at 8 percent, [Dan] Conley at 8 percent. But even you've got Consalvo at 6 percent. Barros, Felix Arroyo, Mike Ross — they're at 5 percent. So you've got all of these candidates that are tightly bunched.
"These candidates just aren't very well known at all."

Andy Smith, director of the UNH Survey Center
It's really important though, in that first time you look at that, 34 percent of voters say they haven't decided who they're going to vote for. This is a week plus before the election. And even after you press those people and ask them who they're leaning to, 24 percent are undecided.
Another thing that's important is that these candidates just aren't very well known at all. So John Connolly is the best known candidate, but 32 percent of likely voters say they don't know enough about him to even have a favorable or an unfavorable opinion of him.
So if you look at those dynamics — lack of attention, lack of interest in the race — the electorate is undecided. And you've got 12 candidates, none of them are well known. This could go any way.
What do you think it's going to take for a candidate to make it into the top two positions?
Well, I think it really comes down to organization right now. And this kind of election turnout should be quite low, probably in the 20, 25 percent range. In that case, the candidate that has the best ground game, the most volunteers, the most people who can knock on doors, the most people who can get people on Election Day to the polls, I think is in the best position to win.
What sense do you have from conducting the poll of the process that people are using to make up their minds, as they seem to be having a difficult time? Is it issues? Is it candidate personality? Face-to-face meetings? Endorsements? Traditional alliances?
We asked voters what is most important in their vote; 58 percent told us it was the background or experience of the candidate. Only 29 percent said it was a position on a specific issue. Five percent said it's the neighborhood, so that localness doesn't seem to make much difference.
The biggest issue that people are talking about overall is crime and violence, but the quality of education seems to be the issue that [voters] who say they're voting on issues are paying the most attention to. The candidate who's focusing on education is getting the issue voter that's out there, so to speak.
John Connolly was really the first person to enter the race when Tom Menino had not even said he was not running. Connolly has staked his claim on public education. So do you think that could help explain his lead? Slight as that lead may be?
"The fact that the candidate is talking about education ... is going to be a more important factor than the specifics of what he's talking about."

Andy Smith, director of the UNH Survey Center
Yes, slight as it is. And he's certainly pushing that. He's got ads that are running right now that are quite effective, talking about his background as a teacher and keeping his kids in public schools. So those are things that I think will resonate with voters that have a concern about education.
And that actually helps him in a low-turnout election because the kind of people who are most likely to vote are the people who have higher levels of education. And for that group of people, they're most likely to say that the quality of education or poor quality education in the city is the most important problem the city faces.
Of course, some of those people might have a different stance on education than John Connolly does.
I think we're at the point in this election that the fact that the candidate is talking about education, which is an indication that it's important to him, is going to be a more important factor than the specifics of what he's talking about. I think what happens over the next week, both in the press but also on the ground, is really going to determine who the next mayor is.
Are you essentially saying that the way the media plays the different candidates, the way they're presented in the media — nuances and bold strokes — will make a big difference?
I think two things. First, that they've even talking about a particular candidate is going to make a difference. And then secondly, the angle of that talk — voters don't know a lot about these, so they're using any information that they hear to help them make up their minds.
This article was originally published on September 15, 2013.
This program aired on September 15, 2013.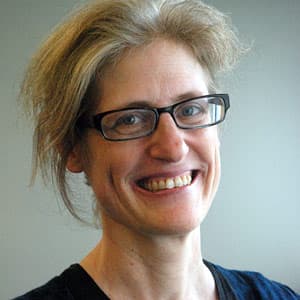 Sharon Brody News Anchor
Sharon Brody is the voice of WBUR's weekend mornings. On Saturdays and Sundays, she anchors the news for Weekend Edition and other popular programs.