Boston Remembers JFK On 50th Anniversary
04:02
Play
This article is more than 5 years old.
Boston paused to remember President John F. Kennedy and his words on Friday, the 50th anniversary of his assassination.
Gov. Deval Patrick was among those at the John F. Kennedy Presidential Library & Museum in Dorchester who recalled Kennedy by reading portions of his best-remembered speeches.
A new exhibit of never-before-displayed items from JFK's state funeral — like the flag that draped his casket and the saddle worn by the riderless horse that walked in the procession — was also placed on display at the library.
The exhibit and a live webcast tribute featuring music and the readings of speeches were a departure from tradition at the library, according to Tom McNaught, executive director of the Kennedy Library Foundation.
"This is the first time the Kennedy library has ever, ever observed Nov. 22 other than putting a bouquet of flowers in the lobby," he said, "but we understand that this is a significant anniversary that has to be commemorated and observed. The legacy lives on and the torch has been passed. It's an opportunity to remember what he stood for."
But for those who lived through the events 50 years ago, archival materials aren't needed to evoke memories: they're burned deep into hearts and minds.
"I can't ever forget that day," said Stan Benulis, of Weymouth, who was in ninth-grade algebra class when his teacher announced that Kennedy was assassinated. "I even remember where I was sitting. It's like frozen for me."
He said: "A lot of us cried. It was like the world had just changed. He was everybody's hero."
"Like everybody else I remember where I was and what was going on," said Bill VanGelder, who lives in Plymouth. "I was walking into a bookstore in Woburn. It was on the radio."
"I was in seventh grade in parochial school," said Fred Hehn, from Port Washington, N.Y. "Class was soon dismissed and when I got home my mother has the radio on and is in tears, tears, and just shock and disbelief, like time stood still."

"The news came over the radio and I was absolutely stunned," said Andrew Finlay, from Cardiff, in the United Kingdom. He was 14 years old. "I was a huge, huge fan of Kennedy. The family gathered around the radio and I got out my tape recorder to record this. I knew this was absolutely momentous, and God, I listened to the recording just the other day. It's very, very moving, very moving indeed."
"It was surreal to me," said Sandy Mattson, from Harvard, Mass., who was in grade school in Littleton, Colo., on Nov. 22, 1963. "Another student and I went to lower the flag at the school to half mast. And standing there it kind of hit me how serious this was."

Saxophonist Paul Winter played at the White House for Kennedy in 1962. In 1963 he was living in New York City when a friend called with the news Kennedy had been killed.
"I put the phone down, went to the radio, and sat there for an hour, and was in deep shock."

On this rainy Friday at the Kennedy library in Dorchester, Winter rushed inside carrying the saxophone he'd play at the ceremony, marking the day 50 years ago Kennedy died.
This program aired on November 22, 2013.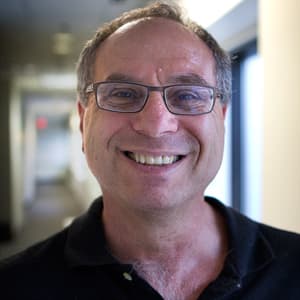 Bruce Gellerman Senior Reporter
Bruce Gellerman is an award-winning journalist and senior correspondent, frequently covering science, business, technology and the environment.