SSHH! The Best-Kept Film Series Secret Takes Place In A Library
This article is more than 7 years old.
CAMBRIDGE, Mass. — Where can you find the area's best under-the-radar film series? There's no web link or email blast. You won't read a peep about it on Twitter. The location changes if the organizers anticipate a crowd. Your best bet may be to browse Radcliffe's online events calendar or wander campus on the first Wednesday of the month at 6 p.m. looking for signs taped to doors.
The Schlesinger Library Film Series is not intentionally underground, according to Summer Unsinn, a cataloguer at the library and chair of its film series committee. It's simply not a commercial venture. As such, Unsinn and fellow librarians have the freedom to raid the library's holdings (which has a collecting emphasis on American women's history) or dig into rarely screened works on a theme, preferably directed by women.
"It's always so great to be looking for stuff when you have narrow criteria… and find a fantastic movie you've never seen," says Unsinn. The 2010-2011 season paired an episode of "The Goldbergs," a popular mid-century American television program created, written by, and starring Gertrude Berg with an adaptation of the 1917 Susan Glaspell short story, "A Jury of Her Peers."
This season, filmmakers are graduates or past fellows of Radcliffe College, Radcliffe Institute, Bunting Institute, or Harvard. Admission is free and an often-intimate discussion led by the director, a visiting scholar, or a film committee member follows the screenings. (The usual venue, the Radcliffe College Room in the library, seats about 35.)
Up next on Dec. 4 is "Orgasm Inc.," Liz Canner's gutsy exposé about the race to develop the first female Viagra. Released in 2009, "Orgasm Inc." captures a range of emotion, from heartbreaking stories of women desperate to have healthy sex lives to shocking on-camera admissions from representatives of the industries out to exploit those desires. Canner effectively uses animation to ramp up the absurdity (pills run an actual foot race on a tousled bed), and at many points, it's laugh-out-loud funny.
The series takes a break in January and returns Feb. 5 with Mylène Moreno's 2001 documentary, "True-Hearted Vixens," about the inaugural year of the Women's Professional Football League. Moreno follows two women who stay focused on winning despite playing for teams named Vixens and Minx. The contradiction between which gender barriers are broken and which upheld in order to turn a profit is one of the film's central concerns. As history knows, the grand experiment didn't exactly take root.
On March 5, local director Julie Mallozzi will discuss her 2012 documentary about one woman's relationship to her ailing, aging body. The main character in "Indelible Lalita" relocates from Bombay to Montreal and as her skin lightens from vitiligo she recognizes a shift in her perceived racial identity. The ARTery previously covered "Indelible Lalita" here.
Unsinn says that because "a lot of movies are about 18-34 [year-old] young women, it's more fun to dig into both documentaries and feature films about women whose lives don't always get talked about." That's why she jumped at the chance to screen the April 2 film, "Womanish Ways," a 2012 documentary about the women's suffrage movement in the Bahamas. Suffrage is a perennial topic at the library, she says, but the conversations often center on American or British women. Director Marion Bethel will be in attendance.
Perhaps the most exceptional treat in what, overall, is a no-miss line-up is the remarkably on-target "Girlfriends," a 1978 narrative film by Claudia Weill. It closes the season on May 7 with a discussion led by Harvard Film & Visual Studies PhD student Kate Rennebohm.
In a role that should've launched the fresh-faced Melanie Mayron into a filmography along the lines of Catherine Keener or Frances McDormand, Mayron plays a young photographer finding her way in New York City after her roommate moves out and marries. (Instead, Mayron toiled as the far more angst-ridden version of that same character 10 years later, on "thirtysomething.")
Perhaps the world wasn't ready because "Girlfriends" looks a little — no, actually a lot — like this year's "Frances Ha," a film that Rennebohm, audio reviews here. "Girlfriends" has also picked up recent steam as a parallel to the storylines in Lena Dunham's HBO series, "Girls," so much so that Dunham and Claudia Weill have made public appearances together to discuss the overlap.
Schlesinger's film slate may lean toward the academic, as does the crowd, but not entirely so. Unsinn recalls last season's screening of "Mountains That Take Wing." "Almost everyone has heard of Angela Davis," she says, but not Yuri Kochiyama, an anti-racist peace activist and also a subject of the film. "I almost felt furious. Why have I never heard of her before?" It was a heated, call to arms discussion about the anti-racist movement and women's rights movement in America, she says. "That's the kind of thing I would like to see more of."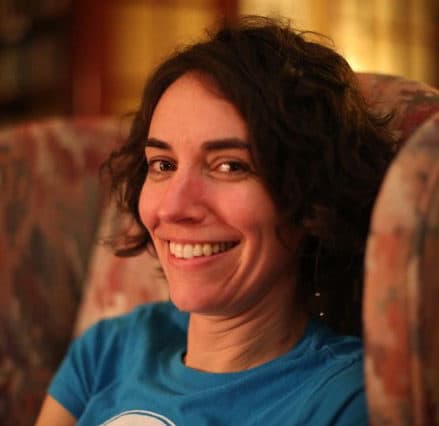 Erin Trahan Film Writer
Erin Trahan writes about film for WBUR.