Your Holiday Guide To Arts & Culture Events In Boston
This article is more than 7 years old.
With winter weather in full gear and retail stores piping Christmas music through their loudspeakers, it's starting to feel a lot like the holidays. For some, that means having a few days off to explore Boston's rich arts and culture scene. For others, it might mean scrambling to purchase some last second stocking stuffers. Either way, we've got you covered.
Here is The ARTery's list of arts and culture events for you to enjoy during the holiday season, curated by our editors, Ed Siegel and Greg Cook, and contributor Amelia Mason.
Theater
The Heart of Robin Hood
Through January 19 at the American Repertory Theater, $25-$55
We all know the classic Robin Hood tale. The vigilante, Robin Hood, and his merry men, steal from the rich and give to the poor. But this play, which began as a Christmas show in Stratford, England, reimagines the story, adding a distinct twist: Instead of stealing from the rich and giving to the poor, Robin Hood and his merry men keep their plunders. If the A.R.T.'s long history of transferring shows is any indication, this has the potential to be quite wonderful.
The Slutcracker
Through December 31 at the Somerville Theatre, $25
The Slutcracker is just like the beloved holiday ballet "The Nutcracker," only not. Now in its sixth season, the Slutcracker touts itself as a raunchy burlesque parody featuring a diverse cadre of performance artists and dancers. The ARTery's Robin Allen LaPlante previewed the performance in November, calling it "a different kind of holiday spice."
It's A Horrible Life
Through December 22, Machine Night Club, $35-$45
Ryan Landry and The Gold Dust Orphans — a theatrical troupe like no other — are at it again with their performance of "It's a Horrible Life" — a parody of the holiday classic "It's A Wonderful Life." Landry is particularly well-known for his hilarious and entertaining adaptation of classic stories (Remember "Who's Afraid of the Virgin Mary?" and "Death of a Saleslady"?), so this production falls right in line with his modus operandi. If you're looking for a laugh, this may be it.
The Black Nativity
Through December 22, Northeastern University Blackman Auditorium
The Black Nativity tells the original story of the Nativity based on the Gospel of Saint Luke, combined with the poetry of Langston Hughes. The performance has been around since the late 1960s through the National Center for Afro-American Artists in Roxbury, Mass., and is a staple in the Boston community.
Visual Arts
Think Pink
Through May 26, 2014, Museum of Fine Arts, admission varies
If you're looking to take the museum route, consider checking out the "Think Pink" exhibit at the Museum of Fine Arts, which explores "the history and changing meanings of the color" in fashion from the 18th century to today.
Future Beauty
Through January 26, 2014, Peabody Essex Museum, $18 for adults
This exhibit features Japanese fashion from the last 30 years, and highlights the difference between European and Japanese fashion, the latter having broken tradition by applying shapes to the body rather than conforming to it.
Christina Ramberg
Through March , 2014, ICA/Boston, $15 for adults
Yes, another fashion exhibit, but this one had to be mentioned because it's by pop artist Christina Ramberg. Using cartoony pop-style art, the exhibit focuses on the transition from Mad Men-esque fashion of the 1960s — tightened waists, pushed up busts — to the more loose, flowy kind of fashion in the 1970s. What makes this exhibit interesting, says The ARTery's Greg Cook, is its focus on "the political liberation" of the era "seen in the physical manifestation of the body."
Daniel Ranalli's New Snail Drawings
Through January 18, Gallery Kayafas
In this exhibit, photographer Daniel Ranalli takes photos of snails arranged into patterns on the beach, juxtaposing them next to photos of designs made in sand by the snails themselves as they deviate from the pattern.
Music and concerts
Jennifer Kimball Wintery Songs in Eleventy Part Harmony
December 18, Club Passim, $20
Local singer songwriter Jennifer Kimball performs her 4th annual "Wintery Songs in Eleventy Part Harmony." If you're unfamiliar with this yearly tradition, basically Kimball gets a bunch of friends together and performs a list of seasonal music. This year, Kimball will be accompanied by an all-female group of singers.
Bad Rabbits
New Years Eve, The Sinclair, $30
Post-soul/R&B group Bad Rabbits have had a pretty remarkable 2013. They appeared on the Arsenio Hall Show, Jimmy Kimmel Live, The Late Late Show with Craig Ferguson, and headlined at the Boston Calling Music Festival. If you're in the mood to dance as you ring in the New Year, this is an event you'll want to check out. Also performing will be Bearstronaut and Brek.One.
First Night 2014
December 31, Various locations
First night is billed as the country's "oldest and largest New Year's arts celebration." This year, First Night will feature performances from the American Repertory Theater, Patti Smith, local music acts, as well as ice sculptures, fireworks, and more.
Albums
Bob Dylan, Another Self Portrait
The latest in Bob Dylan's bootleg series, this album comes in a 2-CD set or a 4-CD set — your choice depending on how ardent of a Dylan fan your gift recipient is.
Lake Street Dive, Bad Self Portraits
Lake Street Dive is one of the best bands to come out of Boston in recent years, according to The ARTery's Amelia Mason. And soon they will be releasing "Bad Self Portraits" — an album that has been more than a year in the making. The album is coming out on February 18 — just missing the "stocking stuffer" date — but you can preorder it now.
Moe Pope, Let The Right One In
Made with local producer Rain, Moe Pope's new album is one of the best albums to come out of the Boston hip hop scene this year. Poetic, sonically gorgeous, and just all around a really great listen.
This program aired on December 18, 2013. The audio for this program is not available.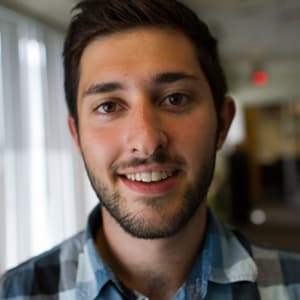 Nate Goldman Social Media Producer
Nate Goldman was formerly a social media producer at WBUR.