Making It Up As They Go: Boston's Unscripted Musical Project
09:53
Play
This article is more than 7 years old.
Putting on any type of musical is an ambitious undertaking. Now imagine a musical where the cast doesn't know what the dialogue, the songs or even the storyline will be before getting on stage.
That's what's happening at a new theatrical event in Boston taking place Friday nights at a makeshift comedy club in a former button factory in the city's Fort Point neighborhood. It's called Boston's Unscripted Musical Project and it's a Broadway-style musical spun from scratch on the spot using a story idea supplied by the audience.
"We've had suggestions such as 'goblin day care,' 'Christians in Rome' and 'tai chi Sasquatch,' " says one of the actresses, Michelle Whitaker.
At a recent performance, an audience member shouts out a story idea within seconds of the cast asking for a suggestion: "Mayor of Toronto!"
"Topical!" Whitaker shouts back.
With that, the crowd bursts into laughter, and the cast is off.
"Ladies and gentlemen," Whitaker says, addressing the audience, "I would like to present a musical that you've never seen before and has never been performed before tonight. It is the opening — and closing — night of 'The Mayor of Toronto'!"
On stage are not just five cast members but also a four-person band. It's an hour-long performance complete with a coherent plot line and recurring characters. But instead of exactly tracing the downward trajectory of the real disgraced mayor of Toronto, the cast tells an outlandish tale of a three-way race for mayor involving a bad-boy incumbent, a goody two-shoes up-and-comer and an overly earnest sewer commissioner.
"I am committed to a single platform, which is refurbishing our city's sewer system!" says the commissioner, played by actor Mickey McCauley. "I cannot overemphasize the severity of the waste management problem that we have in this city!"
The show includes musical campaign pitches, including one song in which the squeaky clean candidate sings that he'd like to be mayor because "I think I would do a really good job." There are also a few pseudo-references to Rob Ford, the actual self-confessed crack-using mayor of Toronto, such as when the fictional incumbent, played by actor Tim Stonelake, defends his past behavior with this explanation: "I never intended to have cocaine parties; it just happened!"
Throughout the show, without warning to the actors, the band periodically starts playing, a signal that whoever's on stage suddenly has to begin making up lyrics.
At the end of the "Mayor of Toronto" show, the audience decides the winning candidate by "clap vote," which results in the sewer commissioner being elevated to mayor. In his acceptance speech, the new mayor launches into a song with the refrain "this city is going down the drain" and lyrics such as this: "I only ask that each Torontoan take a look inside — not of his heart, but of the contents of his septic tank."
'Not Rehearsed, Not Practiced'
Many of the rotating cast members are trained in improvisational comedy, and all of them audition for their roles, so underlying the on-stage randomness are basic principles of improv, such as developing a solid narrative and strong characters and sticking with your character's point of view.
"We've had audiences where they just felt so wowed by the fact that we were even singing and talking," said actress Christine Toohey. "Sometimes you can feel the audience being, like, 'How are they doing this? They're singing? This is outrageous!' "
"Sometimes you can feel the audience being, like, 'How are they doing this? They're singing? This is outrageous!' "
As for what the cast thought of the Toronto mayor storyline suggested by the audience, actor Brian Agosta had this to say: "To be honest, I was like, oh no...It's already a story. We're going to wind up doing the biography of something."
Added Toohey: "Sometimes my worst nightmare is that we'll get a suggestion, it will be something topical or current events, and I won't have any clue what it is...So then it becomes whatever Toronto means to us, whatever our inspiration is from that."
"It seemed very natural," Laura Cole of South Boston, one of the 30 or so people in the audience, said after the show. "It was crazy — almost scripted but it was obviously not."
"It's always a pleasure to tell people, 'No, it's not rehearsed, it's not practiced,' " said the co-founder of Boston's Unscripted Musical Project, Pablos Rojas, whose full-time job is managing operations at Improv Asylum, a Boston-based improvisational comedy theater. "The music is not practiced. There are no cues. None of that exists. You give us that one suggestion, you get something completely made up and it will be different every single time."
The other co-founder, who doubles as the show's band leader, is Bryan Dunn, who by day teaches science at Xaverian Brothers High School in Westwood. He says audiences never hear the same music twice, either.
"You would hear similar styles, like when there's a bad person — I don't know if you know 'The Little Mermaid,' but Ursula the Bad Witch — like the donk, donka donk, donka, that [musical beat] always is what I want to play when there's a bad person entering," Dunn said. "But I'm like, OK, let's try something else. So sometimes you'll get the similar feels of genres but not the same songs at all."
Boston's Unscripted Musical Project performs at the Catalyst Comedy Club, which Rojas also founded to create more local venues for aspiring comedians after he grew weary of watching talented performers leave Boston for New York, LA or Chicago.
"There's a lot of independent improv and sketch groups that don't have a home because there's just not places for them, and they'll spend a lot of time trying to put up shows, do their own thing in little spaces, small theaters, rehearsal halls, restaurants," Rojas said. "My goal here is to say, 'You know what? You don't have to worry about that. Focus on your show, focus on your craft, and I'll give you a space, and we'll make it happen together.' "
Boston's Unscripted Musical Project will be on hiatus at its South Boston location in January and resume in February, but the group will be performing in January at Riverside Theatre Works in Hyde Park and the Arts Block Cafe in Greenfield.
This program aired on December 19, 2013.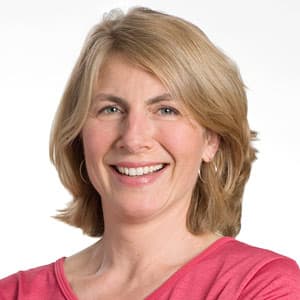 Sacha Pfeiffer Host, All Things Considered
Sacha Pfeiffer was formerly the host of WBUR's All Things Considered.