Mass. Opens Road To Sharing Medical Records
Resume
An 83-year-old male patient lies on a rolling hospital bed in what looks like an emergency room.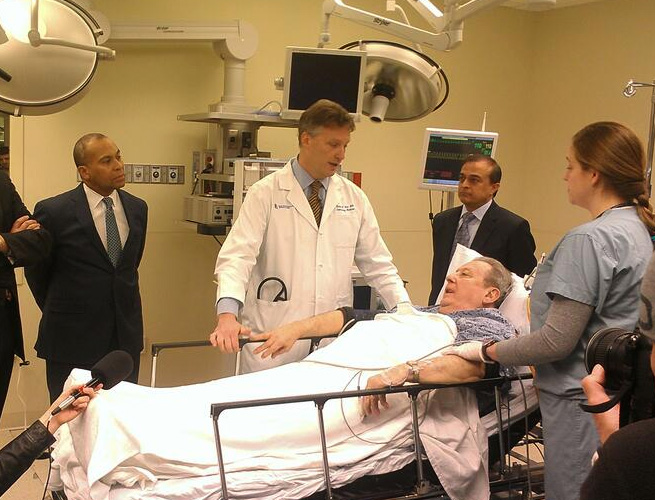 "He's just come in by ambulance," nurse Amelia Nelson says to a doctor on the other side of the bed. "His heart rate's pretty high. His temperature is almost 102. He hasn't been able to tell me anything: He doesn't know his allergies, his medical history, he doesn't know what meds he takes on a regular basis."
Dr. Kevin Ban orders a series of tests: a head scan, a chest X-ray and a CT scan of the patient's abdomen.
"Before we get too far," Nelson suggests, "should we check the HIway and see if any of other hospitals have any information?"
"Oh, that's a great idea," Ban says.
Let's pause. This is a simulation, set up to demonstrate the benefits of expanding the state's HIway, or Health Information Highway. The HIway is a network of hospitals and physician groups — 57 so far — that have agreed to share the records of those patients who've given their permission to do so.
Gov. Deval Patrick launched the HIway in 2012, sending some of his records from Massachusetts General Hospital to Baystate Medical Center in Springfield. Now the program can bring in, as well as push out, records, as Dr. John Halamka, the chief information officer at Beth Israel Deaconess Medical, demonstrates.
Halamka types in Harold Greene, the name of the patient in the simulated ER.
"And within less than a second, I find that the patient has been asked to consent in the past to disclose medical records at four different institutions," he says. "The patient has consented."
Providers are not allowed, by state law, to share records without a patient's consent. With Greene's consent, Halamka requests and receives records from Tufts Medical Center in Boston and Holyoke Medical Center in Holyoke.
They show that Greene recently had some of the same tests Dr. Ban was about to order. They also show that he is allergic to shellfish, which means that the iodine in the contrast dye for that CT scan might have produced serious side effects. One recent study suggests that the reaction risk for patients with a seafood allergy, who have such tests, is small.
In this simulation, Halamka says reviewing Greene's records avoided making his condition worse and saved the costs of the tests.
"You could have put the patient from, say, a standard hospital stay that might have been a few thousand dollars to a $20-$30,000 ICU stay," he says.
But this information highway has some limitations. About 20 percent of physicians in the state do not yet use electronic medical records and very few nursing homes or mental health providers are in such a system.
The highway is not an interstate, so if your parents or grandparents are in Florida for the winter their records cannot travel to the warm South.
And so far, you, the patient, do not have access to the highway, although Halamka says he expects that will change because "when we built this new highway foundation it was with the intent of adding patient access to it, so that is something we are working on."
Some patients will be reluctant to say "yes" when asked if they are willing to share their records.
Late last year, more than 100,000 patients in two California health systems were notified that a flash drive and two laptops contacting some of their medical information had gone missing.
In Massachusetts, the HIway will not store data that could be lost or stolen. It is a channel through which providers exchange patient records. Organizers say they've taken every possible precaution to make sure records are only delivered to licensed doctors and hospitals.
On Wednesday, the governor praised this phase that opens the HIway to two-way traffic.
"This technology is a win for all of us," Patrick says. "It will help us save lives, reduce health care costs, and improve patient care all around."
But not right away.
State leaders say it will be three or four years before all the health care facilities in Massachusetts that keep a digital version of patient records are enrolled in the system and using it. Then it will be up to you and me to decide whether to say "yes" to sharing our records.