Foye's 23 Points Leads Nuggets Past Celtics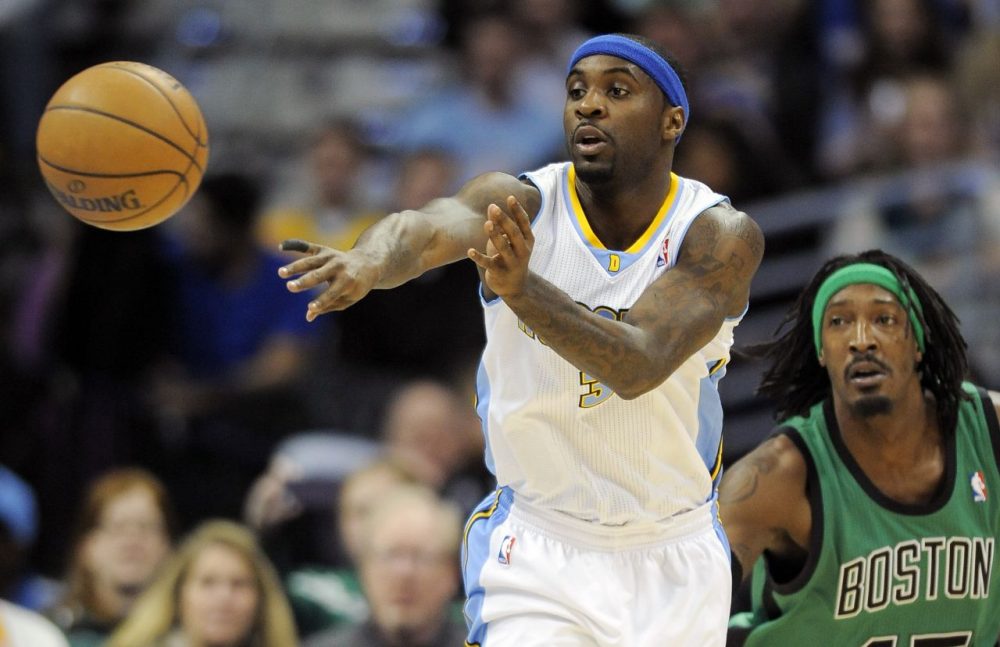 This article is more than 8 years old.
Randy Foye's first season in Denver got off to a slow start. It's suddenly on the upswing.
Foye scored a season-high 23 points, connecting on seven 3-pointers, and the Nuggets routed the Boston Celtics 129-98 on Tuesday night for their third straight win after an eight-game losing streak.
"Even when I was missing shots, I just constantly said, `This is not me,"' said Foye, who converted 8 of 17 shots from the field, including 7 of 12 from 3-point range. That was a big improvement from an overall conversion rate of 35 percent from the field in his previous 14 games.
"I knew the only way I could get through something like that is you put the effort forward and that's what I continued to do," Foye said. "I just knew I was going to fight through it, and tonight I felt like my old self."
Teammate Ty Lawson sensed Foye was on the verge of an offensive breakthrough.
"I told him, `You're getting wide open shots. All you've got to do is set your feet and knock' em down,"' Lawson said. "That's what he's been working on, getting his shot right. He's been showing improvement and now he's making everybody better. And for us to win like we want to win, he has to knock down shots."
Lawson and Kenneth Faried followed Foye's lead.
Faried had 21 points and 13 rebounds and Lawson added 19 points and 13 assists for the Nuggets, who sent the Celtics to their fifth loss in a row and reversed a 106-98 loss at Boston on Dec. 6. The Nuggets returned to .500 (17-17) with the victory, though the team said after the game that Wilson Chandler was day to day after straining his left groin late in the third quarter.
"I think it was motivation from the last game," Lawson said. "They jumped on us 39-15, something crazy, in the first quarter last time. We wanted to make a point that you're not going to just do that to us and get away with it and that's what we did. Foye was making shots, and spreading their defense out and Faried and J.J (Hickson) were taking care of things down low."
Jerryd Bayless, acquired earlier in the day by Boston as part of a three team trade that also involved Memphis and Oklahoma, had 6 points in 25 minutes in his Celtics debut.
Jeff Green led Boston with 17 points. Brandon Bass had 15 and Avery Bradley 12 but the 31-point loss stood out as the Celtics' worst defeat in the all-time series with the Nuggets.
"Tonight's just not good enough. It's not good enough," Celtics coach Brad Stevens said. "We're going to have to play really well to beat these teams on the road. Everybody's going to have to play close to an `A' game, and that's everybody. Today was disappointing."
Both teams lost a key figure to ejection during a testy third quarter, when the Nuggets led by as many 32 points, their biggest lead of the night.
Boston's Jared Sullinger was tossed with 8:43 left in the third quarter after he picked up two flagrant fouls within 23 seconds of each other.
Nuggets coach Brian Shaw drew two technicals in succession and was ejected with 2:43 left in the third quarter by referee Rodney Mott for arguing with him over a call during a timeout.
Faried, Wilson Chandler and Timofey Mozgov all had dunks off alley-oop passes in the third quarter, and Faried converted a three-point play with 4:21 left in the period to put the Nuggets up by 32 points, their biggest lead of the night. Boston never led at any point in the game.
"We didn't get back on defense. We gave up a lot of dunks and uncontested layups. We're not playing hard enough," Boston's Jordan Crawford said.
The Nuggets built a 68-45 lead in the first half, closing the second quarter with a 10-run that included a 3-pointer by Foye and back-to-back dunks off the fastbreak by Faried and J.J. Hickson. Denver made 10 of its 3-pointers in registering a season-high in first-half scoring, including four by Foye.