Patriots Face Steep Challenge In Denver
04:47
Play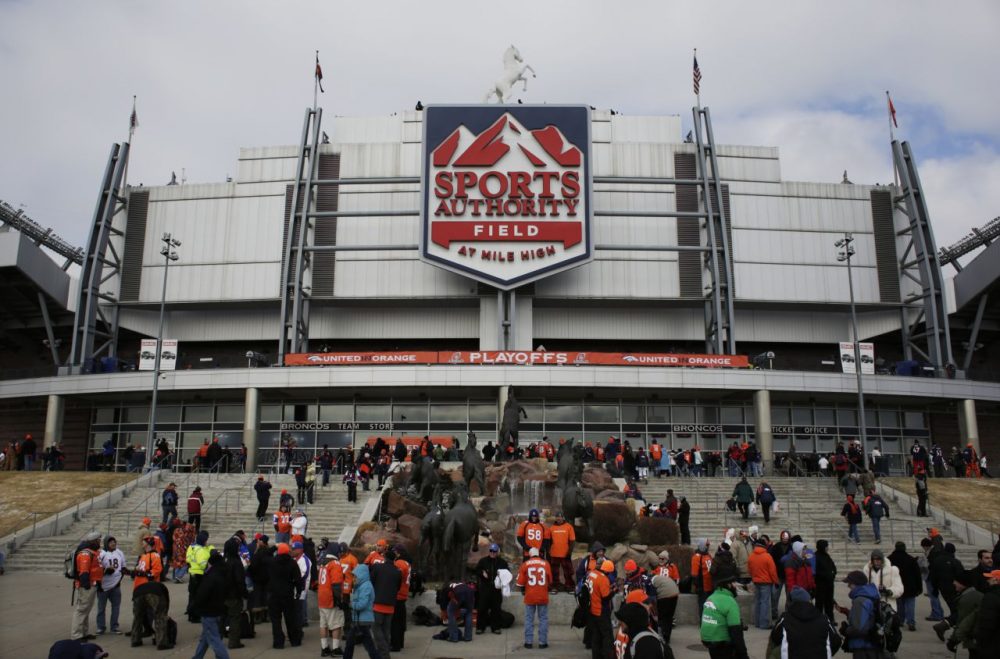 This article is more than 8 years old.
This afternoon in Denver, the Patriots and the Broncos fight for the AFC title and a ticket to the Super Bowl. From Denver, Only A Game's Karen Given joined Sharon Brody to preview the action.
---
Host Sharon Brody: How's the weather out there?
Karen Given: Well, funny you should ask. It's still very early, but the forecast is for 58 degrees—maybe even a little warmer—light wind, sunny. We all know that Broncos quarterback Peyton Manning does not play well in the cold. His stats drop if temperatures dip below 40. They drop even further if temperatures dip below 30. The Patriots, on the other hand, thrive in the cold. They seem to love the snow, the sleet. They would have loved to see a nice Denver blizzard, but instead it's going to be a beautiful day, and that's definitely going to favor Peyton Manning.
Speaking of Broncos quarterback Peyton Manning, this season he broke NFL single-season records for touchdown passes, passing yards, points in a season. However, Tom Brady is not exactly a slouch. So the NFL has to be happy about the matchup. How are the Patriots handling the challenge?
Well, I think the Patriots—they won't say it—but they definitely would have preferred to be facing the San Diego Chargers today. But both of these quarterbacks are in the running for the best ever. Both--I also hate to say this; don't kill the messenger—they're nearing the end of their careers. Whoever comes out on top will have taken a step in solidifying their legacy and their place on that list of best quarterbacks in NFL history.
The Patriots are really trying to ignore all that. They say it's a game between the Patriots and the Broncos, not a game between Brady and Manning. But even coach Bill Belichick had to admit that Manning is a difficult quarterback to face. Here's what he said on Wednesday:
 I know he's as good as we're going to face—as good as we have faced. So it will be a big challenge for us. I think our defensive football team realizes that. We'll be out there Sunday to do our very best at defending not only him but the other 10 guys that are out there with him.
But let's not forget that while Peyton has a better record this year—a far better record this year—he has lost 10 out of the 14 games he's played against Tom Brady.
Well, last week against Indianapolis, Tom Brady did not throw a single touchdown pass. And LeGarrette Blount—it was his first-ever postseason game, and he rushed for 166 yards and 4 touchdowns. So is Blount, our new hero, ready to do it again against Denver?
Well, he's certainly the new hero, and he's certainly the new most popular guy in the locker room. He was absolutely swarmed by the media on Wednesday. He's really trying to take it all in stride, which seems to include a bit of Belichick-inspired denial. Here's how he handled a question about whether he'd be able run as well in Denver's thin air:
 I don't believe in all that. I mean, you gonna go play no matter if they're elevated high or whatever it is. As long as you can breathe you can go out there and play ball.
You know, the Patriots really seem to be treating the altitude issue as if it was some sort of myth, but I went for a run when I got here just to see how it was, and I'll admit I have about one one-thousandth of the physical conditioning that these players do, but the altitude is really no joke.
This is also the first time the Patriots have played a playoff game on the road since 2006. Denver is favored, at least among those placing money on the game. How is the team handling this unfamiliar position as underdogs?
Well, the fact is, Tom Brady loves being called an underdog. I think that sometimes he scours the television stations and newspapers just looking to try to find someone who says he's not going to win so he can use it as inspiration. And noise is definitely a factor at Sports Authority Field.
In fact, earlier this season, Manning had to ask his own fans to quiet down because they were being so loud he was having trouble communicating with his own players. You know, the Patriots say they can handle it, but we'll just have to see.
Well, we will have to see, and here's something else to see about: who wins, Karen?
You know, it's true: I've given Patriots fans a lot of reasons to be concerned today. And many experts, not all of them, are picking the Broncos. I will say that this game will likely be a fantastic game. Many people think it's going to be better than the Super Bowl. Both teams seem really well prepared. And I will predict this: if the Patriots win, it's not going to be easy.
This segment aired on January 19, 2014.