In Boston Visit, Sen. Warren Pushes Minimum Wage Hike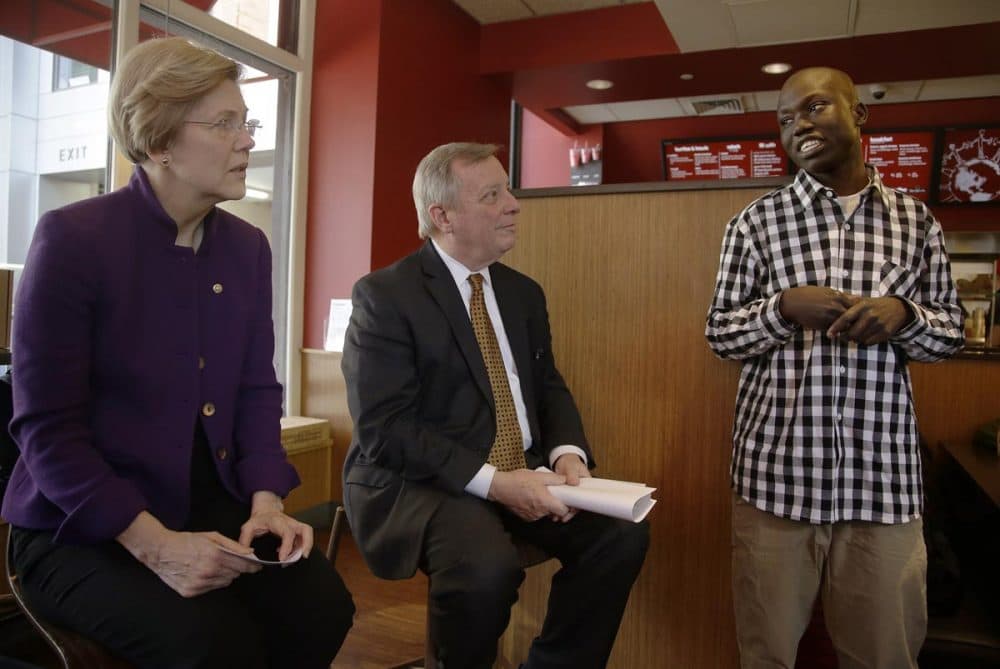 This article is more than 6 years old.
Democratic U.S. Sens. Elizabeth Warren of Massachusetts and Dick Durbin of Illinois stopped by a burrito chain restaurant in Boston on Monday to advocate for an increase in the state and federal minimum wage.
"No one who works full-time should live in poverty," Warren said at a Boloco restaurant.
A bill to raise the minimum wage in Massachusetts to $11 an hour by January 2016 passed the Senate in November and was sent to the House, which has not yet taken action. A separate initiative being pushed by a labor-backed group would put a question on the November ballot that would raise the minimum wage from $8 an hour to $10.50 an hour over two years. Both would automatically link future increases to the state's rate of inflation.
The minimum wage in Massachusetts has not increased in five years.
Warren and Durbin were joined by John Pepper, a founder of Boloco. The restaurant pays workers a minimum of $9 an hour - a dollar more than state law requires. Pepper said he rewards workers by paying them a more dignified wage.
Emmanuel Sebit, 21, earns the state minimum wage at Boston Logan International Airport, where he handles luggage. He said he immigrated to the U.S. from South Sudan last year to become a lawyer but has struggled to get by.
"Raising the minimum wage can help my life; it can change my life," he said.
Durbin and Warren also are trying to build support for raising the national minimum wage. President Barack Obama has asked Congress to raise the minimum wage from $7.25 an hour to $10.10 an hour.
Critics say a big increase in the minimum wage would burden Massachusetts businesses and could cause the state unemployment rate to rise.
"It will make employers and job creators uncompetitive," Republican state Sen. Bruce Tarr said. "This is a multistep issue that involves much more than raising the minimum wage."
This article was originally published on February 10, 2014.