Can Dudley Square Tower, Murals Spark A New Model Of Boston Public Art?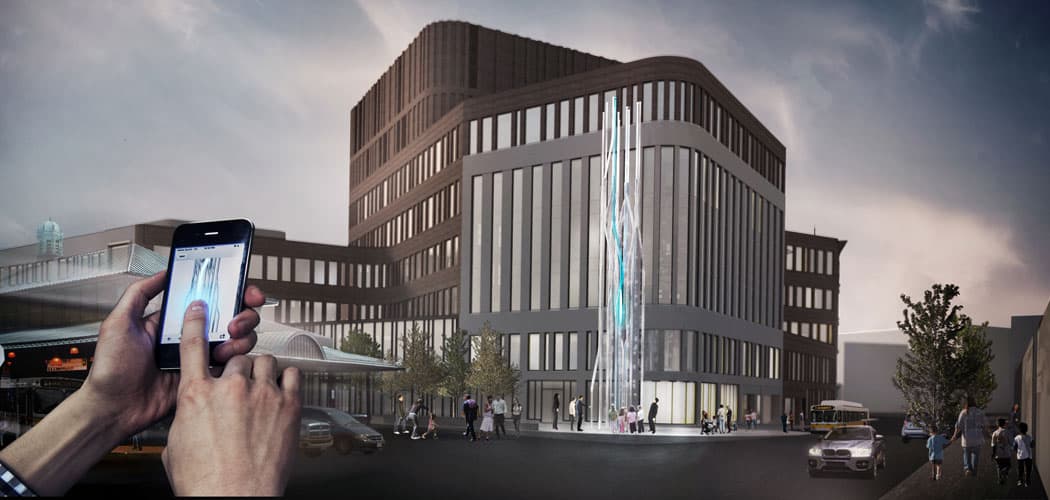 This article is more than 7 years old.
"This is what public art in the city could look like if we commission our own projects, if we had a percent-for-art program," Boston Art Commission Director Karin Goodfellow says. "We could use this as a model."
That model she's talking about is a planned mural championing Roxbury history by Napoleon Jones-Henderson, a light-up tower by Meejin Yoon (pictured above) and a mural of wiggling colors by Clarita Stephens that have been selected as public art for the city's under-construction Dudley Square Municipal Center, city officials announced Friday.
What's unusual about the project is that the city originated the commissions and provided the funding, Goodfellow says. "We actually planned ahead in a public project to include public art," she adds. "Often it's left to later … and it leads to a piece that doesn't feel a part of the place."
If the city had percent-for-art legislation it could require a percentage of construction projects to be dedicated to public art. Currently much public art across the city originates with funding from private groups seeking to commemorate a cause dear to them or to illustrate their theme.
In a process overseen by the Boston Art Commission, a nine-person "selection committee" picked Jones-Henderson's and Yoon's proposals from 35 wall design and 49 sculpture submissions attracted by an open call beginning last June. A separate smaller committee chose Stephens's design. The city has budgeted $300,000 for the public art projects from the three Boston artists, with an additional $200,000 expected to be raised from donations, Goodfellow says.
The municipal center, scheduled to open this fall, is slated to provide offices for Boston Public Schools and the Boston Redevelopment Authority, as well as storefront commercial space.
When Goodfellow talks about this project as a model, she highlights the process to fund, pick and construct the art. "I think it sets a tone for public art in the city," she says, a model for private developers to follow as well.
Are the artworks themselves sufficiently ambitious, engaging, meaningful? Hard to answer definitively since Goodfellow says final designs are still being developed.
The two mural proposals adopt the traditional style of sunny, celebratory patterns deployed for civic uplift. Jones-Henderson's murals have been previously featured the Rhode Island Convention Center in Providence, Black Falcon Cruise Ship Terminal in South Boston and Roxbury Community College. Here his design for the "Roxbury Rhapsody" mural features iconic African-American heads and patterns that evoke African design. He's expected to rework it into a horizontal composition for the building's second-floor community meeting room.
Stephens, a senior at Burke High School in Dorchester who was encouraged to apply by her teacher Alisa Rodny, was picked to be featured on an 81-foot by 11-foot panel in the building's School Committee meeting room. She is expected to work with artist James Hobin to finalize her design for commercial printing, Goodfellow said, and encouraged to remove the word "Intricate" that floated atop her proposed design to make it fully abstract.
Yoon, a principal at Höweler+Yoon Architecture LLP / MY Studio and an associate professor at Massachusetts Institute of Technology, writes that the design of her "Crisscross Signal Spire" sculpture "traces the relationship of Roxbury to the city of Boston historically from one of its original three towns to its central position among twenty-one neighborhoods."
The cascading lines of the "self-buttressing bundled tower" would aim to evoke "a railroad crossing and the Boston T network, but it also acts as a vertical timeline telling the story of the city of Boston's formation from three original towns to a city of 21 neighborhoods." An aspect of the design that stood out to the selection committee is its incorporation of technology. Her proposal calls for lights to mark time "like a digital hourglass," show MBTA train traffic, and locate Citizen's Connect reports of damaged streetlights, roads and other city infrastructure (until they're fixed). Though it's unclear how that data would be understandable by viewers since the proposed design is not readable as a traditional map.
Greg Cook is a co-founder of WBUR's ARTery. Follow him on Twitter @AestheticResear.
This article was originally published on February 15, 2014.