Prefer Your Bugs Fried, Roasted Or Mashed? Artist Offers Taste Of Food's Future
John Osorio-Buck estimates that by the end of his month-long project he'll have gone through roughly 3,000 crickets — including the 500 crickets he's saving to eat with you and other visitors to the deCordova Sculpture Park and Museum this weekend.
Yes, eat. The 43-year-old Lawrence artist tells me that he'll be at the Lincoln museum from 10 a.m. to 5 p.m. this Friday, Saturday and Sunday offering crickets to eat to anyone who wants some. "They kind of taste like a pumpkin seed or a sunflower seed," he says. "They have this nutty flavor."
Osorio-Buck's projects often feel part RV-lifestyle, part survivalist, part Henry David Thoreau, part DIY farming, and part emergency management. He summarizes his themes as "survivalism and sustainability."
He's got plans to exhibit a pair of 17-foot-tall beacon towers with faux antennas on top at 17 Cox gallery in Beverly sometime in the next month or so. His resume includes travel packs and picnic tables, a cab-over camper, a community kiosk for a music festival, a faux shipping container and porta-potty, a solar-powered stand to give away soup, a survival hut of the sort you might come upon in Antarctica, a mini house boat raft upon which he lived for a time on Boston's Fort Point Channel, and electronic road signs flashing messages like "We want r utopian now!"
"I do call a lot of my projects utopias," Osorio-Buck explains. "There is a bit of irony there. I also do try to bring in the humor of the disaster."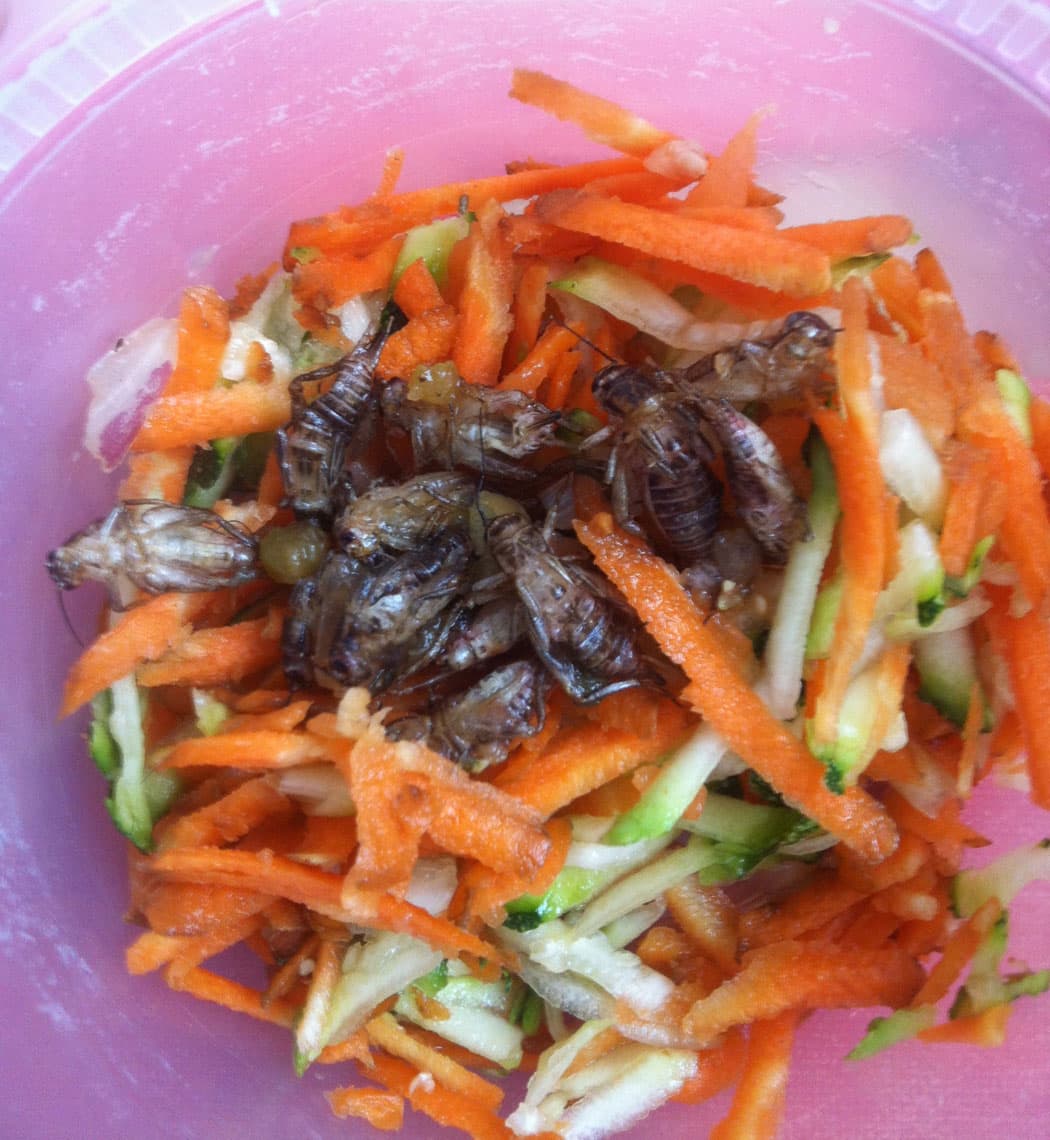 The foundation for all this is his strong sense that our American way of life is killing the planet and will in turn kill us. "We can't keep doing what we're doing," he says. So all his guy-alone-in-the-world skills and gear, which presently might read as curious art experiments, may be required of anyone who wants to stick around long-term.
Which is how we come to bugs—crickets, to be specific. "It's a really good way of getting protein and isn't as detrimental to the environment," he says.
Eating insects has become a paramount symbol of the future of sustainable cuisine. In the 2013 report "Edible Insects: Future prospects for food and feed security," the United Nations' Food and Agriculture Organization recommended that Western cultures join about 2 billion other people around the world and take up insect eating. Because bugs "are healthy, nutritious alternatives to mainstream staples such as chicken, pork, beef and even fish." And they're a more efficient source of protein ("crickets, for example, need 12 times less feed than cattle … half as much feed as pigs and broiler chickens to produce the same amount of protein"). Cultivating insects to eat, the U.N. said, uses land less intensely and produces less global warming gases than raising the usual edible animals.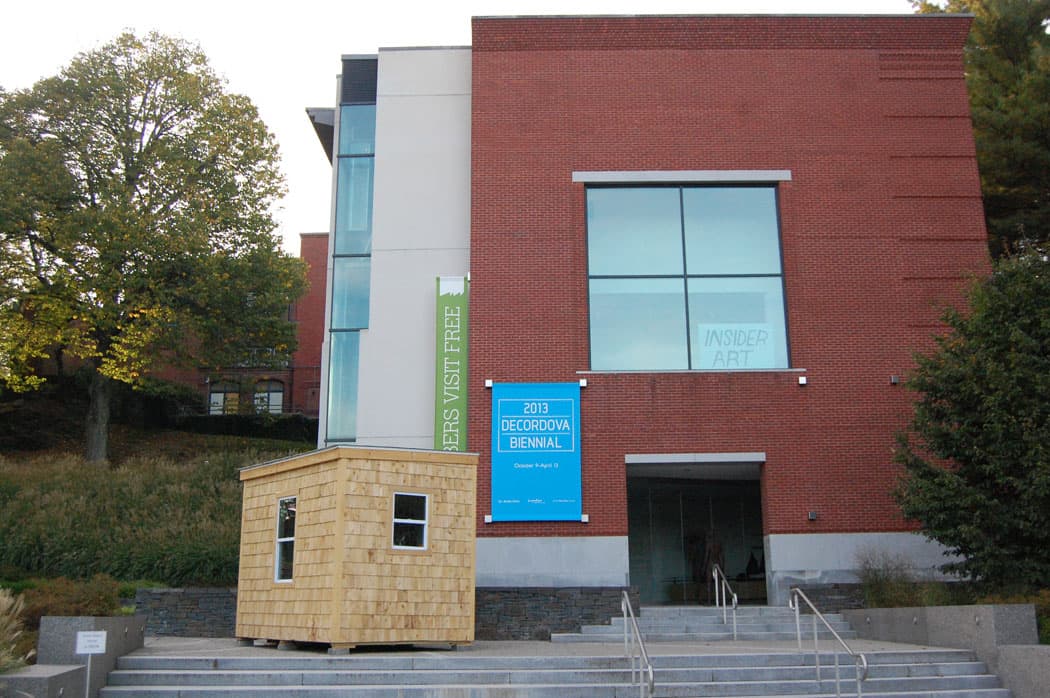 So when artist John Gonzalez invited Osorio-Buck to be the latest artist doing a four-week residency in the cabin he'd set up on the museum's front entrance plaza for the run of "The 2013 deCordova Biennial" exhibition, Osorio-Buck accepted his offer.
"It just gave me a nice little window to look into something I've been interested in for a while," he says. But "maybe not had the bravery to try it out." He says he'd never eaten a cricket before he began this project in mid February. It's a sort of experiment, a micro model of how we might live more lightly on the earth, or, if things go bad, how we might have to get by.
Osorio-Buck raises the crickets inside the cabin but broadcasts their singing to the outside. "It's super hopeful. It's been a brutal winter," he says. "Crickets are the sound of summer."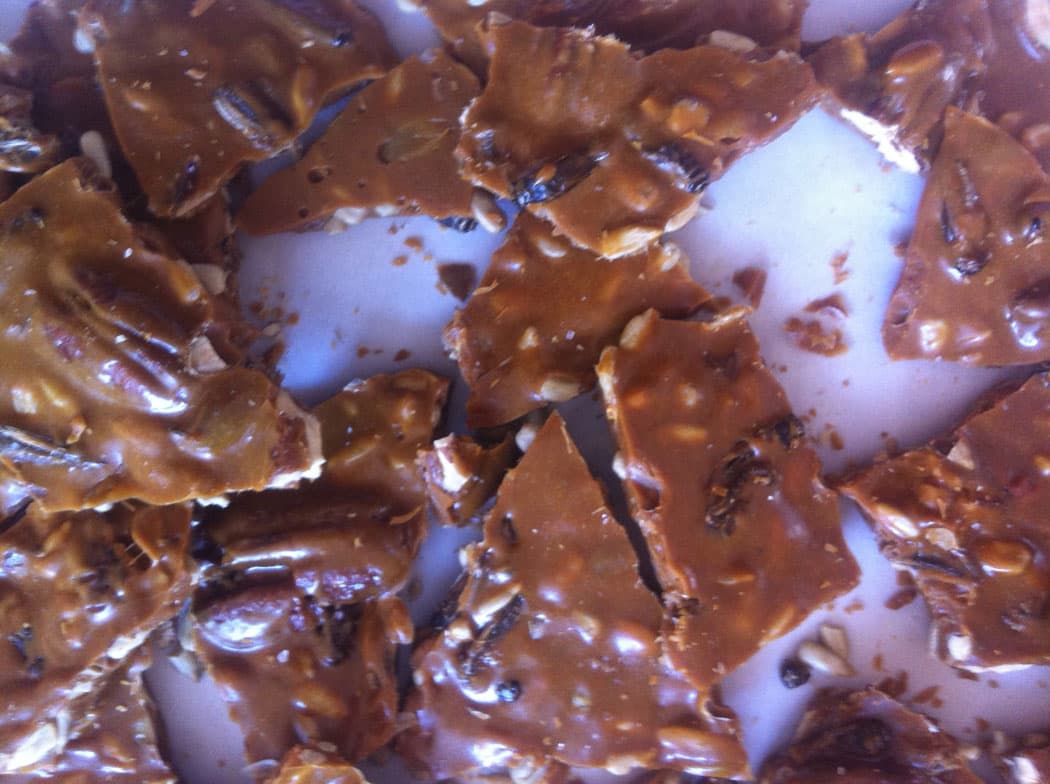 The crickets dine on vegetable scraps (zucchini is a particular favorite) and dried cat food. He collects the insects up, freezes and washes them. Then he deep-fries them, or dry roasts them, or mashes the roasted bugs into a powder that he sprinkles onto falafel or granola bars ("So you're not seeing crickets. People are OK with that."). His insect-fortified sampling menu for those who visit him at deCordova has included Oaxaca "spicy crickets" (boiled, marinated overnight in lime juice, chilies and garlic, then deep fried), chocolate-covered crickets, cookies with crickets, cricket brittle, and cricket jack ("like Cracker Jack with crickets added").
"I'm not trying to disguise any flavor of them," he says. "It's more the mental. It's getting over the idea of eating a bug."
Does a cricket diet make one feel more vigorous and alive? "Not really. But a month might not be a long enough data set to determine that. Ask me in three months," he quips.
Up next? What do you think beetle larvae might taste like?
Greg Cook is a co-founder of WBUR's ARTery. Follow him on Twitter @AestheticResear.