Flower Show Gives Boston An Early Taste Of Spring
02:59
Play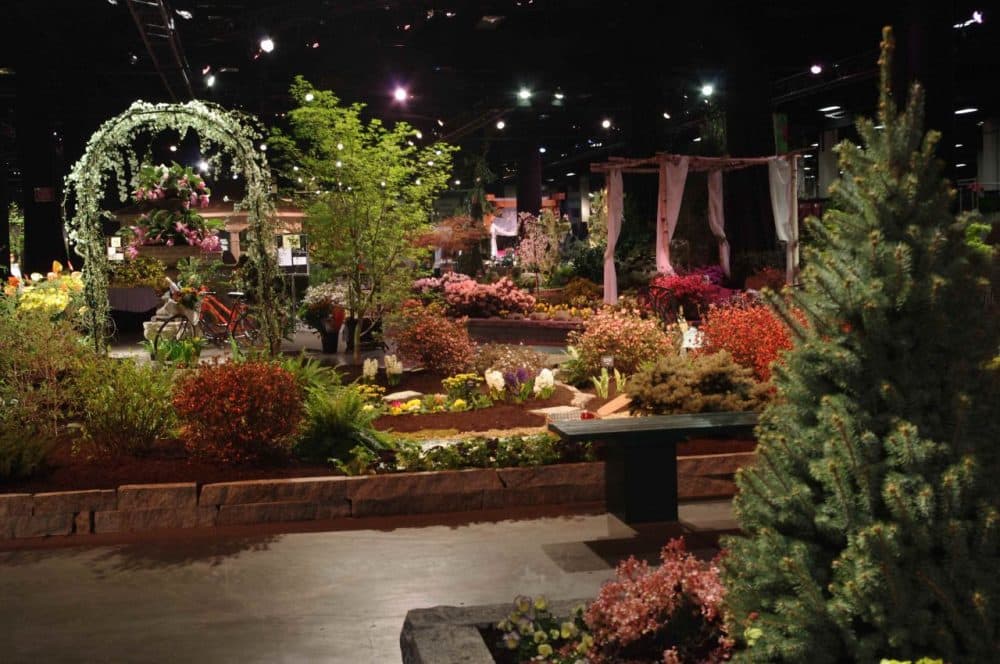 This article is more than 7 years old.
For those who want a reprieve from the seemingly endless winter, there is now a place to go. The Boston Flower and Garden Show is just getting underway.
The Show
Head down the escalator of the World Trade Center in the Seaport District and you'll see a pink and white ticket booth opening into a massive, windowless room. It's filled with more than 2 million flowers. Immediately, you're greeted by the fragrance of lavender and fresh mulch.
Most visitors here are looking for the same thing.
"We love the flowers and, of course, it's the time of year to come out and see this away from the snow," said one visitor named Patty.
"Yeah, try to think right now about the snow in the eye of your mind," added Ronnie, another visitor. "You can't see it. All you can see is flowers and green, you know? It's great."
The two have been coming for decades but it's their first time in this location.
For more than 100 years Massachusetts Horticultural Society, MassHort, had run the annual event. But in 2008 that tradition ended. Since 2010, it's been managed by the Needham-based company Paragon Group. And, with management change came a location change. Now the space is about half the size.
While some folks weren't so happy about the move, Ronnie doesn't mind. He was busy admiring a mosaic boulder.
"Yeah they chiseled it all out and then they inlaid it right in with the stained glass," he said. "It's beautiful. It's a work of art."
'Spring Break'
Prancing past that work of art was a little girl in a bright pink tutu.
"Lots of flowers," she said.
Three-and-half-year-old Lila Cohen isn't interested in the artistry, the real doves nearby or even the flowers.
"I want to see the trains," she said.
She dragged her parents and grandparents over to a set of tracks with tiny trains chugging along.
This display captures an entire estate in miniature. Landscape designer Jim Donahue helped construct it.
"Everything is 29 times smaller than in reality, basically," he said. "So when we were trying to figure out the height of trees and things, we would look at the mature height of an elm tree and say, 'OK, 29 times smaller would be 3.5 feet.' So that's what we'd go for. So we'd do the math to try to make it look real."
There's even a miniature chateau made of items such as cinnamon sticks and pistachio shells. Donahue said it's a challenge to make displays tiny and realistic. And so is getting the plants to cooperate.
How does he ensure the flowers bloom on the right day?
"Well, through forcing," Donahue explained. "So, they were in greenhouses throughout the winter. And we kept on moving them from warmer to cooler greenhouses until we got them to the stage we needed them. And then we held them very cold until the show. And then they bloom right at the correct time."
By the time the Boston Flower and Garden Show closes on Sunday evening, the show's organizers predict about 60,000 people will stop by for a "Spring Break."
This article was originally published on March 13, 2014.
This segment aired on March 13, 2014.