Get Thee To A Theater: 4 High-Profile Plays Closing; 3 Opening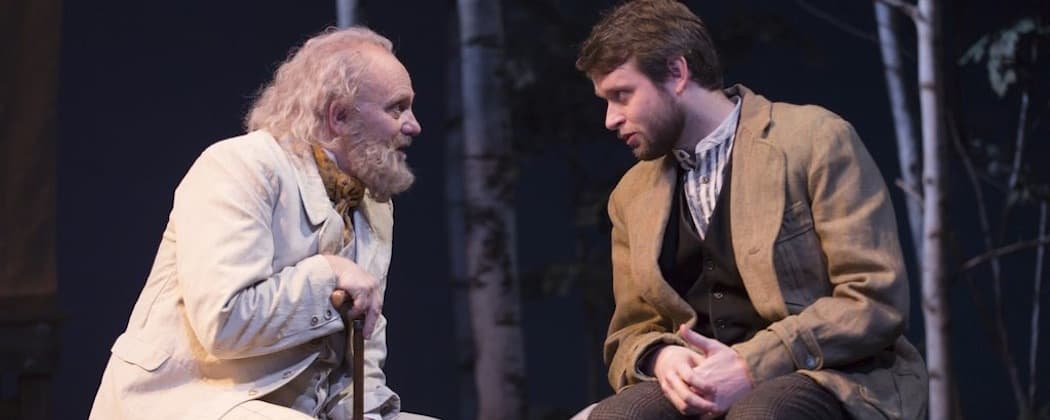 This article is more than 7 years old.
BOSTON — There's often a wealth of theater in Boston, but this weekend borders on the ridiculous. Four high-profile plays close while several others have opened and while opinions were divided on some, each has its champions. The range, in particular, is admirable. Most are home-grown products, two are imports from elsewhere (a key component to the over-all health of theater in the city) and one, "The Seagull" at the Huntington, combines the best of Boston and New York acting.
Last Chance Saloon

The Flick
The play that most everyone seems to love is Annie Baker's "The Flick" by Company One (at the Modern, through Saturday). At 34, Baker is one of the country's leading playwrights and her latest, focusing on three marginalized characters working in an independent movie theater in Worcester, shows why. As I said about her work in general:
Any one of her characters could give in to depression or soul-crushing developments in their lives, and some of them do, but there's a basic humanism, and humor, in Baker's writing that not only keeps them afloat, but makes them among the most endearing contemporary characters in today's theater. Even over the course of three hours.
A Midsummer Night's Dream
ArtsEmerson continues to import an awe-inspiring array of great world theater (as well as working with companies here, including Company One). Its latest (at the Cutler Majestic through Saturday) is the Bristol Old Vic's collaboration with South Africa's Handspring Puppet Theatre ("War Horse"). Not only is it among the most whimsical productions of Shakespeare's most whimsical play, but the acting is so good it will cure any Shakespearephobe you might know of his or her affliction.
Death of a Salesman
Even critics can't get to everything, but suffice it to say that Arthur Miller's play about Willy Loman and the American dream is one of the great plays of the 20th century. This, then, is the chance of a theatrical lifetime for director Spiro Veloudos, actors Ken Baltin and Paula Plum (as Linda Loman) and the reviews for the Lyric Stage Company of Boston production have been quite positive. (Through Sunday)
Here's what Joyce Kulhawik had to say about it.

Witness Uganda

The African-inspired music and choreography is tremendous, but the rest of this musical didn't do much for me. The ballad, written by Griffin Matthews (who stars) and Matt Gould, are particularly weak (unless "Rent" is your idea of a great musical) and the story, itself, about a naive young man bringing education to a group of Ugandan youth, seems, well, naive. (It's sure a crowd-pleaser, though, at the Loeb Drama Center through Sunday.)
Here's the full review and note the comments below it.
---
Recently Opened

The Seagull
Everyone has a different take on how Anton Chekhov should be translated. For my rubles, you can't do better than the late Paul Schmidt, who adopted a colloquial, somewhat contemporary style that actors and audiences enthusiastically respond to. Schmidt caught all the comedy in Chekhov without ever trivializing him.
Nicholas Martin, who was to direct Schmidt's "Seagull" at the Huntington Theatre Company, is a kindred spirit, as is Maria Aitken, who does a superb job filling in for the ailing former Huntington honcho. Starring two members of the Martin posse — Kate Burton and her son, Morgan Ritchie — this production pretty much belongs to the secondary characters of this fine ensemble, including three terrific turns by local actors Thomas Derrah, Nancy E. Carroll and Nael Nacer.
"Brundibár"
The circumstances behind this children's opera are unspeakably sad. Hans Krása wrote the story about children standing up to bullies as Prague was getting swept up in the European craziness of the late 1930s. He would eventually be sent to Theresienstadt where "Brundibár" was performed by the children there with adults playing the instruments. Most of them, including Krása would eventually be killed.
Maurice Sendak and Tony Kushner came up with a new version in 2003 and now the Kushner libretto, sans Sendak drawings, comes to the Central Square Theater in a very powerful production by Underground Railway Theater. Scott Edmiston places the action in Theresienstadt, preceded by Kushner's accompanying play, "But the Giraffe!"
Here's the full review.

Incidentally, Ellen McLaughlin, Kushner's original angel, from "Angels in America," also has a play that just opened at the New Repertory Theatre, "Tongue of a Bird," as the first in a series of the Next Rep Black Box Festival.
The Whale
Samuel D. Hunter's play does not go far enough into the mind and metaphor of a man who becomes trapped by his own 600-pound body, but this SpeakEasy Stage Company production is worth it just for the first-rate acting, notably John Kuntz, literally immense in the title role. We might start out being repelled by Charlie, but Kuntz, obviously with Hunter's help, fully humanizes him by play's end.
More