Former Mass. U.S. Sen. Scott Brown Launches Senate Bid In N.H.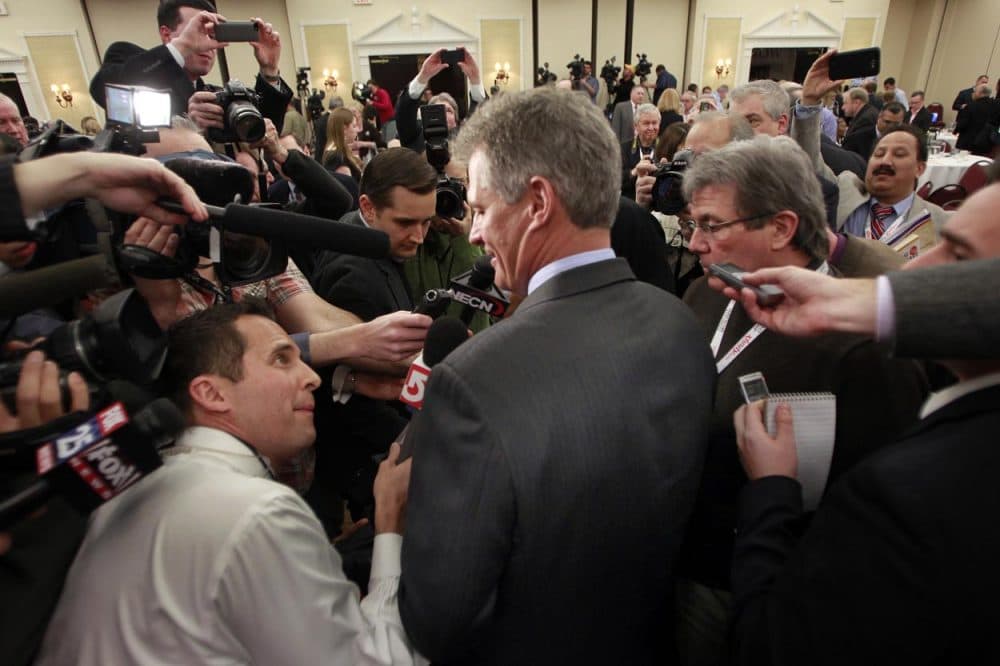 This article is more than 7 years old.
In a move cheered by Republicans nationwide, former Massachusetts U.S. Sen. Scott Brown on Friday declared he's running for the Senate again, saying he wants to "stop complaining and get involved again" by formally joining the race against Democratic U.S. Sen. Jeanne Shaheen.
Brown's decision gives the GOP a top-tier contender who, win or lose come November, helps his party's national push to claim the Senate majority - a shift that could fundamentally reshape the final two years of President Barack Obama's presidency.
The longtime Massachusetts resident, who recently moved into his seacoast New Hampshire vacation home, formally launched an exploratory committee to enter the Senate race during a Republican conference in Nashua, ending months of speculation about his intentions.
Brown said his wife told him he should run for the U.S. Senate in New Hampshire if he really wants to make a difference.
"Honey, you are right," he said. "I'm going to stop complaining and get involved again."
While recent polls give Shaheen a solid lead in a prospective matchup, Brown's near-universal name recognition in a Massachusetts border state and his national fundraising network makes him a serious contender on Day 1.
Brown rose to national prominence by winning the 2010 special election to replace the late Massachusetts Democratic U.S. Sen. Ted Kennedy but he was soundly defeated in his first re-election test against Democrat Elizabeth Warren in 2012.
Brown declined to enter a 2013 special U.S. Senate election in Massachusetts, citing the strains of running a third Senate campaign in less than four years and partisan gridlock in Washington.
"I'm tired of the blaming," Brown said Friday as he entered the race. "I'm tired of the divisiveness."
Earlier in the day, Fox News Channel formally cut ties with Brown, who had recently renewed a contract to serve as a paid political contributor. Fox and other networks regularly feature former politicians but don't continue paid relationships once they become candidates.
Bill Shine, executive vice president of programming, said Brown's paid contributor contract was terminated on Friday after he notified Fox of his intention to form an exploratory committee.
Brown's decision overshadowed appearances by other high-profile Republicans on the first day of the Northeast Republican Leadership Conference, which features prospective presidential candidates and other GOP leaders looking to court New Hampshire voters and put their stamps on party affairs.
Brown began aggressively seeking the support of New Hampshire elected officials and key GOP activists in recent weeks over the telephone. At the same time, his camp began seeking Republican operatives to fill senior staff positions on a prospective Senate campaign.
Democrats had scoffed at a prospective Brown candidacy, noting that he also was considering a 2016 presidential campaign. Brown canceled plans to visit Iowa next month and downplayed his White House aspirations on Friday.
National Democrats already have their hands full defending more vulnerable Democratic incumbents across the country as they fight to retain their six-seat Senate majority. With finite resources, they would rather not devote additional time or resources to a New Hampshire seat that was supposed to be safe.
National Republican allies quickly signaled serious support for Brown's candidacy.
The outside group American Crossroads, co-founded by Republican strategist Karl Rove, on Friday confirmed plans to spend $650,000 on a new television advertising campaign against Shaheen beginning next week. Other conservative groups began pouring money into anti-Shaheen advertising earlier in the year focusing particularly on her support for Obama's health care overhaul.
Brown had agreed to a so-called People's Pledge in Massachusetts during his 2012 Senate contest, essentially blocking outside groups from getting involved in the race. There is so sign of such a pact in New Hampshire's 2014 race, which could become one of the most expensive in state history.
AP television writer David Bauder in New York contributed to this report.
This article was originally published on March 14, 2014.