Bruins Roll To 10th Straight Win, Beat Devils 4-2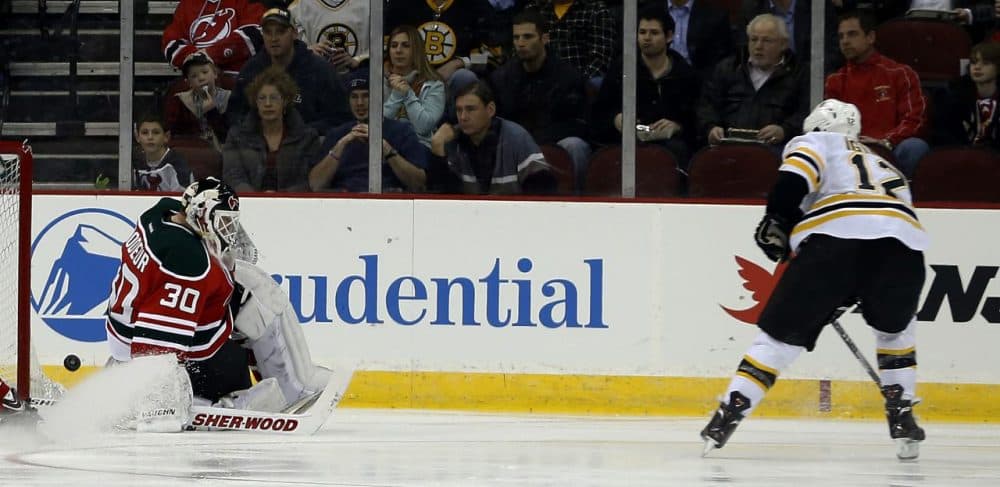 This article is more than 7 years old.
Brad Marchand and Jarome Iginla scored in a 59-second span early in the second period and the Boston Bruins beat the New Jersey Devils 4-2 on Tuesday night for their 10th straight win.
Patrice Bergeron and Chris Kelly also scored and Chad Johnson made 20 saves as the Eastern Conference leaders hurt the Devils' postseason hopes by sending them to their third straight loss.
The 10-game winning streak ties Anaheim for the NHL's longest this season. It is the Bruins' longest since a 10-game run in November 2011, and four shy of the franchise record set in 1929-30.
Patrik Elias and Travis Zajac scored for the Devils, who are now in danger of missing the playoffs for the second straight year and third time in four. Martin Brodeur made 27 saves.
Elias had tied the game at 1, one-timing a shot past Johnson with New Jersey enjoying a two-man advantage 29 seconds into the second period.
The Devils had 1:28 left on a delay of game penalty to Gregory Campbell after Elias scored, but it was the Bruins and Marchand who would capitalize short-handed.
Zdeno Chara, who was celebrating his 37th birthday, sent a pass out of his zone to Marchand. He gave the puck to Bergeron as they crossed in the Devils' end and took a return pass for his 22nd goal of the season. It was his league-leading fifth short-handed goal and came less than a minute after Elias had scored his 16th of the season.
The goal had not been announced when Iginla broke into the Devils' zone after taking a long pass and beat Brodeur between the pads with a shot from the right circle. It was his 26th goal of the season and his fifth in the last three games.
Kelly stretched the lead to 4-1 a little more than seven minutes into the third period, beating Brodeur in close after taking a pass from Carl Soderberg.
Zajac snapped a shot over Johnson (15-3-1) a little more than two minutes later. It was his 13th of the season.
The Bruins, who were playing on consecutive nights, dominated the first period, taking the first nine shots. Bergeron put them ahead with 5:27 left in the period when he was sent in alone by Reilly smith and beat Brodeur with a backhander that seemed to slip off his stick.