José Mateo Speaks Volumes About 'Silent Currents'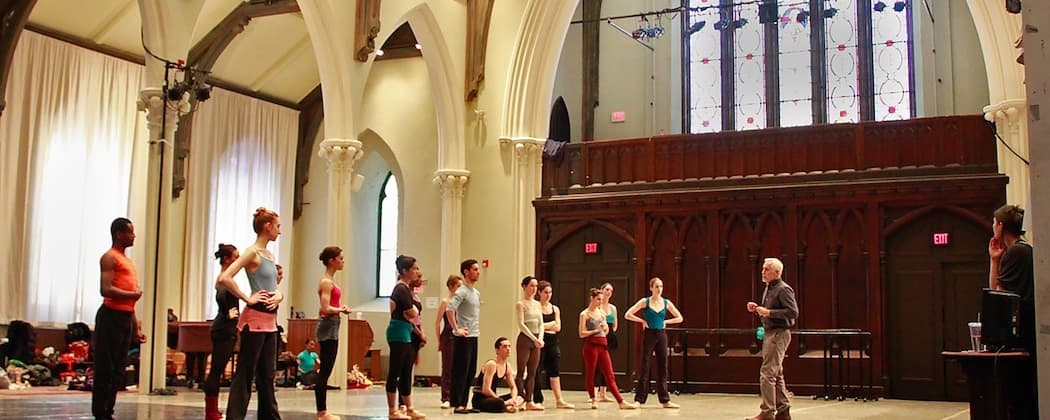 This article is more than 7 years old.
CAMBRIDGE, Mass. – A beam of sunlight radiates through a single stained glass window, illuminating a small patch of floor in the otherwise shadowed room. José Mateo Ballet Theatre's Sybil Geddes calmly moves in and out of the naturally created spotlight, reviewing choreography for the company's spring performance, "Silent Currents," featuring three of José Mateo's original works, which begins Friday evening at the Sanctuary Theatre in Harvard Square (through April 6).
Geddes is preparing for the lead role in "Circles," one she has performed twice before. Choreographed in 2010, this ballet follows an emotionally unstable woman stuck in an abusive relationship. When reflecting on the ballet, Geddes says, "Technically and artistically, it's the complete package. You can really lose yourself in the acting." "Circles" is not the sole ballet on the program that depicts the ups and downs of life, the currents that create instability in the world around us and within us. "Risk of Repetition," which premiered in 2012, and "Isle of the Dead," performed in 1992, also explore similarly provocative and unnerving themes. Despite the common thread, the musical scores in the program couldn't be much different — Glass, Rachmaninov and Schnittke are the composers.
"There is always some underlying set of circumstances that are driving a narrative, which is somewhat deliberately vague," Mateo says of his choreography, leaving room for interpretation. Instead of searching for a linear story, he wants the audience to focus on "the visceral excitement of watching movement." The emotionally charged choreography takes place within the intimacy of anything but a typical theater; it truly is a sanctuary.
Dance should be brought to new audiences. Dance can create connections between people that weren't there before. Dance can create new communities in spaces where community hasn't existed before.

Amanda Kostreva
After performing in Boston's Theater District for almost 15 years, José Mateo Ballet Theatre, now in its 28th season, found a home in the Old Cambridge Baptist Church in Harvard Square in 2001. While it may seem to be an unusual location, Mateo was attracted to the architectural detail of the church, which differs from traditional ballet studios, or what Mateo refers to as sterile "vanilla boxes." He laughs, adding, "Architecture was going to be my other career."
Thankfully, architecture placed runner-up to ballet, or the dance community would be void of a true visionary — artistic director, teacher, choreographer, dancer and civic contributor. A man with many titles, Mateo says he enjoys "the opportunity to somehow find the unifying factors that can give some integrity to the whole." For Mateo, "the whole" is not just his company, but also the community.
Frustrated by the idea that ballet is relegated as a form of entertainment to escape reality, Mateo created Dance for World Community, an outreach initiative that celebrates the accessibility of dance and its role in promoting social change. Mateo believes that dance should flourish beyond the studio and contribute to solving social issues, locally and globally. Every year, the theater hosts the Dance for World Community Festival, where a variety of agencies come together to exchange ideas about advocacy, and over 70 dance groups perform.
The prospect that dance can impact people's lives beyond performing is what drew Amanda Kostreva back to Mateo's ensemble, after having trained in the school when she was younger. In college, Kostreva studied abroad in South Africa, where she led dance workshops for prison inmates. She says, "Dance should be brought to new audiences. Dance can create connections between people that weren't there before. Dance can create new communities in spaces where community hasn't existed before."
Kostreva, then, shares the same philosophy as Mateo, but outreach is not the only characteristic of Mateo's corps that appealed to her. Having an artistic director in the studio so often, doubling as resident choreographer, may seem intimidating to most dancers, but Kostreva finds Mateo's presence in the studio to be "about constant improvement." "I'm looked at as a human being, and the choreography is integrated into my humanity." She is not the only dancer who feels this way — who appreciates Mateo's gentle yet decisive direction.
Speaking over the piano that intermittently accompanies a ballet class in the studio below, Geddes describes Mateo as "a supportive force, not just the task master." He encourages the dancers to "take risks and make mistakes and push boundaries," not just onstage, but in the studio as well.
This was apparent in a rehearsal for "Isle of the Dead" that involved almost the entire company. Mateo examined a small portion of the piece, focusing on extreme detail, and he questioned how people on the street would react to certain stimuli, whether their head or eyes would move first. He wants the motivation of movement to appear natural.
Although the dancers were facing a mirror, this rehearsal took place in the same large room that will become a cabaret-style theatre Friday. Reflecting Mateo's beliefs, the intimate environment will stimulate a connection between the audience and the dancers. As quoted in Boston Magazine when José Mateo Ballet Theatre was awarded the magazine's Best of Boston Dance Performance in 2011, "The seats are so close that you can see every slash of muscle, hear each clack of a pointe shoe, and practically feel the performers' exhalations." The "visceral excitement" that Mateo challenges his audience to feel has already begun.
Lawrence Elizabeth Knox is a journalism major in Boston University's College of Communication. Prior to attending college, she was a professional ballet dancer with Tulsa Ballet. She may be contacted at knoxlawrence@gmail.com.