Two Firefighters Die In Back Bay Blaze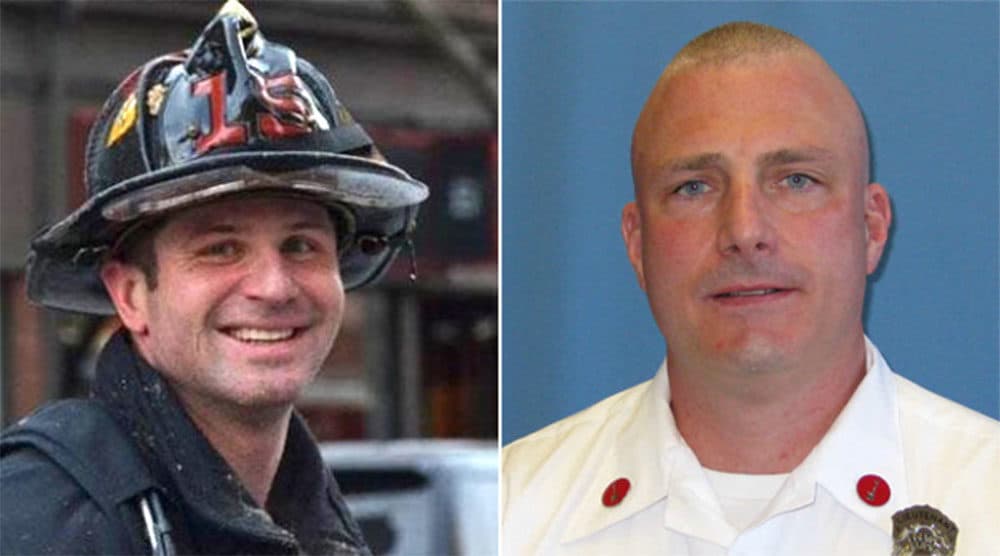 This article is more than 7 years old.
Two firefighters died Wednesday after a nine-alarm blaze tore through a brownstone in the city's tony Back Bay.
Lt. Edward Walsh, a West Roxbury father of three, and Michael Kennedy, a former Marine who lived in Hyde Park, perished in a wind-aided fire that moved with terrible speed.
"Today's a sad day for the city of Boston," said Mayor Martin Walsh, standing before reporters Wednesday night just a couple of blocks from a still-smoldering fire. "We lost two heroes here today."
"Our hearts go out to the families," Boston Fire Commissioner John Hasson said. "Our thoughts and prayers are with them. It's just a tragic day."
The fire left 13 other firefighters injured with burns, musculoskeletal injuries and broken bones — at least some of them struck by a backdraft explosion that blew a number of firefighters down a set of stairs.
Five other first responders sustained injuries, too.
Officials said Wednesday night that none of the injuries appeared life-threatening.
Deputy Fire Chief Joseph Finn, who was the incident commander, said he suspects the wind from a bitter, early spring storm was a significant factor in the devastating blaze.
"In 30 years, I've never seen a fire travel that fast, escalate that quickly, and create such havoc, in such a short period of time," he said.
Finn added later that the fire was "blowing like a blowtorch" from the back of the building to the front.
Firefighters responded to the blaze at 298 Beacon St. at 2:43 in the afternoon.
Walsh, 43, and Kennedy, 33, were both with Engine 33, Ladder 15, one of the first two companies to arrive on the scene.
Finn said the men were part of a line of firefighters who made their way into the basement, where the fire seemingly began. Within three minutes they sounded a "mayday," indicating that they were trapped.
Kennedy was found about a half hour later and taken to Massachusetts General Hospital, where he was pronounced dead.
Firefighters from Walsh's company pulled him out Wednesday night. Boston Fire Department spokesman Steve MacDonald said there were still flames on the upper floors at the time and there was concern that a wall might collapse on those removing the body.
But Walsh's co-workers placed him on a stretcher, covered him and took him past a line of helmeted comrades in what MacDonald called a "solemn ceremony."
As officials addressed reporters Wednesday night, there was still soft gray smoke pouring from the building — the stench drifting down a long, quiet stretch of Beacon Street blocked off to traffic.
But at the height of the fire Wednesday afternoon, the smoke was thick and dark.
"There was just smoke everywhere, black smoke, you couldn't see down the block," said Blake Pantalena, 21, a student at Bay State College who made his way to the scene shortly after the fire started.
He said he saw crews pull two men out on stretchers.
"They were doing chest compressions, giving them oxygen," Pantalena said. "They were very freaked out. You could see panic in their eyes. So those firefighters were not doing very well."
It was unclear Wednesday night how many residents were in the building when the fire struck. But officials said firefighters rescued several from the upper floors. All the residents survived.
"Citizens were saved, and that's what we do. We sacrifice our lives for the citizens of the city of Boston," said Richard Paris, president of Boston Firefighters Local 718 union, his voice quavering. "That's what Firefighter Michael Kennedy and Lt. Eddie Walsh did today and I'm very proud."
Walsh, who comes from a family of firefighters, had served with the department for nine-and-a-half years, Kennedy for six-and-a-half.
The last firefighter to die in the line of duty was Lt. Kevin Kelley, who died on Jan. 9, 2009, when the brakes of a firetruck failed and the vehicle slammed into a building at the base of a hill.
The last multiple fatalities came in August 2007, when two firefighters died in a fire at the Tai Ho Chinese restaurant in West Roxbury.
The cause of the Beacon Street fire is under investigation. But Finn, the deputy fire chief, said he has no reason to suspect a criminal act.
MacDonald, the fire department spokesman, said fire walls apparently stopped the blaze from spreading to neighboring buildings.
But the four-story brownstone at 298 Beacon — five stories from the back — was completely destroyed.