Legislators, Again, Grapple With Mandatory Nurse-Patient Ratio
04:15
Play
This article is more than 7 years old.
It's an issue that crops up at the State House every few years and has never been resolved: Should there be a law limiting the number of hospital patients under the care of a nurse at any given time?
This question is back before state lawmakers in this session but this year it may also be on the election ballot.
Is there proof that assigning each nurse no more than four patients would improve care? At a State House hearing on Monday, Karen Coughlin, vice president of the Massachusetts Nurses Association, said yes. Coughlin pointed to one study in particular, "which found that every additional patient assigned to a nurse over four resulted in a 7 percent increase in the risk of death for all the patients under that nurses care."
But this research, published in the Journal of the American Medical Association, also says it's not clear exactly how many patients a nurse can care for, but five or six would be wise. California, the only state with a nurse-to-patient ratio law, has nurses caring for five general surgery patients and two in the intensive care unit.
Boston College nursing professor Judith Shindul-Rothschild argues that legal patient limit translates to better care for at least one disease in California as compared to Massachusetts.
"When we look at our patient outcomes for heart failure readmission, for instance, there is a difference," Shindul-Rothschild said. "It's not just staffing, but it's partly due to staffing."
Nurse staffing was one of six factors that Shindul-Rothschild said determined how often a patient treated for heart failure returned to the hospital.
She acknowledged that most hospitals in Massachusetts already have one nurse for four patients, so should the state mandate patients limits for all nurses at all hospitals?
No, says Joan Vitello-Cicciu, associate chief nurse in management at Brigham and Women's Hospital.
"You should be monitoring us for the quality of our care, not a fixed number," she said.
Vitello-Cicciu told legislators during Monday's hearing that the hospital could not have responded as well as it did to the flood of Boston Marathon bombing patients without pulling nurses from many units, upsetting ratios.
Vitello-Cicciu said Brigham and Women's Hospital currently assigns nurses three to five patients based on the intensity of the patients' recovery.
"And we adjust our staffing based on that," she said. "A face transplant is not the same as somebody recovering from a hernia."
The bill before lawmakers would let hospitals adjust nurse staffing based on the severity of a patient's illness, but they could not go over four.
Patrick Muldoon, the CEO at UMass Memorial Medical Center in Worcester, is one of many hospital administrators looking at how much the fixed ratios would cost.
"Breaks, lunches, change of shifts, we have to meet those ratios," he said. "Every floor, all the time or we're subject to penalty. So as we modeled that out, it was $60 million in additional salaries for registered nurses."
The Massachusetts Nurses Association says the cost of additional nurses could be offset by savings from better care.
The longstanding feud between the Massachusetts Hospital Association and the Massachusetts Nurses Association about this issue is frustrating many lawmakers. Rep. Marjorie Decker of Cambridge chided hospital executives for not finding a compromise with the nurses union.
"If I were leading the hospitals across the state, and I knew this referendum was coming down the pike, I would certainly be far actively more engaged in trying to have those conversations," Decker said.
Other lawmakers grumble that the rift between hospitals and nurses can't be good for patient care.
So what's next in this debate?
If the mandatory nurse-to-patient ratios are approved by the Legislature and governor, there will be no need for the Massachusetts Nurses Association to put the question on the ballot. If the Legislature does not approve it, a lot of money will go into ad campaigns this fall.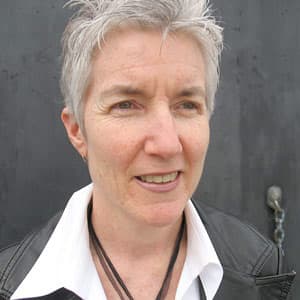 Martha Bebinger Reporter
Martha Bebinger covers health care and other general assignments for WBUR.