'Lebensraum' — 'A Charlie Chaplin Skit Penned By Harold Pinter'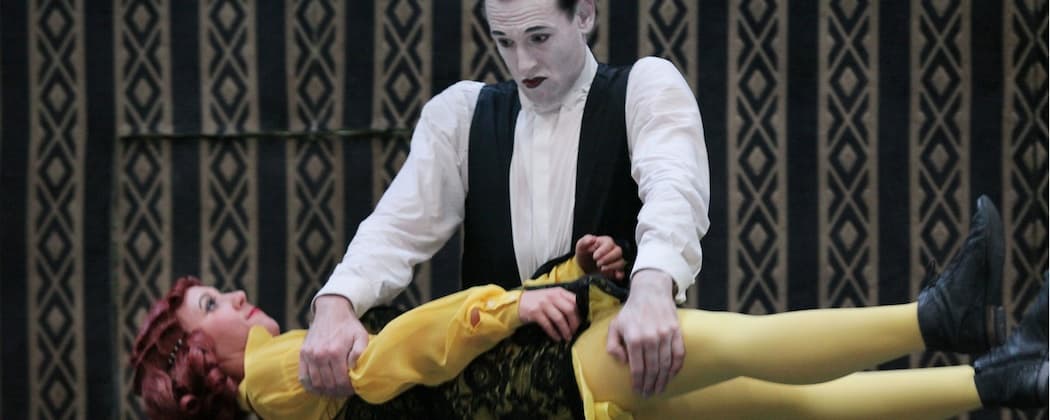 This article is more than 7 years old.
When Nicholas Martin came to Boston to run the Huntington Theatre Company in 2000 he vowed he'd do away with all the dueling opening nights in the city. "If New York can avoid them, surely Boston can too with only a fraction of the plays," he said.
But Boston's arcane theatrical ways are too much for any mortal man or woman and this Wednesday there are three major openings, including local playwright Melinda Lopez's "Becoming Cuba" at the Huntington and "The Shape She Makes," a theater-dance piece at Oberon by the American Repertory Theater. (If you've been already what you actually saw was a pre-opening preview. Tickets for previews used to be deeply discounted, but no longer.)
Also opening on Wednesday (without any prior previews) is "Lebensraum (Habitat)" by ArtsEmerson at the Paramount Center Mainstage. Since we won't be able to get to it until Friday and it closes Sunday, we thought a preview would be in order as it's received glowing reviews in London and it looks like a lot of fun. The Telegraph said, "It's like a Charlie Chaplin skit penned by Harold Pinter."
Or Buster Keaton, since the inspiration for this "live silent film" is Keaton's "The Scarecrow." But in "Lebensraum" by Dutch director Jakop Ahlbom, two male directors invent a female robot to do the housekeeping. Need we say, chaos ensues. With accompaniment by members of Alamo Race Track:
The Observer says of the cast, "[Reinier] Schimmel and [Yannick] Greweldinger are excellent as the agitated male duo, helpless as their minutely ordered lives descend to slapstick and finally chaos, but [Silke] Hundertmark's performance is a tour de force."