Emma Donoghue Draws A Murder Mystery Out Of The History Books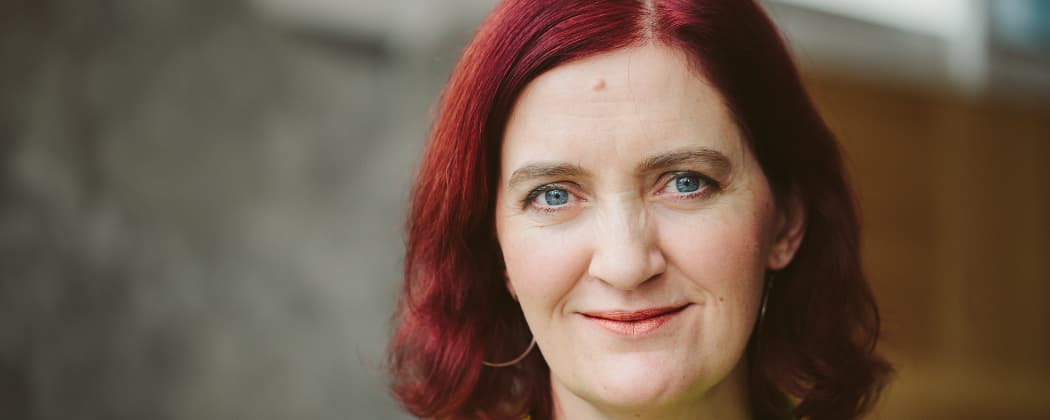 This article is more than 7 years old.
Growing up in Dublin, author Emma Donoghue sometimes fantasized about what she would wear to the awards ceremony if she ever won the Man Booker Prize. It wasn't an outsize aspiration for the daughter of Frances (an English teacher) and Denis Donoghue (the literary critic and Henry James Professor at New York University), who named their eighth and youngest child after Jane Austen's "Emma."
Donoghue came strikingly close to winning the prestigious literary honor in 2010 for "Room." Narrated by 5-year-old Jack, who has lived his entire life imprisoned with his Ma in a single 11-by-11-foot room, the novel was shortlisted for the Man Booker and Orange Prize, translated into 35 languages, and sold more than a million copies worldwide.
Reader anticipation has been high for the April 1 release of Donoghue's eighth novel, "Frog Music," which makes a dramatic departure from the claustrophobic confines of "Room." "It's a murder mystery among lowlifes," the Irish-Canadian author and literary historian said cheerfully over the phone from London, England, last week, at the start of a book tour that brings her to Boston College's Fulton Hall Wednesday at 7 p.m.
"Frog Music" is set in a sprawl of San Francisco saloons, sex parlors and seedy apartments in summer 1876, during a record heat wave and smallpox epidemic. The story is based loosely on the San Miguel Mystery—the unsolved murder of 27-year-old Jenny Bonnett, a pistol-packing, cross-dressing, transgressive who eked out a living catching and selling frogs to French and Chinese restaurants. Donoghue drew from a slew of late 19th-century newspaper accounts and public records of real lives—and took inspiration  from the HBO series "The Wire"—to craft the tale. It is narrated by Blanche Beunon, a self-absorbed French dancer and prostitute who was the sole witness of Jenny's murder in a railway saloon. Acutely aware that she, not Jenny, might have been the shooter's target, Blanche sets out to solve the crime.
Part picaresque, part social novel, an affecting story of "love gone sour, friendship wreaking havoc," as Donoghue put it, "Frog Music" unfolds in a series of flashbacks of Blanche's life-changing friendship with Jenny. It weaves its way through bohemian San Francisco, a polyglot outpost teeming with Sinophobia and suffused with songs that migrated to the city from around the world. (Listen to 20th- and 21st-century versions of songs in the novel here.)
The novel evokes the sordidness of a "libertine" metropolis where "virgin auctions" are part of doing business at brothels. Brothel owners pick up extra cash contracting with "caregivers," paid to look after unwanted infants in the fresh country air, who warehouse them instead in urban "baby farms," where they languish, unloved and largely unattended.
"Frog Music," which is Donoghue's first foray into crime fiction, returns to her roots in historical fiction, a genre in which she first earned acclaim in 2000 with "Slammerkin," a surprise best seller inspired by an 18th-century newspaper story about a young servant who killed her employer. With a Ph.D. in English literature, Donoghue is a prolific researcher with a reporter's instinct for spotting and telling stories. "Frog Music," for instance, grew out of a paragraph she read about the real-life Jenny Bonnett in a book about Victorian women eccentrics.
"I always do too much research," said Donoghue, who was astonished to discover the sheer volume of historic source material now available online. She found some 60 related newspaper articles, and tracked down court records, genealogical sources, family census records from the 1870s—all sources of information that bear "bits and traces of characters' lives." (She has posted a 6,000-plus word annotated summary of documents tied to the San Miguel Mystery.)
The more Donoghue discovered about Blanche, the more the scope and shape of her story changed, she said. One or two sentences that referred to a baby of Blanche's who had gone missing spurred her to find out about child neglect and institutions such as "baby farms." Blanche mentions marks on a man's face, which pointed the author to accounts of the smallpox epidemic coursing through the city at the time.
Donoghue, who lives with her partner and their two children in London, Ontario, said she initially expected Blanche would be selfish, immature and "every woman's nightmare of a bad mother"; a polar opposite of the valorous Ma in "Room."  But "Frog Music," at its heart, shows maternal love blooming in difficult circumstances, she said. "The two books ended up having this beating heart in common."
Donoghue hasn't daydreamed about the Booker Awards since she came so close to winning four years ago, she said with a laugh. Now that she's written the screenplay for "Room," directed by Dublin filmmaker Lenny Abrahamson, she added: "Maybe I'll keep the Oscar award ceremony in mind."
A former Boston Globe arts reporter and author of the critically acclaimed Irish America: Coming Into Clover, Maureen Dezell is a freelance arts writer and senior editor at Boston College. Her website is www.maureendezell.com.