Group Song Inspired By Marathon Bombings Grows To Nearly 100 Voices
03:06
Play
This article is more than 7 years old.
On this first anniversary of the Boston Marathon bombings, we want to revisit a story we brought to you last May. It was about a song called "We Will Run Again," which was written by Wellesley songwriter Stephen Randall. Last year, he explained how he got the idea for the song.
"I was so inspired when I heard President Obama say, 'You will stand. You will walk. You will run again,' " Randall told WBUR then, "and as a songwriter I immediately got those words in my head and picked up my guitar and started writing."
Randall wanted this to be a group song, one that incorporated as many voices as possible. So he invited people — anyone — to record themselves singing the chorus and then digitally upload that audio to him through the online audio sharing site SoundCloud.
A few weeks after the bombings, he had received seven additional voices that he'd mixed into the song. Almost a year later, he has about 90 voices, including two choirs: Wellesley High School's Keynote Singers and the Boston Arts Academy's Spiritual Ensemble.
Now that he's mixed all the voices together, you can hear what it sounds like, in this piece here:
The new version of Randall's group song, "We Will Run Again," is now available at iTunes, Amazon and Bandcamp, and he says 100 percent of the proceeds will go to One Fund Boston.
This story was produced by Qainat Khan.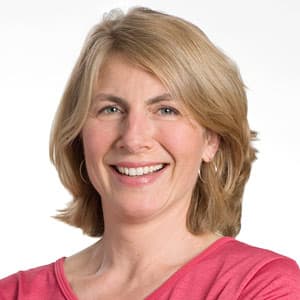 Sacha Pfeiffer Host, All Things Considered
Sacha Pfeiffer was formerly the host of WBUR's All Things Considered.