Bradley Leads Red Sox Past White Sox In 14 Innings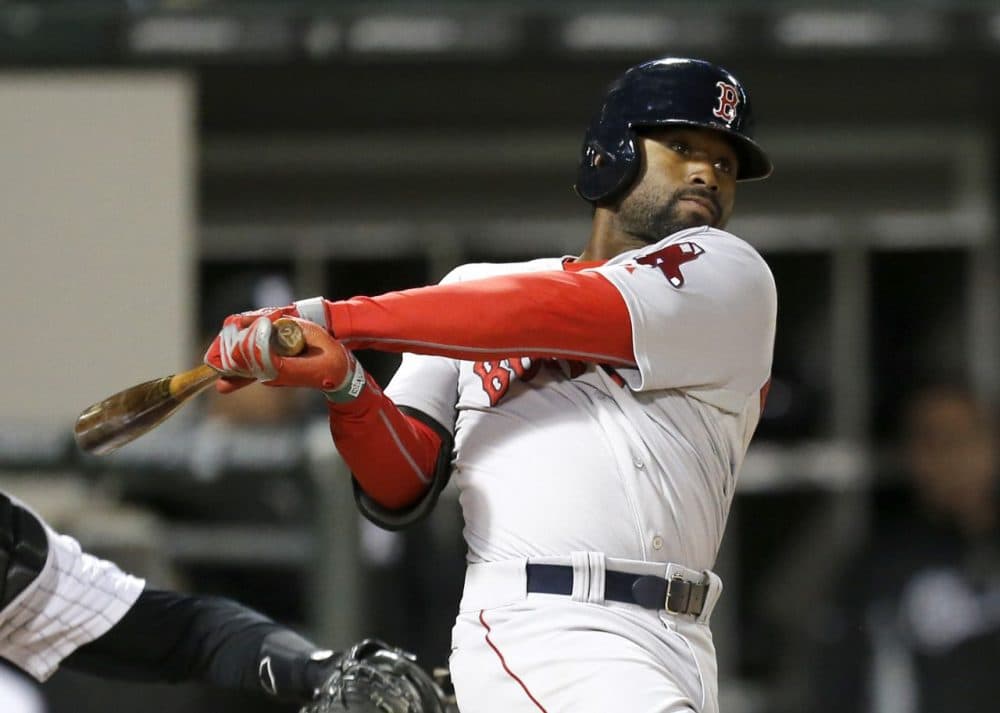 This article is more than 5 years old.
The Boston Red Sox used patience and 15 walks to rally and force extra innings.
When Jackie Bradley Jr. came to the plate to face a position player with two men on base, he felt it was time to be aggressive.
Bradley hit a two-run double off Chicago infielder Leury Garcia in the top of the 14th inning and the Red Sox outlasted the White Sox 6-4 in a game that lasted 5 hours and 17 minutes Wednesday night.
"You've got guys in scoring position and a walk doesn't really help much," Bradley said. "I definitely wanted to make him throw a strike after walking the previous batter and I was able to get in a great count and put a good swing on it."
With the score tied at 4 after 13 innings, the White Sox ran out of pitchers after Daniel Webb threw 59 pitches in three innings, so manager Robin Ventura turned to Garcia (0-1) to start the 14th. Garcia is the first White Sox position player to take the mound since Casper Wells pitched a scoreless inning last June.
"We just, for one reason or another, we didn't seem to throw it over," Ventura said. "So, you know, a game that if you are going to give them that many opportunities, you are little surprised you are in it that late into the game.
"Once it starts going a little bit later, you sniff around at guys that can pitch. And there were a lot of takers. But he got the nod."
Garcia retired the first two batters, but then walked Daniel Nava and Jonathan Herrera, and Bradley followed with his big hit.
Chris Capuano (1-0) pitched 2 2/3 innings of scoreless relief to get the win. Burke Badenhop got the final out for his first save of the season.
Each team blew a lead in the ninth inning or later.
The Red Sox managed just six hits, but took advantage of the 15 walks issued by Chicago pitching, including 11 after the seventh inning.
The White Sox have had a strong start to the season in every area except the bullpen. Before Wednesday's struggles, Chicago relievers had allowed 29 earned runs in 40 innings pitched for an ERA of 6.53.
In scoring twice in the eighth and ninth innings, Boston had just one hit - a weak infield single down the third-base line - but were walked six times in the two innings by White Sox relievers.
Alexei Ramirez hit a two-run homer to extend his hitting streak to begin the season, and John Danks allowed one run in six innings to give White Sox a 3-1 lead after seven innings.
The win snapped a three-game losing streak for the Red Sox.
"Our pitchers did a heck of a job," Boston manager John Farrell said. "Our bullpen came in with no margin for error and put up zeroes. We had multiple opportunities with men on base and we're still grinding away. We took base on balls when they were issued, which was a lot, and I'm thankful we walk away with the win."