Poll: 83 Percent Still Back Marathon Manhunt Shelter-In-Place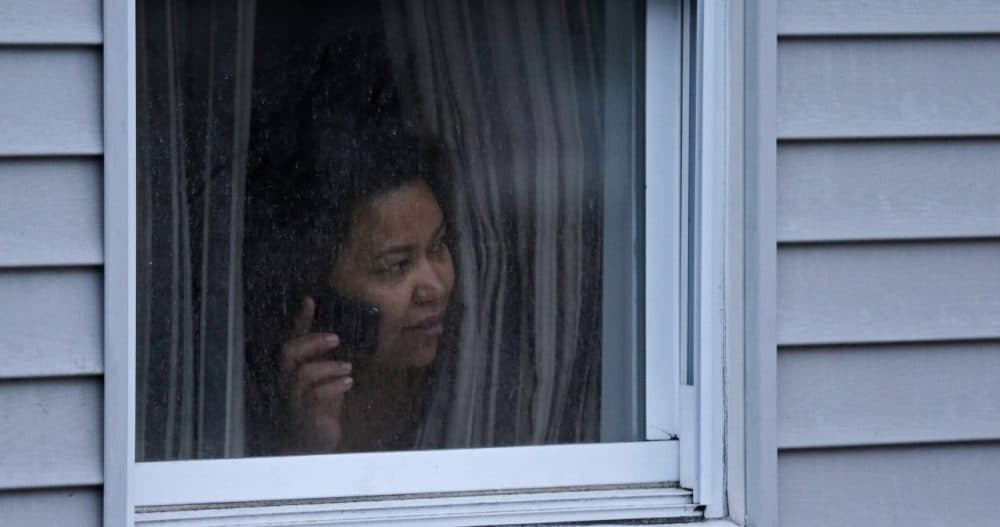 This article is more than 6 years old.
Days after the Boston area was effectively locked down during the search for the surviving marathon bombing suspect, 91 percent of Massachusetts residents said they supported authorities' manhunt shelter-in-place request, a poll conducted at the time found.
Now, on the one-year anniversary, public backing for the controversial shutdown has waned slightly, but still a strong majority of residents — 83 percent — agree with the decision.
[sidebar title="Poll: The 'shelter-in-place' was the..." width="280" align="right"]
Right decision - 83%
Wrong decision - 10%
Results from a April 3-6, 2014, telephone survey
[/sidebar]
The finding comes from a new poll of 501 Massachusetts residents. The question was commissioned by WBUR as part of a larger MassINC Polling Group telephone survey, in an attempt to gauge how views might have changed since last year's deadly bombing and gripping manhunt, when emotions were raw throughout the region.
While 83 percent said they support the shelter-in-place, 10 percent said the lockdown was the wrong decision. Two percent answered "both/depends," and 6 percent said they didn't know.
It's the third time the MassINC Polling Group has asked about the shelter-in-place entreaty. In addition to the April 2013 survey and the new poll, in October of last year 84 percent said that the shutdown was the right decision, and 10 percent said it was the wrong decision.
Gov. Deval Patrick requested that residents across the Boston area stay indoors early on April 19, 2013, after one suspect, later identified as Tamerlan Tsarnaev, was killed amid a shootout in Watertown, and the location of the other suspect, Dzhokhar Tsarnaev, was unknown.
Regional public transit shut down, and schools were closed. Streets were largely deserted.
A security expert interviewed by NPR called the scope of the shelter-in-place "incredible."
While many labeled it prudent, authorities' order had some critics. One observer, for instance, wrote that "[e]mpty streets provide their own kind of trauma."
But Juliette Kayyem, a former homeland security adviser to Patrick (and now a Democratic candidate for Massachusetts governor), called the poll results a "pleasant surprise."
In an interview, Kayyem — who supported her former boss' shelter-in-place request, but called for a review to glean lessons learned — spoke about the unique communal circumstances of last year's events, likening them to the response after natural disasters.
She added that the request "was really about relieving [overworked] public safety officers."
"Seen in the light of, well, what you're really just doing is relieving a lot of public resources, seen in that light, then it doesn't feel like a lockdown, and that's why it feels OK a year later," Kayyem said. "And that's why these polling numbers seem very consistent with what we see after natural disasters. And I think that says something about how our leadership talked about it and how Bostonians experienced it."
A second poll question commissioned by WBUR found similar year-over-year movement among respondents' views on whether authorities find the right balance between investigating terrorism and protecting constitutional rights.
In the days after the manhunt, 48 percent said they were more worried the government will not go far enough to investigate terrorism because of concerns about rights, while 36 percent said they were more worried authorities will go too far in compromising rights.
Now, 44 percent of poll respondents said they were more worried the government will not go far enough in its investigation, compared with 42 percent who said they're more worried authorities will go too far in order to prevent terrorism.
The MassINC poll, conducted from April 3-6, has a margin of error of 4.4 percentage points.
4/19 Update: For more on the poll results, see the crosstabs here. For instance:
- Female respondents (88 percent) supported the shelter-in-place more than male respondents (78 percent).
- Backing for the order cut across party identification, with Democrats (85 percent), Republicans (87 percent) and independents (84 percent) all supporting the request.
- The outer Boston suburbs backed the shelter-in-place most (90 percent), with southeastern Massachusetts the most critical (71 percent support).
This article was originally published on April 18, 2014.