Can You Run Hard While Weeping? Some Boston Marathoners Will Find Out
02:54
Play
This article is more than 7 years old.
On the eve of the Boston Marathon, some runners said this year's race may be as taxing emotionally as it is physically.
Tom Pfleeger, of Gulfport, Miss., finished the marathon about 40 minutes before two bombs went off last year, having completed what he thought was a perfect race. Then, the euphoria was snatched away.
"You went from the top of the mountain to lowest, low," Pfleeger said, to being "so sad for all the people who were killed and injured."
Pfleeger is one of many runners who say they are back to take care of unfinished emotional business. Beverly Dwight, from Belchertown, Mass., is running her first Boston Marathon. Last year, she was a volunteer at the finish line.
"I was able to walk away from what happened," Dwight said slowly. "Not a day goes by where I don't think about those who are much less fortunate."
Dwight is prepared to cry while she runs.
They "could be tears of joy," Dwight said, "just joy to be part of it and a sense of kind of one with the city of Boston."
Some runners worry about becoming overwhelmed.
"It's going to be insane. I'm hoping it doesn't tip me over to the emotional part because it's super hard to run when you're like feeling verklempt," said Carrie Lundell, from Orange County, Calif. She clutched at her throat, using the Yiddish word that means "choked with emotion."
"I just need to take it right up to that level, but not over until we cross the finish line, and then there's going to be a lot of tears," Lundell said.
Lundell will be running with her niece Becky Anderson from Eagle Mountain, Utah. Anderson ran the marathon last year, finishing 15 minutes before the first explosion.
"I never thought Boston could be better," Anderson said. But "it is: the unity, the love, the strength. It's not about hate or getting back or proving to anybody in a negative way, but it's, 'no, we're strong.' "
Jose Vara, from Montebello, Calif., said he hopes to plow a lot of pent up feeling from last April into today's race.
"It took me about three months to be able to talk about it and to be able to see pictures from everything that happened" without crying, Vara said.
Vara said those emotions will push him to "finish the marathon stronger than last year."
But Vara and many other runners say they don't know exactly how they'll react, especially as they make that last turn onto Boylston Street heading into Copley Square.
There will be counselors at the start of the race, in the medical tents at each mile marker, and at the finish line for runners or spectators who need emotional support.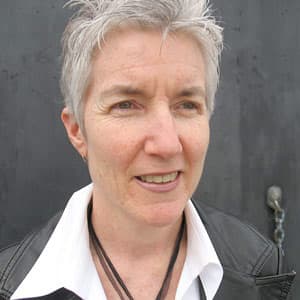 Martha Bebinger Reporter
Martha Bebinger covers health care and other general assignments for WBUR.