Service Dog Plays More Than 1 Role In 'Of Mice And Men'
05:05
Play
This article is more than 7 years old.
This weekend the Boston Children's Theatre (BCT) is staging John Steinbeck's classic tale of Depression-era masculinity, "Of Mice and Men." When people in the audience open their programs they'll notice a dog's name listed among the human ones in the credits. That's because the canine's job is to be close to his owner, 14-year-old Elle Shaheen.
The high school freshman started acting when she was just 6. She recalls her first roles, as both a munchkin and a poppy in "The Wizard of Oz."
For the past few months she's been making a regular trek down to Boston from Portsmouth, N.H., to prepare for a much more mature role: Curley's wife in "Of Mice and Men."
In one scene she confronts the downtrodden farmworkers in their barracks and aggressively asks, "Who are you calling a tart? I come from a nice home! I was brung up by nice people! Nobody ever got to me before I was married. I was straight ... I was good ... I was!"
Backstage a four-legged thespian waits in the wings. He's a sweet, stocky 2-year-old yellow English lab. But in the show he plays a stinky, kind of decrepit character.
"I can smell that dog a mile off," one of the laborers gasps during the play, adding, "He's got rotten teeth."
When the BCT originally conceived this production it did not include a live dog on stage, Elle remembers. "And then when I was cast, and they were like, 'Oh, we have Coach. Now we can use an animal for the show.' "
Coach is Elle's diabetes dog, and they are pretty much inseparable. Elle was diagnosed with Type 1 of the disease when she was 8. It attacks the immune system and destroys insulin-producing cells in the pancreas.
"He can smell when my blood sugars are low or high," Elle explains. "When I have a low blood sugar I get really jittery, and my vision gets blurry, and I can't remember things as easily — like I won't remember what I just said or something like that."
That's a terrible, nerve-inducing, even scary way to feel if you're an actress expected to memorize lines of dialogue.
Sitting in the theater, Elle's mom, Stefany Shaheen (the daughter of U.S. Sen. Jeanne Shaheen), says staying on top of her daughter's diabetes is grueling.
"She has to test her blood sugars between 10 and 12 times a day. And on a day when she's performing she'll test even more frequently — because she has to test before the show and during the intermission and then after the show," she said, adding adrenaline affects her blood sugars.
Coach is completely attuned with Elle's blood sugar. And he was bred for this. A Kansas nonprofit called Cares, Inc. works with breeders to nurture animals with long service animal bloodlines. The training process takes 18 months. At that point, the organization tests the animals (audition!) and Coach got the part. Next, he was introduced to Elle, and together they've continued the learning process.
Sitting at our feet, Coach is remarkably composed for his young age. Elle says that's because he's been trained to be mellow in public.
"If he does detect anything he'll usually stand up and try to find me or get my attention," she describes. "He whines sometimes, and sometimes he'll go over and lick my hand."
Then suddenly, as we're talking, Coach sits up and starts fidgeting. It's called "alerting." Elle unzips her blood sugar testing kit and says he usually does this six times a day.
Elle and her mom lavish Coach with warm praise. "Oh good boy! Really good boy, Coach. Such a good puppy." Then, Stefany Shaheen explains what's happening to her daughter.
"Right now she's just tested and her blood sugar is 221. And he's supposed to alert when she's over 200," she says, then looks at Coach. "As you can see he's looking at me like, 'Come on, get on with it.' He's waiting for her to take some more insulin. That's how he works."
Shaheen says Coach also alerts if Elle's blood sugar drops below 80.
"From my perspective as her mom, he's changed our life," she said. "I mean, he really has brought a calming dynamic into the mix because he's catching things before they're emergencies."
Even with Coach around, though, Elle says it's really hard to manage her diabetes. She says some theater companies and camps haven't been willing to work with her.
"There have been times when I haven't been as accepted as... um ...I would like to be," Elle admits, and explains that she doesn't want to name names.
But this program is different. BCT Executive Artistic Director Burgess Clark explains that his theatre's mission is to include everybody. The organization was recently chosen by the Kennedy Center for the Performing Arts to produce more plays by and with young people with disabilities. The "Of Mice and Men" cast and crew even transformed Coach's travel crate into a little dressing room.
Clark says Elle is a stunningly talented young actress, but he also says "she brings an opportunity for other students to familiarize themselves with people who are struggling with diabetes."
Then he shares a fascinating anecdote.
"One of the greatest experiences we've had with Coach is that he actually alerted one of our staff members last summer who was unaware that he [had] diabetes," Clark recalled. "So he was also a healing force."
For Elle's next production with another theater she'll be playing the title role in "The Diary of Anne Frank." Coach won't be on stage for that one, though. But he will be close by — watching and waiting, patiently and quietly — like the young lab always does.
"Of Mice and Men" is at the Calderwood Pavillion through Sunday.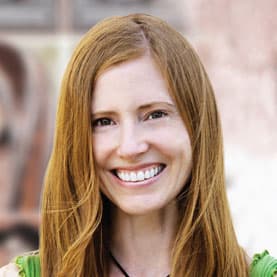 Andrea Shea Senior Arts Reporter
Andrea Shea is WBUR's arts reporter.