Patriots Draft Florida DL Easley In 1st Round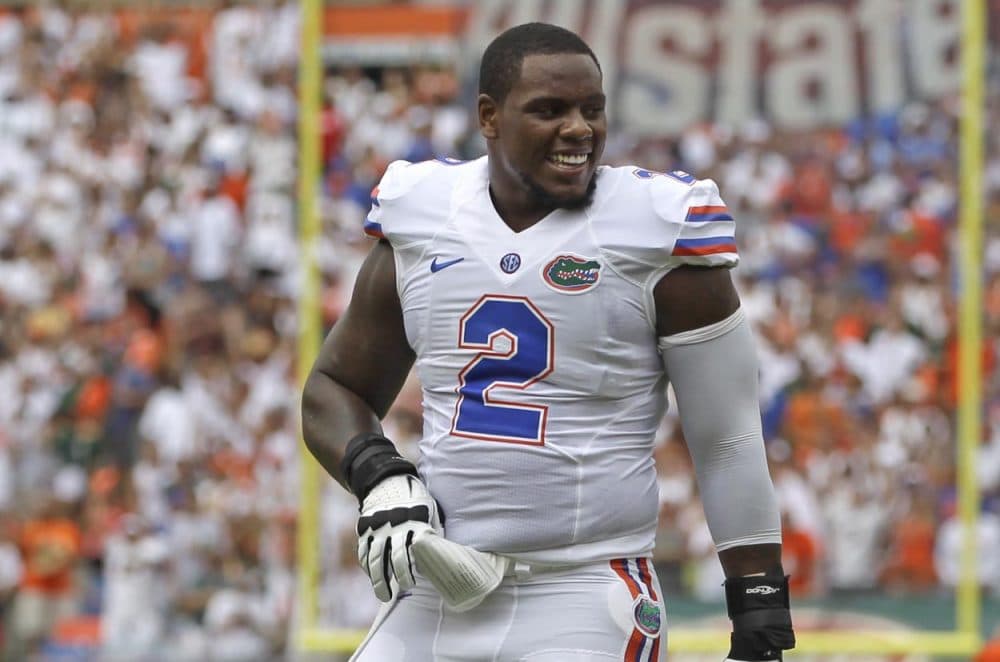 This article is more than 7 years old.
New England Patriots coach Bill Belichick went back to Florida for his first-round selection in the NFL draft.
The Patriots selected Florida defensive lineman Dominique Easley with the No. 29 overall pick on Thursday night. He's the seventh Gator selected by Belichick since he arrived in New England.
"When I was playing at Florida, I always knew there were a lot of Florida players there," Easley said in a conference call with New England reporters.
Belichick said the quality of competition in the Southeastern Conference makes it easier to evaluate players. In most of the tape the team watched from Easley's career, he was lined up against players who were already in the NFL or on the Patriots' draft board this year.
"You can put on just about any film and watch him against quality players. There was plenty of good competition," Belichick said. "Real good program, they're well-coached down there. I can see him playing against a lot of good players in that conference."
In the teams' first draft since the arrest of tight end Aaron Hernandez - another former Gator - on murder charges, the Patriots weren't scared away by an altercation between Easley and a former Alabama football player. Although police recommended Easley be charged with a misdemeanor, the State's Attorney's office declined to press charges.
Belichick did not comment on Easley's legal problems, but he did address rumors that Easley was not dedicated to football. "He's definitely into football," the coach said.
A 6-foot-2, 288-pound lineman who could play on the inside or outside, Easley was said to have the talent for a top 10 pick before a pair of ACL operations dropped his projections to the second or third day of the draft.
He said he is healthy.
"When he gets up here we'll work with him, and see where he's at," Belichick said. "We feel like he'll be all right."
With only a low pick in Thursday's first round, the biggest excitement for Patriots fans at Gillette Stadium might have been Tom Brady's surprise appearance at the teams' draft party. But Patriots defensive lineman Vince Wilfork was already happy to have Easley aboard.
"I'm lovin this pick!!" Wilfork wrote on Twitter.
The feeling is mutual.
"It's going to be a great experience to learn from an old guy, a veteran that's real good," Easley said. "It's going to be real exciting to learn from him."
The Patriots stocked up on free agent cornerbacks this offseason, leaving them looking for a pass rusher in the draft. Chandler Jones led the team with 11 1-2 sacks last season, but only two teammates had more than three.
New England signed defensive end Will Smith, a 10-year veteran with the New Orleans Saints, but he'll be 33 in July and he missed all of last season with a torn ACL. Easley gives them another pass-rush threat, but one who also has had injury problems.
He played in 12 games as a sophomore before tearing his left ACL in the regular-season finale against Florida State and missing the Gator Bowl. He started in 11 games as a junior, missing two games with a sprained meniscus. He lasted only three games his senior year before tearing his right ACL in practice.
"I'm healthy," he said. "I'm just ready to get out there and do whatever coach Belichick needs me to do."