First U.S. Married Gay Couples Mark 10 Years
04:23
Play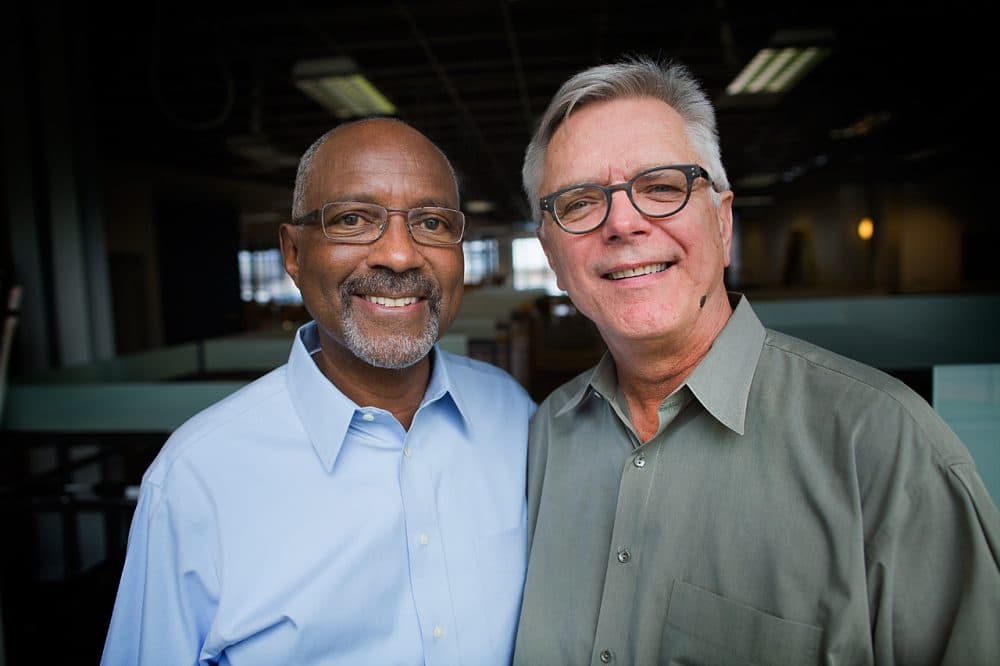 This article is more than 7 years old.
The Whitehead-Pleaux family sits around their kitchen table in Worcester. With a bowl of ice cream in hand, 7-year-old Eleanor Whitehead-Pleaux is perched on the lap of one of her moms. They're flipping through pictures from exactly 10 years ago.
The couple's Somerville wedding was among the country's first same-sex marriages.
"This is the night of equal marriage and that's the first couple."

"How long did you stay up?" Eleanor asks.

"We stayed up almost all night. And then we went and got married the next day."
As many married couples do, they soon decided to have a child and adopted Eleanor.
"We were really lucky that when Eleanor was born [in 2007] both of us were able to be on the birth certificate," Amy Whitehead-Pleaux says, referring to being married.
Marriage made many of these practicalities easier. And it saved the family money — on their taxes, mortgage and health insurance.
But looking back, Annette Whitehead-Pleaux says the biggest benefit was the sense of social inclusion.
"I remember the next day, whenever it was, I went to work, I was riding on the Red Line and I looked around I was like, I feel completely equal to everybody," she says. "And I kinda felt taller for some reason. I had not felt that way before."
"It was a success that could easily have been lost within moments," says Arline Isaacson, co-chair of the Massachusetts Gay and Lesbian Political Caucus.
Isaacson recalls being terrified at that moment. The majority of Americans opposed same-sex marriage. And political leaders in both parties were apathetic, if not hostile.
The landmark ruling that cleared the way was the result of years of strategizing. Advocates decided to mount a legal challenge first in Massachusetts, because they thought judges here might be open to it, and they viewed the wording of the state constitution as favorable to their cause.
"Many people feared some intangible evil would fall upon our nation," Isaacson says. "And so the day after we actually started to marry, all of us joked, 'Oh, look, the sun still came up the next morning' and it was proof positive that the parade of horribles that our opponents had predicted, none of them came true. That has been one of the best marketing tools, if you will."
After the Massachusetts Supreme Judicial Court struck down the ban on same-sex marriage, it took four years until another state, California, legalized it. And that lasted only a few months.
Now gay marriage is legal in 17 states (if you don't count Arkansas) and Washington, D.C.
That's a lot progress in the eyes of one of the plaintiffs in the landmark Massachusetts case.
David Wilson, who's among those married one decade ago, grew up amidst the fight for racial equality.
"When I compare it to the civil rights movement, which was over 50 years, and we're still talking about Voting Rights Acts ... I can't imagine that for us, this is like overnight. It feels like it's overnight," he says.
Wilson is quick to warn against declaring victory. He points out that people can still be fired for being gay; that happened to his husband. And he worries about bullying and HIV.
But he also thinks this is a moment to celebrate.
From their kitchen table, the Whitehead-Pleauxs haven't figured out their anniversary plans yet, but they know it will be kid-oriented.
"We haven't even talked about it, have we?!" Amy says.
"We have two soccer games to go to. ... We have one of our friends birthday parties," Anne says.
They say this is exactly what they fought for: the opportunity to have an ordinary, family weekend.