Poor Get Poorer But Babies Get Healthier, Thanks To Help For Moms
05:49
Play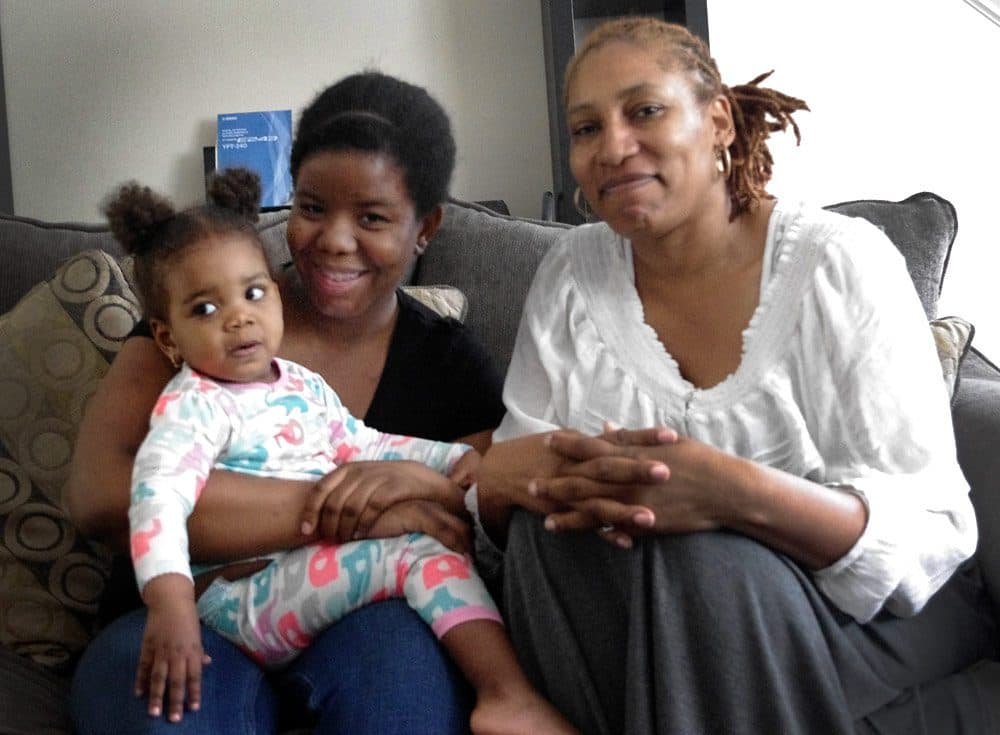 This article is more than 7 years old.
In elephant-print pajamas, 21-month-old Cassidy nuzzles her head into her mother's lap and then pops up, grabs a ballpoint pen, and starts scribbling. Her squiggles decorate an important piece of paper; it contains a checklist of all the things her mother does for Cassidy, from getting her shots to daily reading aloud.
Cassidy and her mother, Keisha Harrison, are in their Dorchester living room with Patricia Wornum, a "home visitor" with Healthy Families Massachusetts. On the couch, Wornum glances at the decorated checklist and, in her perpetually upbeat manner, asks: "Any papers back from housing?"
Harrison shakes her head. She hasn't heard anything about her various applications for subsidized public housing. She and Cassidy are staying with her mom — at age 20, she has aged out of a teen shelter — so Harrison is worried they've lost their spot on the housing waiting list. Wornum immediately makes a plan to figure out what's going on. "You got this!" she says.
Wornum and over a hundred other home visitors in Massachusetts are trying to combat a known phenomenon: If you are born to a poor mother, that overwhelmingly raises the chances that you will grow up to be poor. The odds are stacked against you in several ways: Poverty can mean stress and anxiety, poor nutrition and environmental toxins, higher risks of obesity and heart disease. An entire issue of the journal Science on "The Science of Inequality" this month rounded up some of that bad news.
But it also shared what Janet Currie, an economics professor at Princeton, calls a "bright spot" — though inequality has been rising, the health of newborns born into the poorest families has been improving. The conclusion: Public policies can make a difference and improve a child's chance of success. The "Science" article she co-authored looks at which policies are most effective, and found many that work, from early education to family planning services. Home visiting programs like Wornum's appear to work particularly well.
"You often just hear about how things are getting worse," Currie says. "The unfortunate consequence of that is that people are left with the impression that nothing works. We wanted to point out that there are programs that work, that they do make a difference."
What The Statistics Say
Keisha Harrison was in high school when she found out she was pregnant. She remembers it as a clarifying moment.
"Before I was pregnant I really didn't think I was going to graduate," says Harrison. "And then once I got pregnant, I just kicked everything into high gear."
As her pregnancy progressed, Harrison was supposed to be on bed rest but she refused to stop going to school: she was determined to graduate. Wornum, who had been a teen mom herself and has worked with Harrison for over two years, worried about this decision, so she drove Harrison to school and back every day.
Harrison says she was insistent because she wanted to be a good role model for her new child and because she wanted to prove something to society: "I just knew that I wanted to be different from what statistics say."
Harrison is right that the statistics reflect extra challenges for poor pregnant women. If the soon-to-be-mom smokes, is overweight or lives in an area with toxic pollutants — say from a nearby factory or exhaust from a toll plaza — the baby's health at birth is worse. Similarly, if the woman is stressed or in a violent relationship that too can hurt the newborn's health. These conditions are collectively referred to as 'maternal disadvantages' and are particularly common among the poor.
They can have lifelong effects. As Currie explains, research shows that babies who have a lower birth weight (a good measure for poor health at birth) are likely to face disadvantages when they grow up: they have "worse health, lower education attainment, lower earnings, lower probability of employment."
Given the rise in inequality, you might conclude that things are getting harder for the poor — including poor mothers — which means less healthy babies, which, in turn, means worse long-term outcomes for those kids.
But Currie and her co-author, Anna Aizer, found that the data didn't support this logic, and credit good policies that provide medical care and other social supports to pregnant women for that disparity.
They are quick to point out that yes, poverty is indeed transmitted from one generation to the next, but they argue that this cycle can be broken by effective public policy. They set out to determine which policies were most effective.
Policies That Work
When Cassidy was just 2 months old, Keisha Harrison moved into a teen shelter. Harrison says she found the shelter a hard place to be, because of its curfew.
"It just didn't allow me to go to school and go to work," says Harrison, who has held various jobs and now works the late shift as a host in an arcade's restaurant. "So, I couldn't do both and I felt like, for me, I wasn't meeting my standards of a mom."
In order for Harrison to get a voucher for Cassidy's preschool program, she has to work full time, as a student, an employee somewhere, or both. She's enrolling in school and working a part-time job, but she still struggles to piece together enough hours to meet the requirement.
The Science article points to early-education programs, like Cassidy's, as one very effective way to stop transmission of poverty from mother to child.
Several other policy initiatives have been shown to have an impact: obtaining health insurance, efforts to curb domestic violence, access to family-planning services and income-transfer initiatives that provide money to poor families.
The article particularly emphasizes the positive effects of home visiting programs. While Patricia Wornum works for the Healthy Families model, which operates throughout Massachusetts, the article highlights the Nurse Family Partnership model, where all the home visitors are nurses. Like Wornum, these nurses provide regular care and training to mothers throughout their pregnancy and then during the first few years of the child's life. These efforts significantly reduce child abuse and, later on, the kids are less likely to have a criminal record, the article notes.
Nutritional programs, like food stamps and WIC (the Supplemental Feeding Program for Women, Infants, and Children), also have a positive impact. Not only did these programs improve newborn health but they also helped down the line. The kids that had access to them were less likely to be obese, have diabetes, or have high blood pressure. Plus, the mothers were more likely to become economically self-sufficient.
Currie points out that none of the programs or policies are guaranteed. WIC is up for reauthorization soon and, in Massachusetts, the state Senate's proposed budget increases the funding for home visiting by $4 million while the State House's budget does not. A final budget has yet to be decided.
And even for the policies that seem secure, the article points out that some of them don't start serving mothers until they have given birth, meaning that any prenatal benefits are lost. The article says, "given the research on the importance of prenatal conditions, such policies are potentially missing a major window of opportunity."
A Helping Hand From Society
Many of the programs are aimed at changing the behavior of poor people, from smoking cessation efforts to training parents about reading children's books aloud. Yet, Currie is firm in saying the Science article runs counter to the perception that poor people make bad choices or are to blame for their situation.
"One of the defining features of poverty is that people have less choices," Currie says. "In the article what we're trying to point out is that if your mother was poor, chances are you will be born in worse health. So even from the start you will have less opportunities than if your mother wasn't poor."
Wornum has been helping Harrison for more than two years and they have their dynamic worked out. Harrison is measured in her optimism, cautious but determined. She has a list of goals for Cassidy and is set on seeing them through: "I want her to love to read, love to learn, be respectful."
Wornum's goal is to get Cassidy and Keisha Harrison access to more opportunities. Harrison is usually reserved but that fades when she starts talking about how helpful Wornum has been.
"It's just me and Cassidy, so to have someone on the outside, who actually knows everything that is going on, to be like: 'No, you are going to pick yourself up and you are going to continue.' It makes it easier," says Harrison. "It's just good to have that extra backup, because if I didn't I probably would have just really stopped doing everything a long time ago."
Harrison is already thinking about when Cassidy turns 3 years old, even though it is over a year away. That is when the Healthy Families program terminates. It will mean the end of Wornum's visits.
Thinking about this, Harrison returns to her reserved demeanor and says she's not sure what will happen without Wornum around.
"I don't know. I don't know," she says quietly. "I mean I feel hopeful but I know for me, I am better when there is someone to back me up."