'All The Way' And Bryan Cranston Win Tonys; Audra McDonald Takes Her Sixth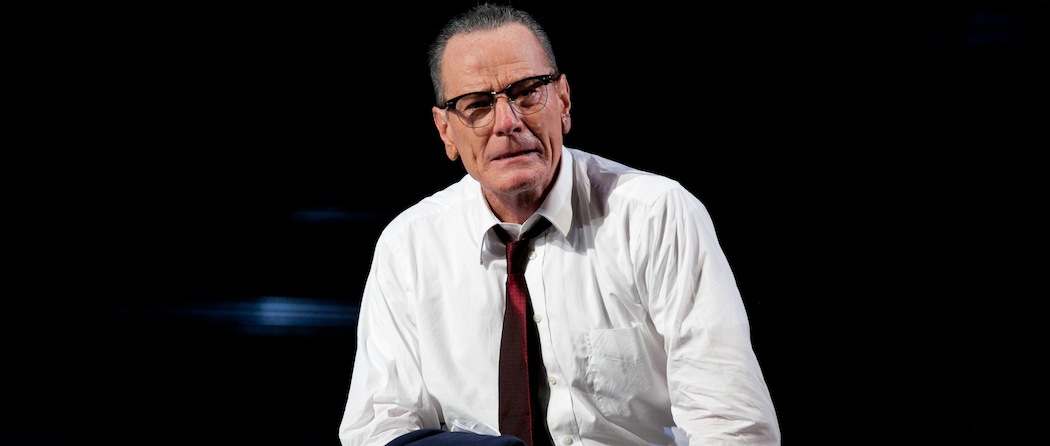 This article is more than 7 years old.
NEW YORK — "All The Way" went all the way once again. It won best award at Sunday night's Tony Awards for best play and Bryan Cranston won best actor.
Former "Breaking Bad" star Cranston was making his Broadway debut, nabbed a Tony Award, and Audra McDonald won a record-breaing sixth playing "Lady Day at Emerson's Bar and Grill."
Cranston — in a role far from TV's chemistry teacher-turned-meth kingpin Walter White — won the best lead actor in a play Tony on Sunday for playing former President Lyndon B. Johnson in Robert Schenkkan's "All the Way," which made its debut, at least in its Broadway form, at the American Repertory Theater.
Cranston, a three-time Emmy winner, plays Johnson during his first year in office following the assassination of John F. Kennedy and explores both his fight for re-election and the passage of the Civil Rights Act of 1964. He beat out Samuel Barnett from "Twelfth Night," Chris O'Dowd from "Of Mice and Men," Mark Rylance of "Richard III" and Tony Shalhoub with "Act One."
Audra McDonald has become the Tony Awards' most decorated actress.
The singer and actress on Sunday won her sixth Tony for portraying Billie Holiday in "Lady Day at Emerson's Bar & Grill," putting her ahead of five-time winners Angela Lansbury and the late Julie Harris for the most competitive wins by an actress. One of the previous awards was for another A.R.T. transfer, "The Gershwins' Porgy and Bess." The latest win — for best lead actress in a play — also makes McDonald the first grand-slam performance winner. She previously won as best featured actress in a play ("A Raisin in the Sun" and "Master Class"), best lead actress in a musical ("The Gershwins' Porgy and Bess") and best featured actress in a musical ("Ragtime" and "Carousel"). She also has two Grammys.
She beat Tyne Daly, LaTanya Richardson Jackson, Cherry Jones and Estelle Parsons. Jones was nominated for yet another A.R.T. transfer, "The Glass Menagerie." Director John Tiffany lost out to Kenny Leon for the latest revival of "A Raisin in the Sun," which also won best revival, but Natasha Katz won for Best Lighting Design for the Tennessee Williams play. There was also a preview of the A.R.T.'s upcoming production, "Finding Neverland," with Jennifer Hudson.
"A Gentleman's Guide to Love and Murder" won best musical and Jessie Mueller for "Beautiful — the Carole King Musical."
Neil Patrick Harris was best actor in a musical for "Hedwig and the Angry Inch," which won for Best Revival of a Musical.
Hugh Jackman kicked off the Tony Awards with a bounce, hopping up and down like a kangaroo during his opening number Sunday. Big, high-kicking musical numbers from "After Midnight," ''Aladdin," ''Rocky" and "Hedwig and the Angry Inch" kept the energy level up during the Tonys' first hour but no clear overall winning show had yet emerged.
The bearded Australian, back as host after a nine-year absence, greeted many of the night's featured performers as he cheerfully bounded past them backstage. He then joined the cast of the musical "After Midnight" for a rousing rendition of "It Don't Mean a Thing (If it Ain't Got that Swing)."
The first award of the night was for best featured actor in a play and it went to Mark Rylance, who won his third Tony for playing the countess Olivia in "Twelfth Night." The best featured actress in a musical Tony went to Lena Hall in "Hedwig and the Angry Inch," playing a woman who dresses as a man and plays Neil Patrick Harris' boyfriend. Hall wished her dad a happy birthday and gave a shout-out to her soon-to-be-born niece. "Friendship is magic," she said.
Darko Tresnjak won for directing the musical "A Gentleman's Guide to Love & Murder" and thanked his mother, a skydiver during World War II now too frail to be there. The musical also won for best book of a musical and costumes for a musical. Away from the cameras, the now-closed musical "The Bridges of Madison County" won for best score and best orchestration.
Leon won his first Tony for directing the revival of "A Raisin in the Sun." He thanked, among other, his star Denzel Washington, and the women in his life. He even managed to plug his next work, "Holler If Ya Hear Me."
One of his "Raisin" stars, Sophie Okonedo, won for best featured actress in a play. "I am loving it on Broadway," she said. She thanked producer Scott Rudin for believing that a "Jewish, Nigerian Brit" could play the iconic role of Ruth Younger.
James Monroe Iglehart, who plays the manic Genie in "Aladdin," won for best featured actor in a musical and could barely contain his glee as he thanked a long list of people that included God and his wife.
Sunday night's show ran more than 15 minutes over its allotted three-hour time slot, forcing the producers to make a painful cut — the memorial segment where notable theater deaths of the past year were to be acknowledged.