Red Sox Shut Down By In 4-0 Loss To Orioles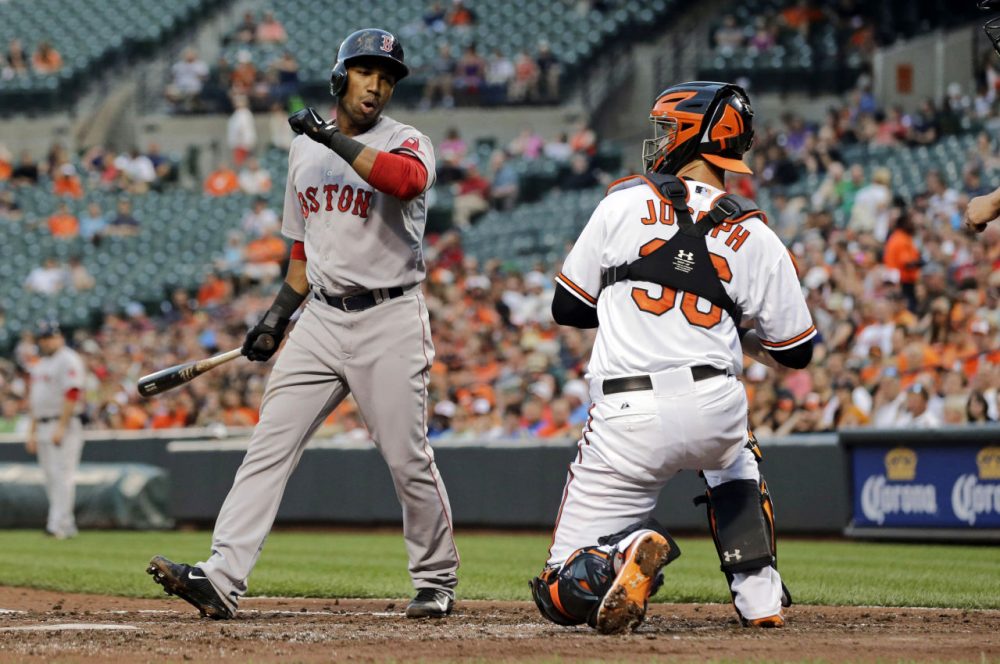 This article is more than 6 years old.
Turns out David Ortiz's game-winning homer Sunday was not much a spark for the Boston Red Sox.
Bud Norris pitched eight innings of three-hit ball and Adam Jones hit one of the Orioles' three home runs in a 4-0 victory over Boston on Monday night.
The Red Sox have lost six of its past seven games after a season-high seven game winning streak. Boston has been shut out five times this season.
"The frustration level is just we want to win," said Boston catcher David Ross, who went 1 for 3 and is batting .176. "These guys are accustomed to winning and we want to win. Offense or pitching, either side, we just want to help each other any way we can. Wins are hard to come by right now. We got a long season. We're going out there, playing hard, but things are not happening for us right now."
Boston right-hander Jake Peavy (1-4) allowed four runs and eight hits with seven strikeouts and one walk over seven innings. Peavy has given up three or more runs in seven consecutive starts and hasn't won since April 25 against Toronto.
"Take a few pitches back and it's a different game," Peavy said. "I don't care about my personal win-loss record. I don't care about any personal numbers at this point. I'm pitching to win. I was pitching to win tonight. But we were grinding. That's a really good lineup."
Nick Markakis and Ryan Flaherty also connected for the Orioles.
Norris (5-5) struck out six and walked three while matching the longest outing of his career. He was forced to exit because of a blister on his pitching hand. Coming in, he had given up four or more runs in four of his past five starts.
"We needed a well-pitched game, but we had bullets down in the pen," Orioles manager Buck Showalter said. "Bud was really good. I'd have probably given him a chance to finish that game."
Jones had three hits, including his 150th career homer. Markakis extended his hitting streak to 14 games with two hits.
After allowing a leadoff single to Brock Holt in the first, Norris retired 13 consecutive batters. Daniel Nava managed Boston's second hit with a two-out double in the fifth.
On Sunday night, Ortiz hit a go-ahead, three-run homer in the top of the ninth to lift the Red Sox to a 5-3 win over Detroit, snapping their five-game losing streak. The Red Sox could not muster the same production against Baltimore.
"As well as Norris was pitching, he stayed out of the middle of the plate and had very good stuff, one run was going to be the difference the way this one turned out," Boston manager John Farrell said. "We couldn't put too much together in any one inning."
Jones gave the Orioles a lead in the first with his 10th homer.
"I'm trying to use the whole field," Jones said. "I'm trying to not limit myself to just pulling the ball. That's how I get in trouble. Just trying to use the whole field. If it's in, try to pull it. If it's away, try to stay on it. Not rocket science, but some sort of science."
Baltimore then increased the lead to 3-0 that same inning when Markakis hit a two-run shot off Peavy onto the flag court. Flaherty's solo shot in the seventh provided further cushion.
Tommy Hunter, who came off the disabled list Sunday, threw a scoreless ninth. The Orioles improved to 24-9 when scoring four or more runs.