George H.W. Bush Celebrates 90th With Parachute Jump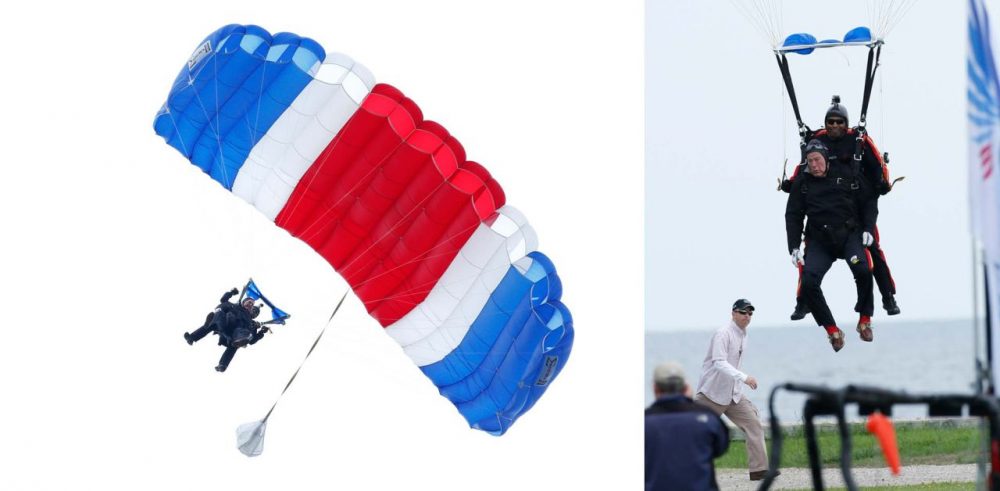 This article is more than 5 years old.
Former President George H.W. Bush celebrated his 90th birthday by delivering on a vow he made five years ago even though he can no longer use his legs.

It's a wonderful day in Maine — in fact, nice enough for a parachute jump.

— George Bush (@GeorgeHWBush) June 12, 2014
The nation's 41st president jumped from a helicopter near his summer home in Kennebunkport, Maine, harnessed to Sgt. 1st Class Mike Elliott, a retired member of the Golden Knights, the Army's parachute team. Elliott also guided Bush to a gentle landing five years ago.
"That's what he wanted for his 90th birthday and that's what he got," Elliott said. "It's a very good feeling to be involved and be able to turn back time. He's probably feeling younger now than ever."
Bush floated to the ground using a red, white and blue parachute and landed near St. Ann's Church, where friends and family had gathered, out of the sight of reporters. This video of the jump was posted on former President George W. Bush's Instagram.
"He had a big smile for the crowd. You could tell he was exhilarated," said Diana Untermeyer, a family friend from Houston. "He's an amazing man. This is just another sign of that. I think that like most of America, our family loves him to pieces. It was just a real thrill to do this again."
The first time Bush jumped from an airplane was when his plane was shot down in World War II over the Pacific. Later, he decided to jump from a plane of his own accord and marked his 75th, 80th and 85th birthdays by skydiving.
Spokesman Jim McGrath said the former president likes both a surprise and an adrenaline rush.
"It's vintage George Bush," McGrath said. "It's that passion for life. It's wanting to set a goal, wanting to achieve it. I'm sure part of it is sending a message to others that even in your retirement years you can still find challenges."
The jump was kept secret until Thursday morning, partly to give Bush himself the option of bagging it. Still, hundreds of people gathered along rocks near the church to catch a glimpse.
"He has a lot of courage. We need more like him," said David Morris, 79, of Melrose, Massachusetts.
"I think it's wonderful. I hope I can jump out of a plane at 90," said Carol Schierl, 75, of Green Bay, Wisconsin.
With reporting by The Associated Press's David Sharp and the WBUR Newsroom.