Herrera Hits Big In 9th, Lifts Red Sox To Win 3-2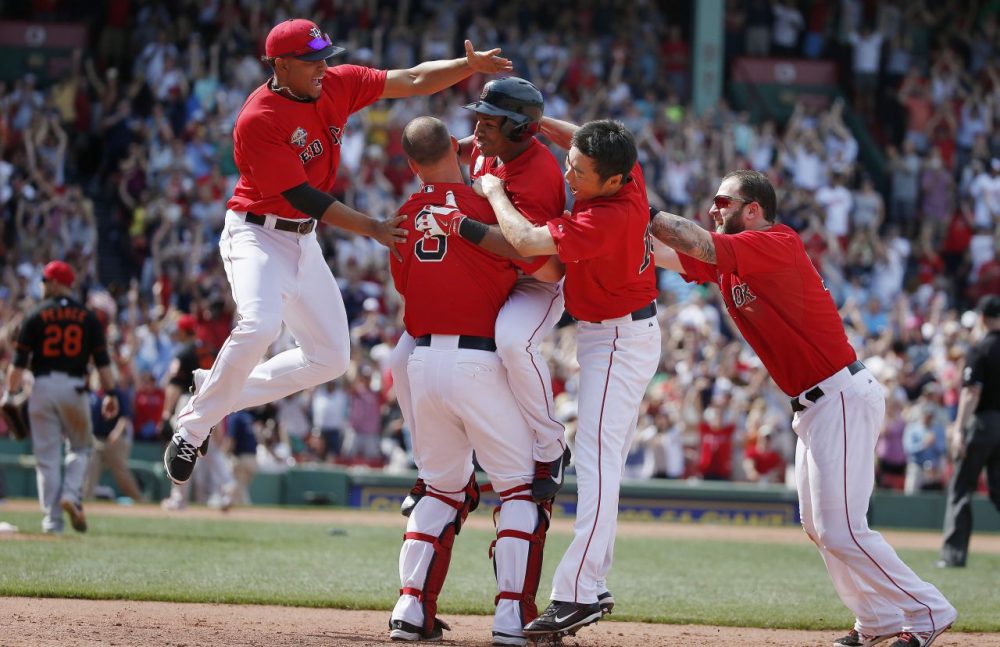 Jonathan Herrera had a pinch-hit, broken-bat single with one out in the bottom of the ninth inning, giving the Boston Red Sox a 3-2 victory over the Baltimore Orioles on Saturday in the opener of a day-night doubleheader to snap a three-game skid.
After poor hitting and fielding spoiled Red Sox left-hander Jon Lester's attempt for a 10th win, the Red Sox rallied in the ninth.
Pinch-hitter Jonny Gomes legged out a leadoff infield single off reliever T.J. McFarland (1-2). David Ross then bunted Gomes to second before Herrera's blooper over second base scored Gomes.
Koji Uehara (4-2) worked a perfect ninth and Stephen Drew hit his first home run since the World Series for Boston.
The Orioles' two runs came on Xander Bogaert's two-out error in the third inning of a game being made up after Friday's game was rained out.
Lester allowed two unearned runs and five hits in eight innings, striking out seven with no walks.
Miguel Gonzalez, who had struggled in his previous three starts since returning from an oblique injury, allowed two runs - one earned - and seven hits, striking out six with two walks in eight innings.
Drew ripped Gonzalez's first-pitch fastball into the right field bleachers in the second inning. Drew, who re-signed with Boston in May, was hitting .136 and hadn't homered since World Series championship clinching win in Game 6.
Jackie Bradley Jr. later doubled and scored on first baseman Steve Pearce's error in the two-run second for the Red Sox, who then quickly reverted to their light-hitting ways.
The Orioles tied it in the third when third baseman Bogaerts booted Pearce's two-out grounder, allowing two runs to score.
The inning began with Dustin Pedroia's poor throw to first, his first error since April 24.
The Red Sox were without designated hitter David Ortiz, who was returning from his native Dominican Republic, where he attended his daughter's graduation. Manager John Farrell said Ortiz would have missed Friday's rained out game and said he was expected back for Saturday's nightcap.
That left the struggling A.J. Pierzynski (0 for 4, all infield pop outs) at DH, while Bogaerts (0 for 4, three strikeouts) is hitless in his last 27 at-bats.
But in their first game since Wednesday thanks to an off day and the rainout, the Red Sox found a way to snap the Orioles' four-game winning streak.
With third baseman Manny Machado serving the last of his five-game suspension for throwing a bat in a game against Oakland last month, the Orioles were in the odd position of having 24 players for the first game and 26 for Game 2. Reliever Preston Guilmet was called up as the extra player allowed for the second game.