Peavy Loses Again, Blue Jays Beat Red Sox 7-3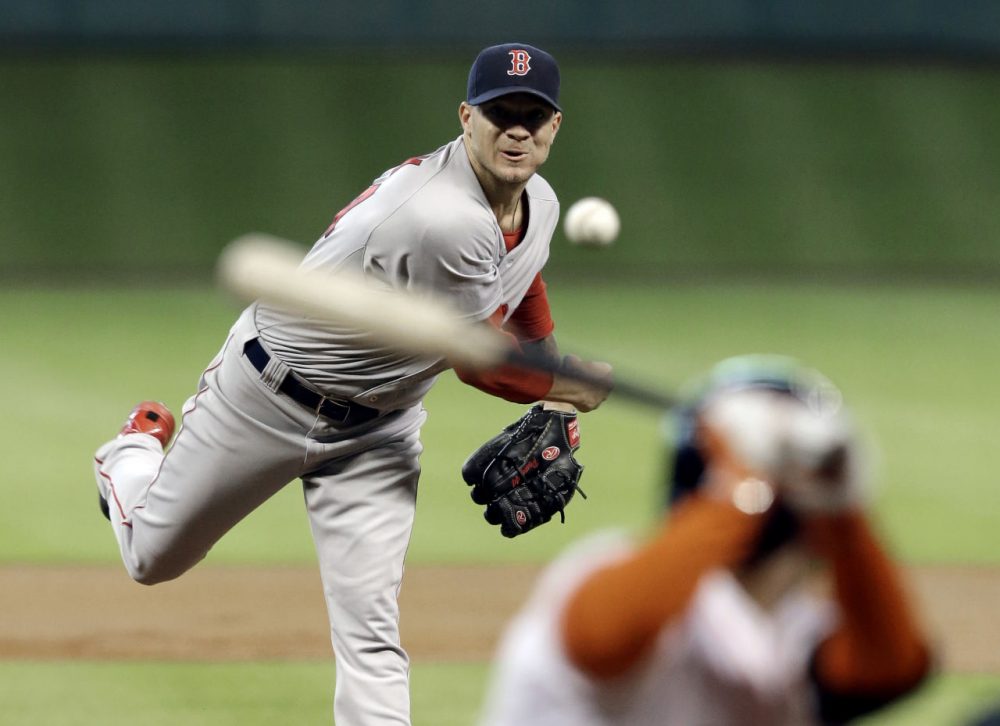 No Boston pitcher would benefit more from a barrage of offensive support than Jake Peavy.
But after a season-high 14-run outburst on Monday, the Red Sox didn't have much left to offer their struggling right-hander on Tuesday night.
J.A. Happ pitched six shutout innings for his first victory in three starts, Dioner Navarro and Jose Reyes homered and Toronto beat Peavy and the Red Sox 7-3, snapping Boston's winning streak at five games.
Boston set season-highs in runs, hits (18) and homers (four) in Monday's 14-1 rout, but went 1 for 9 with runners in scoring position the following evening.
"There's no bank that we can take runs and put them in and take a loan out the next day, unfortunately," Red Sox manager John Farrell said. "It would have been nice to be able to do that today."
Peavy (1-9) lost his ninth straight decision and has not won since beating Toronto on April 25. He allowed five runs and eight hits in 6 1-3 innings, walked three and struck out seven.
"I've got to be better," Peavy said. "That's all there is to it."
Peavy has received two runs of support or fewer in each of his past eight starts.
"He's pitched good and we haven't scored runs for him," Dustin Pedroia said. "That's the bottom line. He's kept us in every game and competed."
David Ortiz hit a solo homer in the eighth, his third homer in two games and the 36th of his career at Rogers Centre, matching Alex Rodriguez for the most by a visiting player.
"He's very comfortable hitting in this ballpark," Farrell said.
Reyes and Melky Cabrera both had three hits and two RBIs. Cabrera has 14 multi-hit games in his past 30.
Happ (8-5) allowed seven hits in six innings, walked one and struck out four to win for the first time since beating the Chicago White Sox on June 26.
"The curveball was as good or better than it's been so far this year," Happ said. "That was a big pitch tonight."
Reyes and Navarro both connected in the sixth inning as the Blue Jays rebounded from Monday's one-sided defeat.
"After last night, that demolition, we knew we had to come through today," Navarro said. "We were expecting Happ to give us a shot and he did a great job."
Dustin McGowan allowed Ortiz's homer in 1 2-3 innings and Aaron Loup needed just one pitch to retire pinch-hitter Daniel Nava for the final out of the eighth.
Casey Janssen got two outs in the ninth but gave up a two-run homer to Stephen Drew. Brett Cecil got the final out for his fourth save in five chances.
Toronto opened the scoring in the third on a two-out single by Cabrera that struck Red Sox right-hander Jake Peavy in the leg and rolled into foul territory as Anthony Gose scored.
Reyes led off the sixth with his eighth home run and Cabrera followed with a double. One out later, Navarro made it 4-0 with a drive into the bullpen in right.
Peavy left in the seventh after infield hits by Gose and Reyes. Cabrera greeted Burke Badenhop with another RBI single that struck the pitcher.
Toronto made it 7-1 in the eighth, scoring twice against Felix Doubront. Ryan Goins hit an RBI single and scored on a double by Reyes.
Boston had chances, but went 1 for 9 with men in scoring position. The Red Sox loaded the bases with two outs in the fourth but Drew flied out.
The Red Sox got consecutive singles from Mike Napoli and Jonny Gomes to begin the sixth, but Shane Victorino grounded into a double play and Drew struck out.