Revere Residents Worry About Tornado Damage
03:00
Play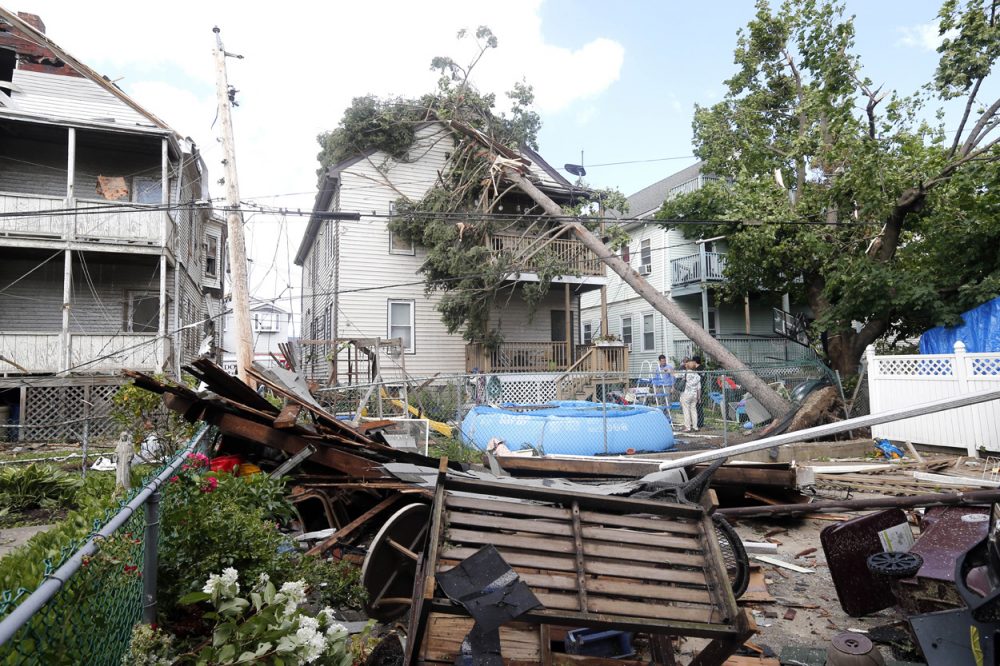 Representatives from the Small Business Administration are touring Revere Thursday to see which businesses they can help with low-interest insurance loans after this week's tornado.
Wednesday night, Mayor Dan Rizzo convened a town meeting to answer residents' questions as they clean up and some wonder when they'll be able to go back in their houses.
The tornado cut a swath two miles long and 3/8 mile wide through Revere. But this is not the kind of catastrophic damage wreaked on the central Massachusetts town of Monson three years ago.
As you go down Broadway, at first, things appear to be normal. The streets are cleaned up. The buildings are standing. But then you notice the scars.
One stately federal house just across the street from City Hall has blue tarp, a sign of problems with the roof.
Many of the windows at City Hall are boarded up. Not far away, the roof of a large yellow building is mangled. The building belongs to Eric Ferland, who was at the Wednesday night meeting.
He has the roof secured. He's living with friends.
"Obviously, it's unsafe, so we had to move out," Ferland said. "So now, I'm just trying to get help for my tenants."
He has been told that if a fire had devastated the building, insurance would pay for his tenants' relocation, but because it was a tornado, there is no help.
Joel Miranda said his house is also uninhabitable.
"Technically, we're not even allowed to go in, and we have all of our valuables there, all of our clothes," Miranda said. "We bought the house six years ago. We put everything into it, literally. At the moment, we're hovering around the house during the day to make sure no one gets in, gets through, but we gotta leave it at night. Luckily, we have neighbors who sometimes look out the window."
"His roof is in my yard," Miranda's neighbor interjected.
"The storm peeled off the roof like a banana," Miranda said.
He's staying with in-laws in Brockton, at least an hour's drive away. He has been told he may not be able to get into his house for another four to six months. It is a two-family, and his brother and his best friend are his tenants. His insurance does not cover their relocation costs.
"Our insurance company has not been as responsive as we would have liked, and they're actually not coming out until the end of the week," Miranda said.
The Red Cross said it is assisting about 100 people, but only a few with housing. Most people who can't stay in their own homes are staying with friends. Fire inspectors have documented damage to about 65 houses.
Rizzo told residents his city probably won't meet federal guidelines for aid from the Federal Emergency Management Agency, but he expressed hope that the state will provide emergency funds.
This segment aired on July 31, 2014.