Cespedes' HR Puts Weary Red Sox Past Angels 3-1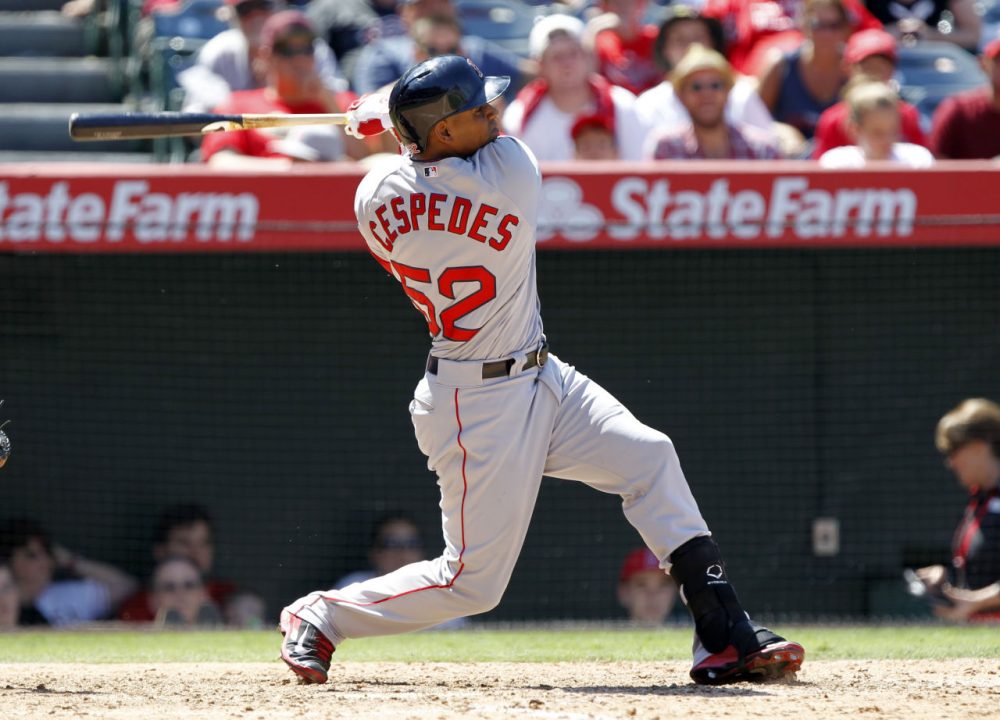 This article is more than 6 years old.
Yoenis Cespedes and the Boston Red Sox rebounded from an exhausting 19-inning loss with an energizing victory.
Cespedes hit a three-run homer in the eighth inning, Rubby De La Rosa pitched five-hit ball into the eighth and the Red Sox won their first series in three weeks with a 3-1 victory over the Los Angeles Angels on Sunday.
The teams had to go right back to work about 12 hours after a 6 1/2-hour epic won 5-4 by the Angels on Albert Pujols' homer well after midnight. Most position players were exhausted, and neither team scored in the first seven innings on a hot day at Angel Stadium.
Cespedes broke it open with his first homer for his new team, driving a pitch from Joe Smith (4-1) into the Boston bullpen in left.
The Cuban slugger went 1 for 7 in the marathon, and the former Oakland All-Star was 0 for 3 in the series finale before he hurt Smith and the Angels again with his first homer in eight games for the defending World Series champions.
"I knew I hit it well, but I didn't know it was going to be a home run," Cespedes said through a translator. "(The power drought) doesn't bother me or make me worry. I'm just putting good swings on the ball."
Smith has been outstanding for the Angels, but Cespedes has either scored or driven in seven of the 14 runs he has allowed this season. Smith hadn't allowed a run in 23 straight appearances over 23 2-3 innings before Cespedes connected to cap a rally started by first baseman Efren Navarro's error.
Smith said he missed his location on the fateful slider by "a lot. About 428 feet, I think. ... Every time I miss, he's on it. That's what good hitters do. I missed and he got me. We'll battle again in about a week."
Mike Trout hit his 27th homer in the eighth for the Angels, matching his total from last season.
Both teams needed strong starts, and both pitchers came through.
Hector Santiago threw six scoreless innings of two-hit ball for the Angels, allowing just one runner to reach third.
De La Rosa (4-4) was even better in his first victory in four starts. With Dan Butler making his major league debut at catcher, De La Rosa had eight strikeouts and blanked the Angels until Trout's homer on his 110th pitch.
"I had a rhythm, and I was really confident," De La Rosa said.
Koji Uehara pitched the ninth for his 25th save, striking out pinch-hitter Josh Hamilton with a runner on as Boston took two of three from the powerful Angels.