Gov. Patrick Ventures On Slew Of Overseas Trips In Final Years In Office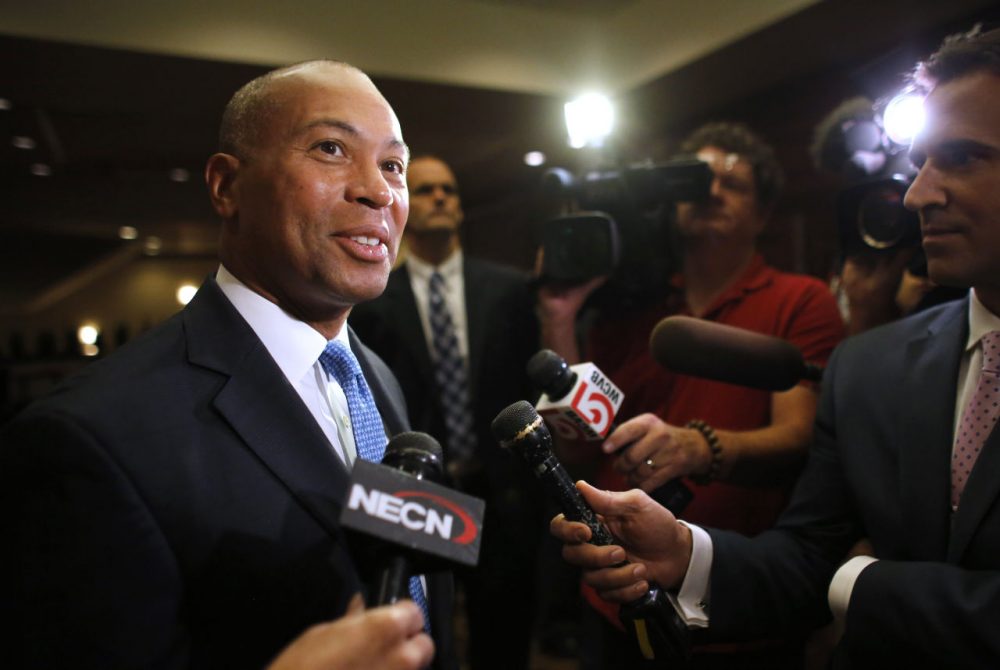 This article is more than 6 years old.
As he nears the end of his second and final term, Gov. Deval Patrick's wanderlust has kicked into high gear.
In the past 18 months, Patrick has embarked on a whirlwind tour of the globe, stopping in such far-flung places as Colombia, Ireland, Japan, Hong Kong, Singapore, Panama, Israel and the United Arab Emirates.
The governor says the trade missions have attracted capital to the state and raised Massachusetts' profile in an increasingly global economy.
The slew of trips marks the most active overseas travel period of Patrick's nearly eight years in office, according to an Associated Press review of the governor's official schedules by the Associated Press. During his first four-year term, Patrick made just one trade mission to China.
The governor says the trade missions have attracted capital to the state and raised Massachusetts' profile in an increasingly global economy.
"It's opening doors for business leaders to new markets, and they've made the most of it. We see it in job creation here. We see it in increased sales as well," Patrick told the AP last week.
The trips have also made it easier for Massachusetts businesses to find markets and clients in other parts of the world, he said.
The trade missions have also drawn criticism.
When Patrick embarked on a trip to Panama and Mexico in March, some Republican lawmakers faulted him for leaving Massachusetts amid heightened scrutiny of the Department of Children and Families after social workers lost track of a 5-year-old Fitchburg boy, who was later found dead.
And when Patrick picked China for his first trade mission in 2007, he found himself under pressure from human rights activists, Tibetan activists and even some fellow Democratic lawmakers, who urged him to stand up for the principles of freedom and human rights. Patrick said he politely raised the issues during a luncheon with a senior Chinese foreign ministry official.
Patrick's entourage on the trips typically includes business leaders and cabinet secretaries. He's pointed to a series of deals that he said are the direct result of the trips.
Traveling to China, for example, resulted in agreements signed between life science and clean energy groups in Massachusetts and China, a new exchange opportunity for the University of Massachusetts and a nonstop air service from Boston to Beijing, according to Patrick.
Patrick's second trade mission was in 2011, after he'd won election to a second four-year term. That 10-day trip included stops in Israel and the United Kingdom.
After the trip, UK-based companies Cambridge Consultants, Sagentia and TotalMobile announced expansion of jobs in Massachusetts while the Israeli biotech firm EarlySense announced the addition of jobs and established its U.S. headquarters in Waltham, he said.
The state typically picks up the tab for Patrick while business leaders accompanying him pay their own way. The 10-day trade mission to Israel and the UK in 2011, for example, cost the state about $300,000, Patrick said at the time.
A portion of the state's costs on some of the earlier trips - about $130,000 - was also picked up by a pool of funds raised by businesses that wanted to partner with the state in promoting Massachusetts overseas.
Patrick said a visit to Brazil later in 2011 launched what he called a "new era of collaboration" in agricultural research and development with the signing of a memorandum of understanding between the University of Massachusetts-Amherst and the Brazilian Agricultural Research Corporation.
Patrick's pace of trade missions picked up with a slew of trips from February 2013 to June 2014, when he returned to Israel and stopped in the United Arab Emirates.
During the trip, the Massachusetts Institute of Technology and Ben-Gurion University of the Negev announced the establishment of a fund to pay for faculty and scientists at the two schools to work together on research opportunities.
Patrick's travels even caught the attention of the White House. President Barack Obama asked him to attend the July inauguration of President-elect Juan Carlos Varela in Panama, where Patrick had visited in March on a trade mission.
"Being away for 24 hours to respond to the president's request to represent the United States at a foreign head of state's inauguration is a pretty great honor for the commonwealth," Patrick said at the time.