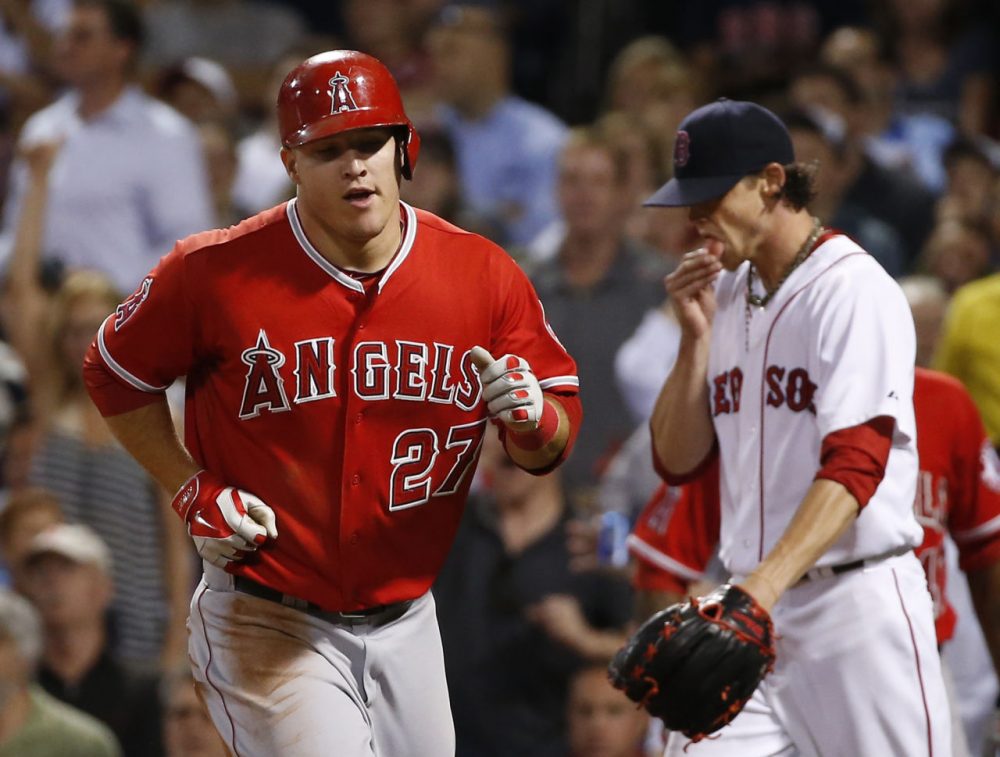 This article is more than 6 years old.
Through four innings, Clay Buchholz was in charge. Then he was in trouble.
The inconsistent right-hander took a two-run lead into the fifth then allowed five runs in that inning. The Boston Red Sox never threatened again and lost to the Los Angeles Angels 8-3 on Wednesday night.
"It wasn't that I didn't have a feel for any pitch" in the fifth, Buchholz said. "It was just the big pitches that I needed to make, I didn't make them."
He allowed five runs in 15 innings in his last two starts after giving up 22 in 22 innings over his previous four. On Wednesday, Buchholz (5-8) was up and down in the same game.
"Clay threw the ball pretty well," catcher David Ross said. "Out of the stretch he got a little rushed and couldn't find the strike zone, and then when he did they got some hits."
The win was costly for the Angels, who lost right-hander Garrett Richards to an injury to the patellar in his left knee while running to cover first base on a potential double-play grounder. He left the field on a stretcher.
"Winning the game, obviously, it's always important, but it's secondary to what happened," Angels manager Mike Scioscia said after his team's seventh win in eight games gave Los Angeles a 1 1-2 game lead in the AL West over Oakland. "Obviously, it's a significant injury."
Richards, 13-4 with a 2.61 ERA, left after 1 2-3 and is to be re-evaluated in Los Angeles on Thursday.
"I had a chance to talk to him," Angels pitcher Jered Weaver said. "He just wanted to know what the story was. He wasn't feeling too much pain when he was on the table. When the doctor came him and told him that he might have done something to his patella tendon and there might be surgery involved, he kind of lost it."
The injury cast a pall over a strong game by Josh Hamilton, who broke out of a 5-for-41 slump with two hits and three RBIs. Before Tuesday's game, he took extra batting practice.
"Clearing my head and just remembering what it was like as a little kid, in high school, to go out and take BP and have fun," Hamilton said. "It sure helped."
Richards left trailing 2-0. Boston made it 3-0 on David Ortiz's homer in the third off Cory Rasmus (3-1).
That gave Ortiz his eighth 30-homer season with Boston, tying Ted Williams' club record. Ortiz went 4 for 4 and is 8 for 10 in the series with four walks. Alex Hassan pinch hit for him in the ninth and grounded out.
"He was starting to get a little sore. He's obviously been on base this entire series and he started to get some tightness," Boston manager John Farrell said.
The Angels scored a run in the fourth on a double by Hamilton and an RBI single by Kendrick and five in the fifth.
Buchholz took a 3-1 lead into the fifth but let the first six batters reach base. That sent Boston toward its fourth straight loss.
The Angels loaded the bases on a single by Erick Aybar, a walk to Chris Iannetta and a single by Efren Navarro. A walk to Kole Calhoun drove in a run, and Los Angeles tied it when Mike Trout's popup to short right field dropped in. Calhoun was forced out at second after holding up to see if the ball would be caught.
The next three batters drove in runs: a single by Albert Pujols, a sacrifice fly by Hamilton, and a single by Kendrick.
TRAINER'S ROOM
Angels: Hamilton played center field as Trout was switched to designated hitter. Scioscia said nothing was physically bothering Trout, but he wanted to give him some rest.
Red Sox: Ross started following a stint on the disabled with right plantar fasciitis. 3B Will Middlebrooks didn't play after straining his right hamstring while running out an infield single in the Angels' 4-3 win Tuesday night.
UP NEXT
Angels: RHP Matt Shoemaker (11-4, 3.84 ERA) pitches Thursday night as the Angels go for a four-game sweep. Shoemaker last faced the Red Sox on Aug. 9 when he shut them out for the last three innings of the Angels' 5-4 win in 19 innings.
Red Sox: RHP Rubby De La Rosa (4-4, 3.79) goes for the Red Sox. On Aug. 10, he allowed one run in seven innings in a 3-1 win over the Angels.
WASTED CHANCES
The Red Sox left 10 runners on and were 1 for 12 with runners in scoring position. In the first three games of the series, they have stranded 41 runners and are 2 for 39 with runners in scoring position.
WHAT A RELIEF
Six Angels relievers allowed one run and six hits in 7 1-3 innings with five strikeouts and two walks. One night after getting his 34th save, Huston Street pitched a perfect ninth.