Commentary: Surrogates Could Give Coakley An Edge Over Baker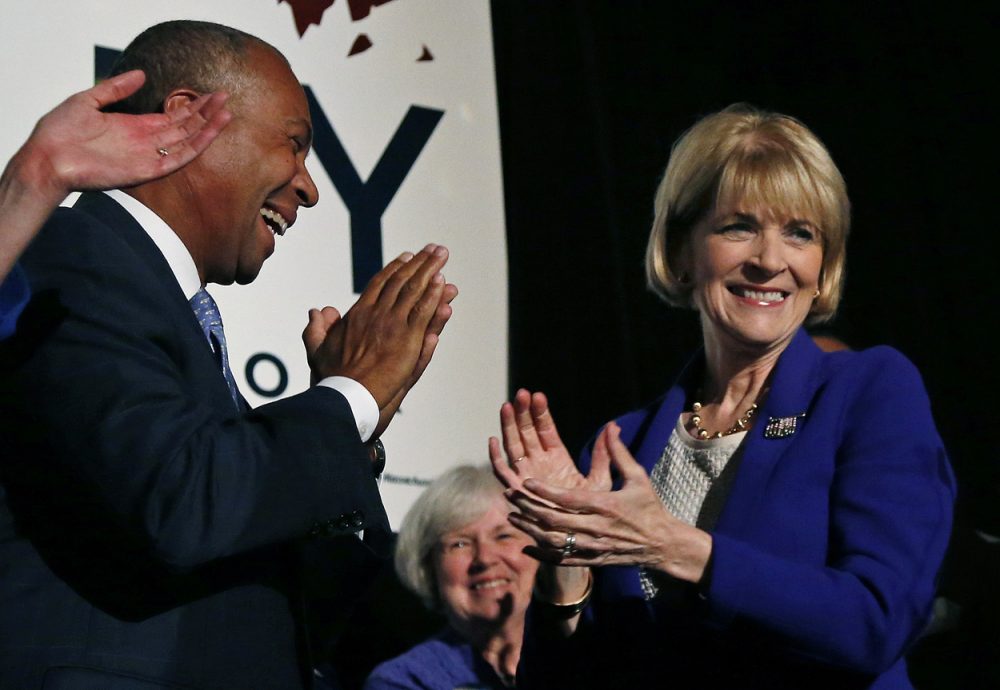 This article is more than 7 years old.
On primary election night, it became clear that Democrat Martha Coakley needs more than a little help from her friends if she's going to defeat Republican rival Charlie Baker for Massachusetts governor.
Her underwhelming margin of victory — combined with her dull victory speech on Tuesday night — had to remind many observers of her weaknesses as a candidate. She doesn't quite project "it" — call it leadership, passion or gravitas. She's the same candidate who lost to Scott Brown in the 2010 special election for U.S. Senate.
If that appraisal seems unfair, compare her victory speech to that of Maura Healey, the Democratic nominee for attorney general. This was Healey's first election night speech, yet many Democratic viewers would have probably switched her with Coakley as the nominee for governor if they had the power.
Late in her long speech, Coakley attacked Baker with a list of complaints, concluding that "Republican Charlie Baker is the wrong choice for Massachusetts." ("Republican," will be Charlie Baker's first name in Coakley advertising.) She charged that Baker was a "Tea Party conservative in 2010" who only had a "superficial transformation" in 2014.
Unfortunately for the Coakley strategy of portraying Baker as a Tea Party conservative, he has been emulating his old mentor, former Gov. Bill Weld, who was popular in 1990's Massachusetts as a libertarian and/or moderate.
In his victory speech, Baker sounded Weldian when he said he offered "independent, bipartisan leadership" that would provide "balance" in the Democratic-controlled State House. And he sounded Weldian when he said he had plans to keep taxes low, clean up the welfare system, and end scandals like in the state's Probation Department.
But Coakley has a big advantage in trying to prosecute Baker as a "known Republican." She has powerful allies who can act as surrogates for her: Among them Gov. Deval Patrick, Sen. Elizabeth Warren, and Boston Mayor Marty Walsh.
Even Maura Healey, who has her own race against Republican attorney John Miller, said in her victory speech that she would campaign for Coakley. After her landslide primary win over Warren Tolman, Healey could be effective in pumping up progressive activists in a way that Coakley cannot.
Baker does not have famous GOP allies who can make the case against Coakley without it being construed by Democrats as proof that Baker is a partisan Republican. So in this battleground, he'll be a lone ranger. But that could work to his advantage if Democratic pols are seen as trying to prop up Coakley as a fellow insider.
Warren Tolman knows that looking like a political insider can be dangerous to your political health. All those endorsements he received from top politicians in the Democratic race for attorney general backfired when, in news coverage, Healey said they proved that she was not part of the Old Boys Club.
If Coakley has famous surrogates do most of her fighting for her, she will seem, by contrast, less capable as a leader. Being onstage with Warren, Healey or Patrick while they inspire a crowd certainly can't make Coakley seem more exciting.
Baker isn't a charismatic candidate, either. He can be as dull as Coakley in addressing an audience. But if he comes across in debates as a more capable leader — as a bipartisan executive who can reform government and a business expert who can spur job creation — he can win many of the Steve Grossman supporters who told pollsters they'd favor Baker over Coakley in the general election. If Baker wins the televised debates, even the most popular Democratic surrogates won't be able to carry Coakley over the finish line.
Todd Domke is WBUR's Republican political analyst.