Boston En Masse Unites The City's Disparate Music Scenes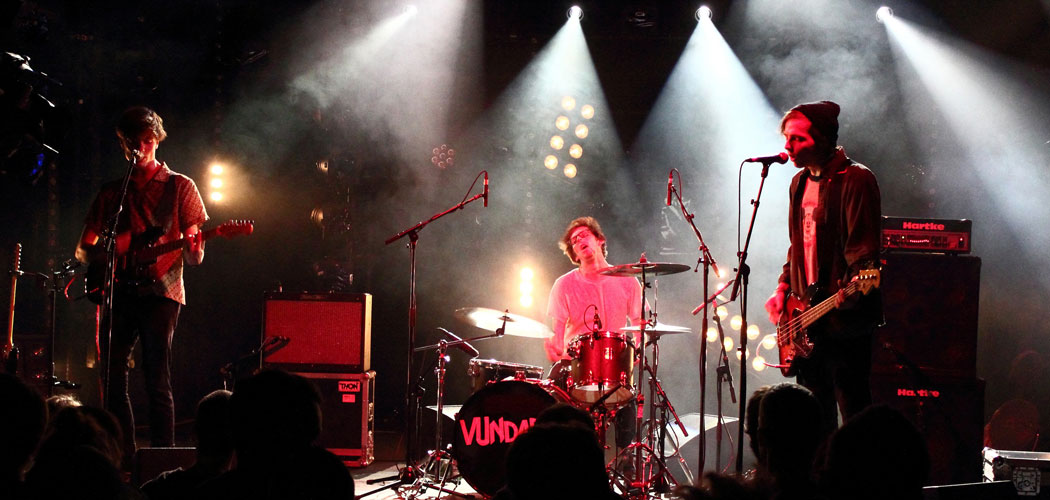 This article is more than 7 years old.
Anyone who's hung around at rock shows, or dingy, beer-stale open mic nights, or makes it a habit to attend live music of any kind in Boston at all, will be familiar with the following complaints: the scene (whichever one) is too insular; the scene is too small; artists always abandon Boston for New York; there aren't enough venues; the city is not supportive enough of underground music. Voiced less often are the difficulties hip-hop promoters face finding venues willing to host them and the lack of diversity on so many Boston concert bills.
That's not to say that Boston music isn't supported nearly every night of every week. Plenty of organizations host regular events comprised of local talent, from Mark Merren's Branded Authentic Hip Hop Showcase to Boston Hassle's eclectic Hassle Fest. But where most bills feature bands with a common sound or audience, it's rare to find a lineup that bridges those worlds.
Boston En Masse, a four-night local music extravaganza, aims to showcase "local musicians across a wide variety of genres" and encourage "teamwork in the local music scene." The first ever installment of the event, at Church of Boston from Sept. 18 to 21, highlights a different genre each night, from garage rock to hip-hop to electropop and beyond. It's presented by Illegally Blind in collaboration with nine other organizations, including DigBoston, Branded Authentic Hip Hop Showcase, Vanyaland, Boston Hassle, and Allston Pudding.
The ARTery spoke to five different Boston En Masse artists about the joys and pains of indie musicianship and their personal experiences in the Boston music community.
Vundabar: Sunday, Sept. 21
For the founding members of Vundabar (pictured at top in a photo by Xi Weg)—lead singer/guitarist Brandon Hagen and drummer Drew McDonald—music was an escape from the social doldrums that are high school. The Scituate natives formed the amiable, jangly garage-rock band when they were still teenagers. Thanks to their friendship with the Boston-based indie band Lady Bones, they were able to get their foot in the door of the city's do-it-yourself (DIY) scene, and began playing Allston basement shows and college parties.
"We were just total fish out of water in this very orthodox, New England small town with an emphasis on sports and really no interest in music whatsoever," says Hagen. "So that's why we started going outside and playing house parties and doing DIY stuff and going into the city and travelling to New York."
At the tender ages of 19 and 20, Hagen and McDonald, along with bass player Zack Abramo, are touring full-time. Vundabar released their first full-length album, "Antics," in 2013. It is a charming and energetic first effort, at once catchy and a little bit raw. The trio favors growly guitars and big, sing-songy choruses, though they are apt at times to switch into a sashaying surf rhythm or a light, lyrical guitar riff. Hagen says that, while their original style was cheerful, "almost jocular," their newer material is a little more serious and dark.
"I think there's a lot of good bands in Boston. And it's a small city so everybody knows each other and it's a pretty tightly-knit group of people," says Hagen. "But I also think that's a double-edged thing where, it's great, it's small, everyone knows each other, but because of that it can get clique-y or—I don't know, I think sometimes scenes in Boston can get kind of closed-off. But I think that's why the whole thing that [Church of Boston booking agent] Jason [Trefts] does, that [Boston En Masse] is great. Because he books shows of people from completely different musical backgrounds and parts of Boston and different circles, and brings them together, and they're usually really great shows."
Mark Merren: Friday, Sept. 19
A native of Dorchester, Mark Merren started making music when he was just 10 years old. The emcee and producer got his start with the Boston-based hip-hop collective Agari Crew and released a full-length album, "Motivate," in 2011. As a producer, he makes needle-fuzzy, soul-inflected beats. He also runs two monthly hip-hop and R&B series: Branded Authentic Hip Hop Showcase at Church and Motivate Monday at Wonder Bar.
"[I am] just trying to cultivate an artist community that represents the culture of hip-hop in the city," says Merren, "and really bring attention to that, and bring more awareness to that. And to generate income for that, so that we don't have to run somewhere else to get recognition."
"With hip-hop, we're not always welcome in every building, compared to some of the other genres or subgenres," says Merren, pointing to the few venues, like Church and the Middle East in Cambridge, that regularly feature hip-hop lineups.
Merren sees Boston En Masse as a rare opportunity to experience and make connections with artists in other Boston music scenes. "It's a bunch of small, niche crowds, but in essence we're all going through the same thing. We're all indie artists, putting in the work, putting together the shows, and building it from the ground up."
Color Channel: Saturday, Sept. 20
The five-piece synth-rock band Color Channel shifts nimbly from bass-driven funk aggression to psychedelic breakdowns to moments of pure disco joy. Singer Jessica Simes, who shares lead vocal duties with synth player Jared Connell and bassist Andrew Hoffman, says that the band's primary influences are probably LCD Sound System and Talking Heads, though its members range from Phish fans to trip-hop listeners. (Color Channel also includes drummer Dylan Larkin and bassist Nate Jeffery.) One of the group's greatest difficulties is finding a musical niche where they comfortably fit. They are more rock n' roll than a lot of electro-pop, and dancier than most rock n' roll.
"One of the challenges to have shows in Boston is that we are pulling together a lot of different genres, so having a really great set of bands that makes sense is sometimes a challenge," explains Simes.
It's for this reason that they are excited to play Boston En Masse. Color Channel have been scheduled to headline on Saturday night with a number of artists with whom they have never before shared a bill.
"That's what I love about this event," says Simes. "It's kind of creating a space for just Boston music to gather and collaborate across so many different lines—like Dig[Boston], Vanyaland, Allston Pudding, Boston Hassle—everybody's kind of coming together on this."
For her part, Simes, who grew up in Los Angeles, has noticed that Boston concert bills tend to lack diversity, especially when compared with New York or London or L.A. "If I play a show in Boston, it's usually me and all white men. If there's a woman on the bill, I'm so happy," she says. "And if there's a person of color, I'm, like, shocked. So that's definitely an issue."
At the same time, she describes Boston as being in a "sweet spot" in terms of size. Something about the city's smallness combined with an abundance of creativity makes for a high-quality scene that is also accessible to newcomers, says Simes. "I wonder if I would have ever been a musician in a band had I not moved to Boston."
Fran-P: Friday, Sept. 19
"I do write hip-hop, but my first love was salsa music," says the Somerville-based rapper Fran-P. Growing up in Dorchester to Dominican parents, he developed an early love for the vivid, political poetry of the Panamanian salsa singer Rubén Blades. "The storytelling that was in salsa music, especially the salsa music in the '70s and the '80s, was something that really struck a chord with me. And so as a writer that's something that I lean towards more, is that whole art of storytelling."
Fran-P favors lush, dramatic beats and raps nostalgically about his childhood in Dorchester. He cites Nas, Lupe Fiasco and Kanye West as major influences. Kanye's album "The College Dropout" was particularly important, says the emcee, because it showed that "you can be from a certain area, and not have to be a thug."
Fran-P resists the urge, common in hip-hop, to hew to a particular aesthetic associated with his native city. He is happy to wave the hometown flag, but on his own terms, and according to his own tastes: "I'd rather make good music and folks ask me where I'm from, and I say 'I'm from Boston.' So they say, 'good music comes from Boston,' over trying to develop this sound, where folks end up making Boston music only for Boston people."
The Monsieurs: Thursday, Sept. 18
For ten years starting in 1998, Andy Macbain helmed the sweaty, lo-fi, cult-beloved, Brookline-based garage-rock band Tunnel of Love. Circa 2008, when guitarist Hilken Mancini learned that her favorite band was taking a hiatus, she decided the only solution was to start a new project with Macbain. Together, with drummer Erin King, they are The Monsieurs, an unfathomably loud and unapologetically distortion-ridden band with an unexpected taste for buoyant, girl-group-inspired hooks.
Mancini, who got her start during the '90s indie rock heyday, has had the curious privilege of watching the Boston music scene adapt to a diminishing music industry.
"There was a time when you and all your friends had a record deal, or some sort of support, or a booking agent. I mean it's way more DIY now, kids book their own shows, they book their own tours, they make their own records, they put out their own cassettes," says Mancini. "And before ... there was the hope that a label would pick you up or someone would give you money and help you out. Whereas now, I don't think that expectation exists."
"I guess the only difference is there was an industry and now there isn't," she adds. "But kids are still making music. And the funny thing is, there's more kids making music than ever."
This article was originally published on September 18, 2014.