At Tiny House Fest, Ponder How Little You Need To Be Happy
This article is more than 8 years old.
"A 'tiny house' is quite literally a very, very, very small house," explains Miranda Aisling, who is organizing the Big Tiny House Festival at 10 Poplar St. in Somerville this weekend with Meagan O'Brien of the Somerville Arts Council. "It's built to be 112 to 200 square feet. Most are one room and a bathroom and a loft. Because they're so small, they're beneath the minimum size requirements for houses in most states. Which is where you get the iconic image of a house on wheels."
The festival offers a showcase of tiny houses rolled into town ("We're hoping to have two or three"), 20 craft vendors ("The tiny house movement is really tied to the handmade, buy local, do-it-yourself movement in the United States"), music, food trucks, the Somerville Arts Council's M.U.S.C.R.A.T. art bus, and Bill Turville's fish car ("It's this silver car with a fish head coming out of one end and a fish tail coming out of the other end") from 3 to 7 p.m. Saturday, Sept. 20, and construction workshops from noon to 4:30 p.m. Sunday, Sept. 21.
The festival celebrates the growth in tiny house building that has popped up across the country in recent years. "It's a reaction to McMansions and the unequal distribution of wealth," Aisling says. "Do you need as much square feet as possible? Do you need three cars in a four-car garage? … Can you focus smaller and relieve your financial burden so you'll actually be happier?"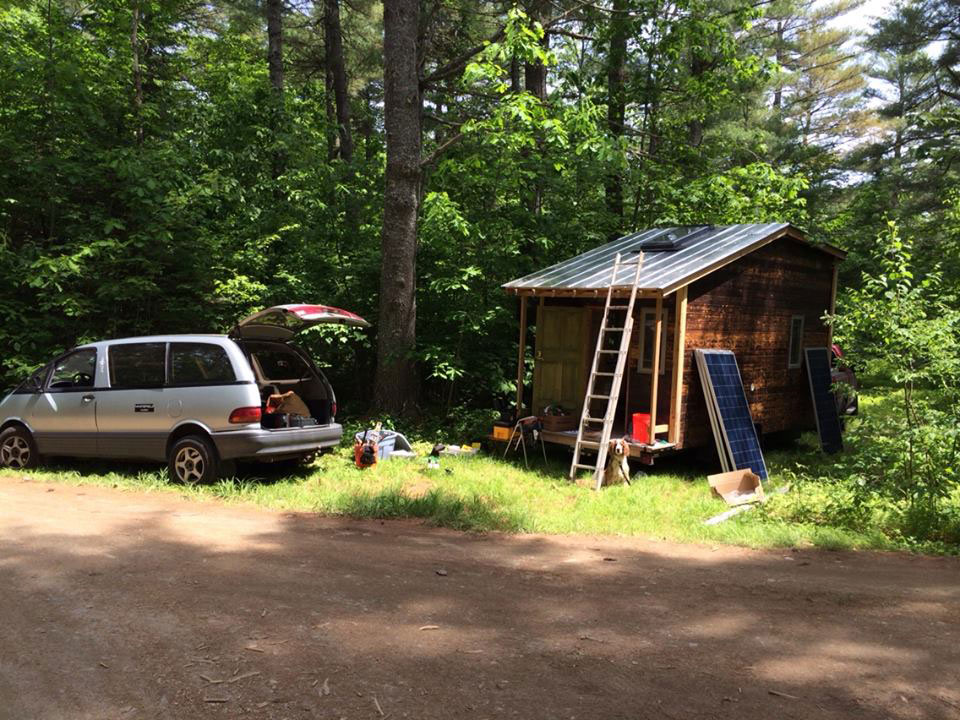 The classic 20th century dream was that becoming an adult meant owning a home, but this can feel more like a mirage on the other side of the 2008 subprime mortgage crisis that spawned our Great Recession. "People from my generation are starting life with tens of thousands of dollars, if not hundreds of thousands of dollars of debt," Aisling says.
So instead some opt to spend, on average, $25,000 to build their own little castles. "They're either interested in sustainable living or they're interested in environmental concerns or financial concerns," Aisling says. "These three concerns are huge concerns facing our culture."
"It makes you think," she says, "what do you actually need to be happy?"
Greg Cook is co-founder of WBUR's ARTery. Tell him what makes you happy via Twitter @AestheticResear and the Facebook.
This article was originally published on September 19, 2014.