Rays Strike Late In 6-2 Win At Boston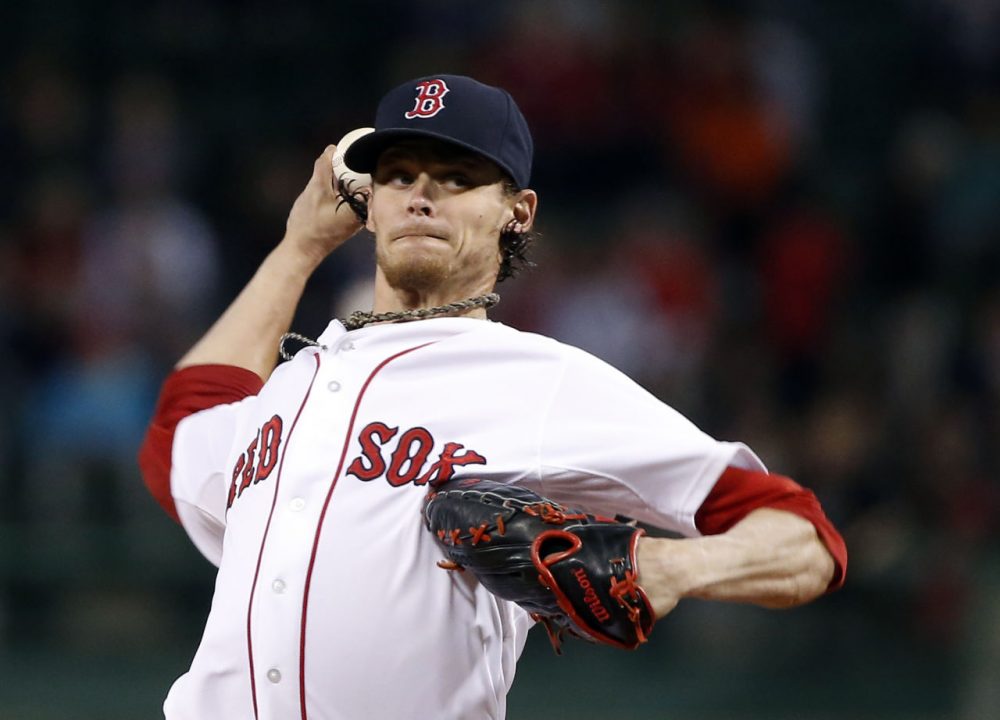 This article is more than 6 years old.
Boston's Clay Buchholz made a few late mistakes that quickly turned his shutout bid into a rout for the Rays.
Tampa Bay scored five runs against Buchholz with two out in the eighth inning, rallying the Rays to a 6-2 win over the Red Sox on Tuesday night.
"Obviously you never want to give up any runs whenever you get that deep into a game," Buchholz said. "It's tough to swallow - giving up five in one inning late in the game."
Buchholz (8-10) entered the game on a streak of 22 straight innings against the Rays without allowing a run. He had a shutout going through seven, but a leadoff walk in the eighth and two hit batters opened the door for Tampa Bay's comeback.
Boston was clinging to a 1-0 lead when Ben Zobrist hit a two-run double to left field, just out of Yoenis Cespedes' reach at the base of the Green Monster.
"The ball carries over his head for the two run double and then things kind of got away from us a little bit the remainder of that inning," Boston manager John Farrell said
Zobrist was just 4 for 38 in his career against Buchholz before getting three hits on Tuesday.
Matt Joyce added a solo homer in the ninth and Alex Cobb pitched seven strong innings for Tampa Bay. The Rays entered the series between the bottom two teams in the AL East two days after their 81st loss, a total that guaranteed Tampa Bay will not finish with a winning record.
Cobb (10-8) kept the Rays' slim hopes for a .500 finish alive, holding Boston to one run on five hits despite struggling through early control issues with his fastball.
"The one thing I've started to learn as I've gotten more experience is I can go out and battle when I don't have my best stuff," said Cobb, who struck out three and walked one.
Daniel Nava had an RBI double in the fourth for the Red Sox. It stood as the game's only run until Tampa Bay got to Buchholz in the eighth.
Zobrist doubled with two on to drive in the first two runs and scored on a single by David DeJesus. Buchholz hit Evan Longoria with a pitch and was replaced by Tommy Layne, whose wild pitch allowed both runners to advance and score easily when James Loney added a single.
All five runs went to Buchholz, who allowed eight hits over 7 2-3 innings. He struck out six and walked one.
FRUSTRATINGLY CLOSE:
After just missing on a leaping attempt to catch Zobrist's line drive and end the top of the eighth, Cespedes' frustration carried over in the bottom half. Cespedes struck out looking for the third out, then was quickly ejected for something he said to home plate umpire Jeff Nelson.
Buchholz credited his left fielder for the defensive effort.
"That wall is sort of intimidating. Just standing out there during BP, it's tough to make yourself go all the way back to it," he said. "Tough play."
DOUBLE DIGITS
Cobb has won at least 10 games for three straight seasons. He had been stuck on nine wins since a victory over the Tigers on Aug. 21 and said he was a little surprised his to pick up No. 10 on Tuesday.
"Location for the first few, maybe four innings was really bad," Cobb said. "I was able to control my body a little bit better and get better results later on."
TRAINER'S ROOM
Rays: SS Yunel Escobar left the game with a sprained left knee after getting thrown out at the plate in the third inning. Escobar was attempting to slide when his front foot got caught and locked up his leg. Manager Joe Maddon said Escobar is likely done for the season.
"I don't think it's anything serious, but enough to keep him out for any week of the season," Maddon said.
Red Sox: 3B Will Middlebrooks (sprained right hand) and SS Xander Bogaerts (stiff neck) were both in the original starting lineup but were late scratches after batting practice. Both are considered day-to-day, Boston manager John Farrell said.
UP NEXT
Rays: RHP Jake Odorizzi (11-12, 3.98 ERA) allowed just one run over six innings against the Yankees on Wednesday in his last start.
Red Sox: RHP Anthony Ranaudo (3-3, 5.29) will make his seventh major league start and try to finish the season with a winning record. Ranaudo has picked up the loss in his last three starts.