Commentary: Super PAC Ad A Turning Point For Whom?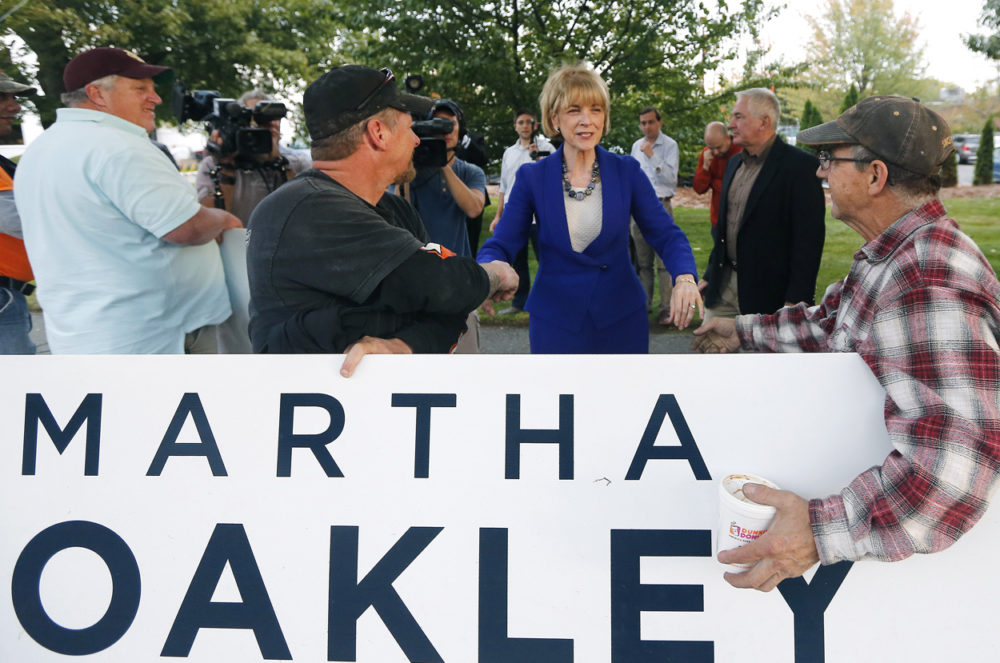 This article is more than 7 years old.
If recent polls are correct, Democrat Martha Coakley's campaign for governor is slipping.
The problems go beyond the horserace; they extend to fundraising, where she's trailing Republican Charlie Baker 6-to-1 in cash-on-hand. Her relationship to the captains of industry is perilous. A gaggle of big name businessmen — some Democrats and prior Gov. Deval Patrick supporters — flashed their French cufflinks as they deposited a total of $200,000 into the state GOP's bank account and boldly heaped scorn on Coakley, a potential next governor.
Then there's the meaningless, clichéd message, "Fighting for us." It's no surprise that her handlers, or perhaps Coakley herself, decided to seize on a pro-Charlie Baker super PAC TV spot as a way to rekindle her cooling campaign.
Both sides now. If every campaign has an unexpected controversy, this year's gubernatorial race is being defined by a long-troubled child welfare agency that both candidates have experience with. The question is, did pro-Baker forces overplay their hand and open Charlie up to charges of hypocrisy?
The ominous pro-Baker spot, funded by the Republican Governors Association, follows a well-worn path of GOP dark lord Karl Rove: Attack an opponent in an area of perceived strength. John Kerry's exemplary war record is a national example. The Baker super PAC TV spot cynically distorts Coakley's lifelong history of fighting child abuse, highlighted by her successful prosecution and conviction of au pair Louise Woodward, in whose care 8-month-old Matthew Eappen died. When news of the Baker ad broke, Deborah Eappen, his mother, quickly joined the attorney general at a press conference to denounce it, as did members of several child advocacy organizations.
Chief of the child abuse unit was Coakley's job title in the Middlesex District Attorney's office. Officials there said "she directed the investigation and prosecution of hundreds of child abuse cases each year and also led the office's innovative efforts to improve interviewing techniques of children."
Justifiable anger. Abandoning her campaign-long cautious rhetoric, Coakley described the ad as "misleading, deceitful, over the top, disgusting." (Whoa, who let the dogs out?) Coakley has already accused Baker of overseeing budget cuts to the child welfare system when he was secretary of Health and Human Services and state budget chief.
Charlie Baker's hypocrisy on child welfare. Pulitzer Prize-winning journalist Eileen McNamara sees an ugly conceit in the attack ad. The former Boston Globe columnist who covered state government for two decades wrote a scathing indictment of Baker's tenure in the Weld administration for WBUR's Cognoscenti.
Baker criticizing Coakley on vulnerable children is "rich," McNamara said. She went on:
"A bureaucrat once in charge of the state's broken child protection system [has attacked] a prosecutor who for decades has given a voice, in and out of court, to the children the state has failed to protect.

"In 1991, when Gov. William Weld appointed him undersecretary of Health and Human Services, Baker ignored a legislative subcommittee report ... warning that children in foster homes in Massachusetts were at serious risk of abuse and neglect.

"Did Baker use his influence as [Weld's budget chief] to push for more funding for the 14,000 children then in the care of [the state]? No."
Reform trivialized, nothing changed. After several high profile abuse cases put the state's foster care system under fresh scrutiny, McNamara wrote, "The head of the child welfare agency [then known as DSS], Commissioner Gerald W. Robinson complained that 'the magnitude of the issues and the need to reform this agency have been trivialized' by the Weld administration. Robinson resigned, Weld promoted Baker to secretary of Health and Human Services, and nothing changed at DSS."
For a New York Times summary of DSS under Secretary of Health and Human Services Baker, click here.
Dan Payne is a Democratic political analyst for WBUR.