Will Lyman Is God — At Least For Israeli Stage
This article is more than 8 years old.
You might not expect seasoned actor Will Lyman, winner of the Norton Award for Sustained Excellence, to pay much attention to 24-year-old directors—but one has his ear. In 2013, young director Guy Ben-Aharon sent him a short email that read, "Would you like to play God?"
"Naturally," Lyman fired back. Innovation, authenticity and the ability to make meaningful connections with the audience are priorities for him. It's natural, then, that Ben-Aharon, a rising star in Boston's international theater scene, has become his frequent collaborator.
Ben-Aharon is the young producing artistic director and founder of Israeli Stage, German Stage, Swiss Stage and Austrian Stage in Boston. And he's pretty casual about his accomplishments.
"I was just talking to my brother about this," he said following a performance of the Israeli Stage show, "Oh, God," at Lesley University's Marran Theater on Oct. 14. "I like to work. And we just had really good parents that always told us we could do anything." They also gave him an appreciation for Israeli culture. As young engineers in Israel, his parents had no artistic pursuits of their own, but they always maintained student subscriptions to nearby stage companies.
Ben-Aharon's family moved to the United States when he was nine. The city has been his second home since, but he wanted to make a place for Israeli culture in his life, and share it with his new friends. After graduating from Brookline High School, he spent 2008 in Madrid for gap year. He experienced anew a separation from Israeli culture. "There were no Jews anywhere," he remembered.
When he arrived at Emerson College in 2009 to pursue a B.A. in theater studies, his experience in Spain was still fresh. His aptitude for directing and arts management became apparent early. A faculty member encouraged him to stage a reading outside the Emerson community. He had never done something like this, but he embraced the challenge.
For his debut reading, Ben-Aharon wanted to choose a script from a prominent Israeli playwright that didn't touch on politics. He decided on a translation of A.B. Yehoshua's "Possessions," staged at the Goethe-Institut Boston. There, he was introduced to Maureen Keiller, one of the brightest lights on the Boston stage. The pair found instant rapport.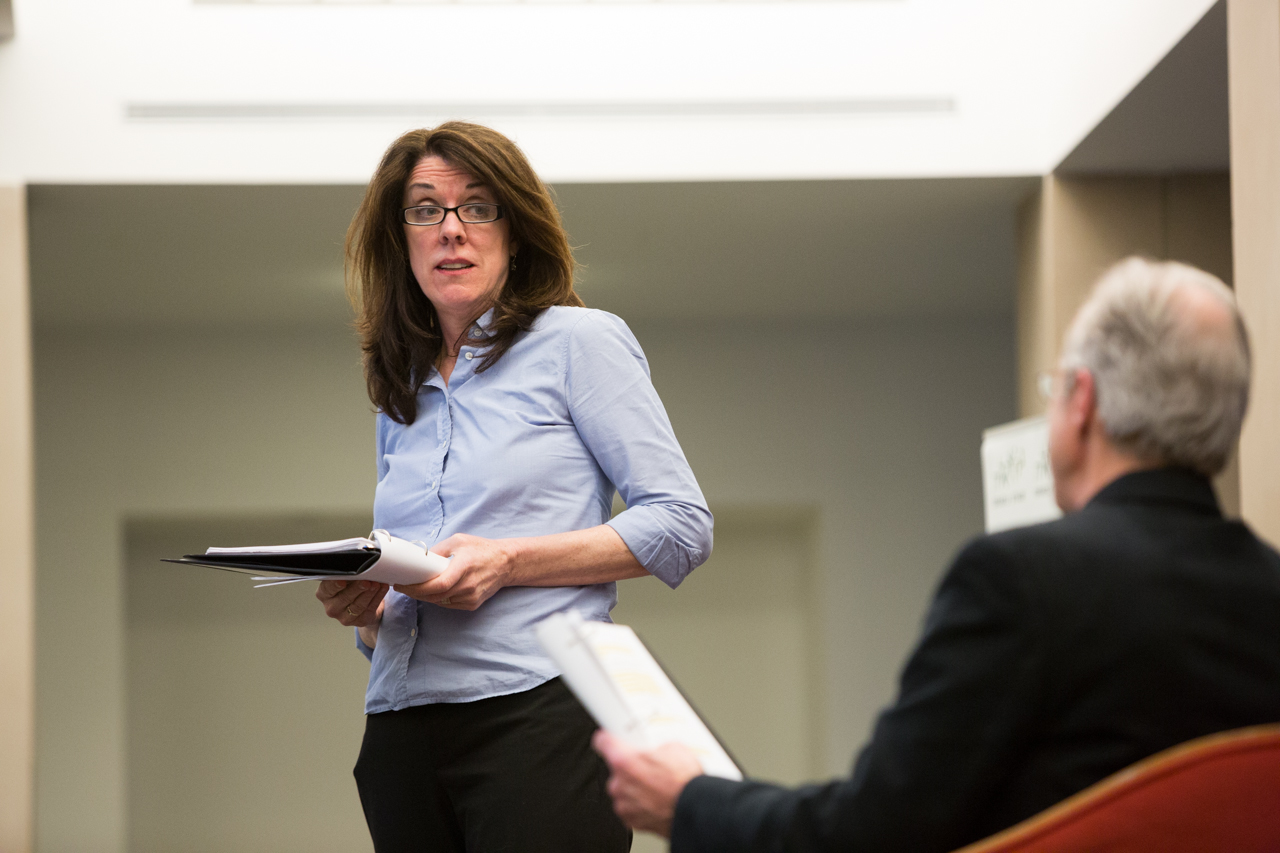 The success of the project bolstered Ben-Aharon's ambitions for a series of readings, and Israeli Stage was formed. "We have two purposes. We want to get people talking about culture outside the U.S., and I want to have a job still in 60 years, so we have to train young audiences," he said.
He has been able to meet these goals thanks to his gift of bringing together consulates, colleges and communities. Emerson trained him to use artists well, and he acquired a fine network of actors and colleagues beyond the college. This came to bear on Israeli Stage's 2012-13 season, a time of dramatic growth for the young company and tragedy for both of Ben-Aharon's homes, Boston and Israel.
In 2012, Ben-Aharon met Will Lyman, who appeared in the Israeli Stage reading of Gilad Evron's "Ulysses on Bottles" on Nov. 18. Just a couple of weeks after the reading, Israel mourned the loss of playwright Anat Gov to cancer. The six plays she produced in her 59 years left indelible marks on the country.
Ben-Aharon wanted to pay homage to Gov by bringing her work to the United States. First, he staged Gov's "Best Friends" in April 2013, a warm-hearted story that helped to soothe its audience in the wake of the Boston Marathon bombings. Ben-Aharon knew he would want another such show to open Israeli Stage's 2013-14 season. That was when he shot the email to Lyman.
Israeli Stage held the American premiere of "Oh, God," starring Lyman in the title role in September 2013. The play revolves around Ella (Maureen Keiller), a psychologist and single mother, who receives God as a new, floundering patient intent on having just one session.
The concept sounds either existential or twee at first. But Ben-Aharon helped the two seasoned actors mold to tweak the English translation to suit, which in turn helped the piece as performed by Lyman and Keiller feel intimate. The pairing proved so successful and the show so resonant that it went on tour to more than a dozen locations.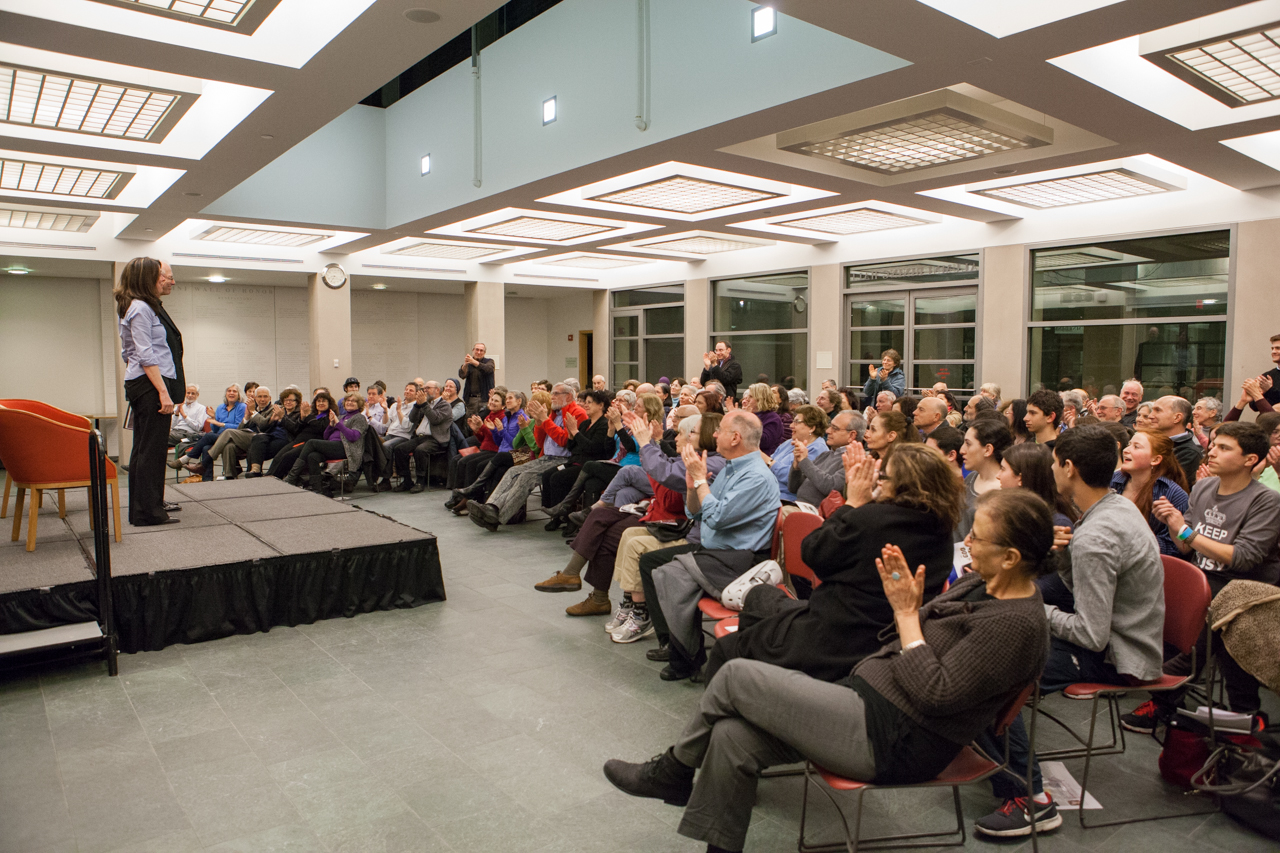 "Oh, God," in keeping with the mission of Israeli Stage, is directed primarily at college audiences. The reading has been performed at Boston University, Brandeis, Northeastern, Wellesley and Ben-Aharon's alma mater, among others. Most recently, it came to Lesley University.
Despite being well-known as a voice artist for PBS's "Frontline." Lyman does not rely too much on his voice to carry him through his portrayal of God. His performance of the unpredictable creator is anchored by his facial expressions. The ways he frowns, dips his chin in defeat, or avoids eye contact with his psychologist makes his God a subject worthy of close study and commiseration.
The script allows him some self-deprecating moments, but his portrayal never falls into caricature. God's complexity becomes apparent as he tries to dodge agnostic Ella's pointed questions and daring observations.
At various points in the show, both counselor and patient try to end the session early. But neither can muster up the gumption to terminate the arrangement. This airtight script ratchets toward its climax thanks to Ben-Aharon's direction.
Like a good psychologist, actress Keiller seems responsible primarily for carving out negative space for the almighty Lyman's expansive performance. Every five minutes or so, she delivers a line that is so illuminating, astonishing or funny (or all of the above) that the audience soon learns she has as much insight and force as her unlikely patient. Their sparring stays on the right side of smart and Freudian, never plunging into silliness.
By the end of the session, Ella has convinced God that he is not dying, as he fears; he has merely surrendered some of his authority to people, who are wrecking the world with it. The timer dings, God hands over his cash and departs, but not before Ella gives him something he's never experienced in almost six thousand years – a surprise better kept for viewing.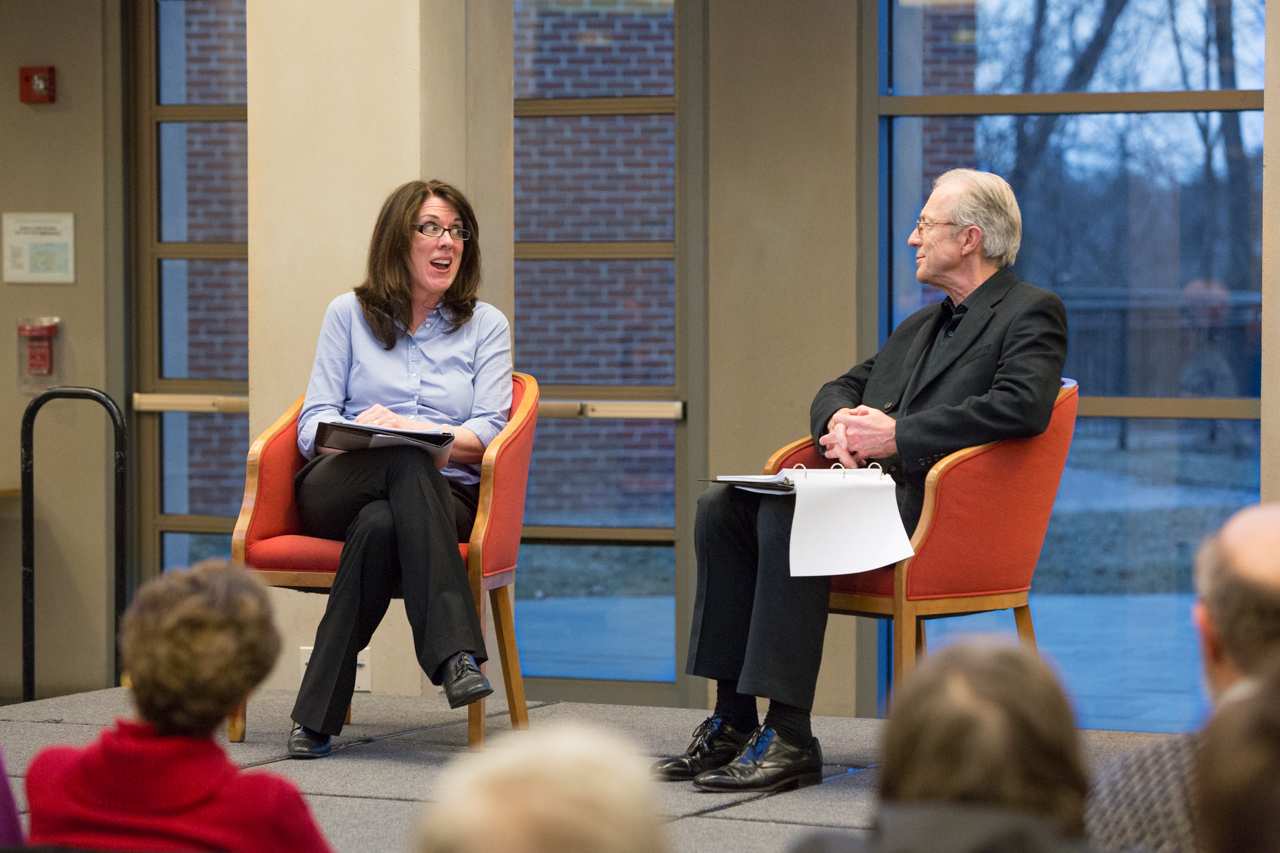 In the talkback hosted after the performance at Lesley, a self-identified secular feminist expressed being moved by Lyman's performance. In response, Ben-Aharon said, "I was violently secular before I read it ["Oh, God"]. And now I think, 'How can we pretend to know anything?' Now, I don't have the answer."
Lyman responded by explaining what affects him most about the show: "It allows you accessibility to some ideas without requiring any vows of you. It allows you to think about how you would think about God, if you thought about God."
"Oh, God" will play several more times in the Boston area this week:
Babson College, Oct. 20
Temple Emanuel Newton, Oct. 21
Boston University, Oct. 25
Temple Beth Elohim, Wellesley, Oct. 26
Temple Beth Zion, Brookline, Oct. 27
Israeli Stage will bring a full production of Ulysses on Bottles to the Jackie Liebergott Black Box at the Emerson/Paramount Center, April 9-25, 2015. The production, presented in partnership with ArtsEmerson, also features Will Lyman.
Holly Van Leuven is a writer, publisher and musical theater historian in Boston. She is the recipient of the inaugural BIO/Hazel Rowley Prize for her forthcoming book on Ray Bolger.