ARTery's Ultimate Guide To Corn Mazes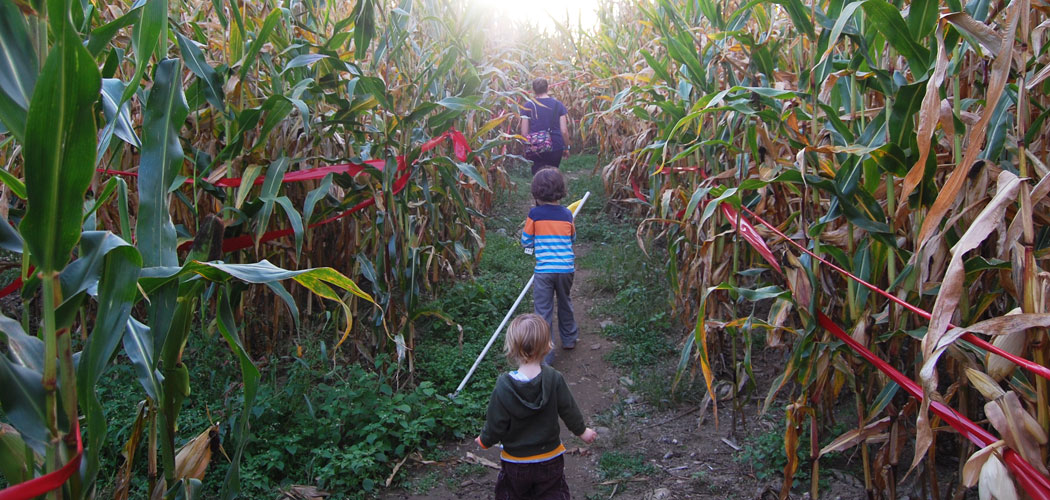 This article is more than 7 years old.
"If you took the maze and put it in a straight line it could be 8 to 10 miles," explains Laura Ingalls of Marini Farm as she leads me into the Ipswich farm's corn maze on a recent sunny day. I had made the expedition as part of preparing ARTery's ultimate guide to local corn mazes.
Our guide below lists corn mazes within an hour or so's drive of Boston. We've included some hay bale and hedge mazes because we love mazes, not just corn. And note that some mazes listed are just for little kids.
The origins of corn mazes are, naturally, somewhat confusing. Don Frantz is often credited as creating the first corn maze attraction in Pennsylvania in 1993. He's a Hollywood entertainment guy, who has said his inspiration came from traditional English garden hedge mazes. But then there's Adrian Fisher in England, who advertises himself as "The World's Leading Maze Designer" and says he "designed the world's first cornfield maize maze in 1993 and hundreds since." Whoever started it, corn mazes took off on American farms in the early 1990s driven by readily available GPS technology (that helped people cut mazes) and farmers seeking extra income.
The result is that in fall many farms become makeshift amusement parks. At Marini Farm, they've got slides, a "sandbox" filled with corn kernels, a cannon that fires potatoes, a big bouncy pillow to hop on, peddle-powered go-carts, two corn mazes and rock and roll music piped in from good speakers. Many offer haunted hayrides, flashlight maze nights and even zombie (paintball) shoot-outs.
Being in a corn maze is much different from working out a maze on paper—because you can't see the overall pattern. You know you're doing it right when you're overcome by the unsettling feeling that you'll never find your way out. In 2011, when a family with little kids called 911 for help getting out of the corn maze at Connor Farm in Danvers as darkness fell, it became a national sensation. But maze attractions offer phone numbers to call and flags to wave if you feel especially lost.
As is common, an outside firm designs the maze for Marini Farm each year. Around July, guided by GPS, they cut the pattern out of the rising cornfield, and then keep the paths weed-free for the rest of the growing season. Come November, Marini Farm says half the corn used in the maze is used to feed livestock at another farm and the rest goes into biomass burners that heat Marini Farm's greenhouses.
"It could take you 45 minutes. It could take you two hours," Ingalls tells me as we wander among cornstalks in the Marini maze that stand a few feet taller than our heads. "If you want one clue, going over the bridges won't get you out of the maze."
ARTery's Ultimate (Alphabetical) Guide To Corn Mazes
Chris's Farm Stand at Silsby Farm, 436 Salem Street in Haverhill. Every weekend in October.
Connors Farm, 30 Valley Road (Route 35), Danvers. Daily through Nov. 2.
Crescent Farm, 140 Willow Ave., Haverhill. Though at least Oct. 31.
Update: Davis Family Farm, 145 Redstone Hill, Sterling. Through late October.
Flint Farm Stand, 789 East St., Mansfield. Through Oct. 26.
Goss Ice Cream, 446 Pleasant St., Dunstable. Through Oct. 26.
Hanson's Farm, 20 Nixon Road, Framingham. Through Nov. 1.
Honey Pot Hill Orchard, 138 Sudbury Road, Stow. Big Green Monster Hedge Maze.
Kimball Farm, 780 East Broadway, Haverhill. Through Nov. 8.
Krochmal Farm, 81 Jennie's Way, Tewksbury. Through Oct. 26.
Marini Farm, 259 Linebrook Road, Ipswich. Through Nov. 2.
Parlee Farm, 95 Farwell Road, Tyngsboro. "Hay Play" maze for little children through Oct. 26.
Sauchuk Farm, 200 Center St., Plympton. Through at least late October.
Schartner Farms, 279 West Berlin Road, Bolton. Through at least Oct. 26.
Shelburne Farm, 106 West Acton Road, Stow. Small hay maze for toddlers. Through first week of November.
Smolak Farms, 315 South Bradford St.,
 North Andover. Through Nov. 1.
Ward's Berry Farm, 614 South Main St., Sharon. Corn maze for little kids.
West End Creamery and Family Farm, 481 Purgatory Road, Whitinsville. Through Nov. 2.
This article was originally published on October 23, 2014.